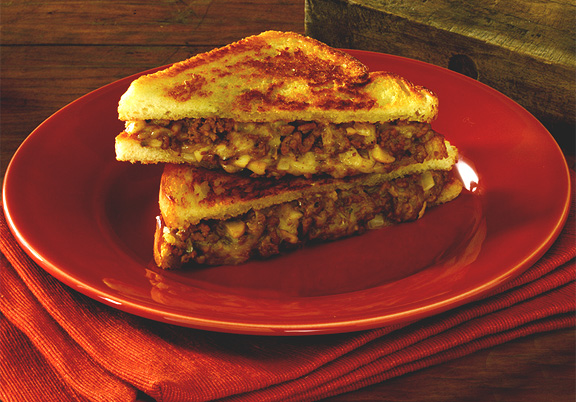 I can't tell you who 'invented' National Grilled Cheese Day, but I love that person immensely. A holiday for an all-American favorite? Amen. Don't get me wrong — steaks are spectacular, burgers are divine and soups are satisfying, but is there anything better than a grilled cheese sandwich?
Why yes. Yes, there is.
A grilled steak and cheese! The Certified Angus Beef ® brand chefs have created a couple of grilled cheese sandwich ideas that will surely carry you into the weekend with an easy, peaceful, palate-pleasing feeling … because grilled cheese doesn't have to mean two slices of bread and a slab of processed cheese. Sometimes it means spicy, ooey-gooey goodness. And adding beef creates a melted medley of tongue-twisting texture and flavor.
Give one of these recipes a try:
Toasty Grilled Beef & Cheese Sandwich
Barbeque Beef and Jalapeño Grilled Cheese
Easy Pot Roast Grilled Cheese Sandwich
Pastrami Cucumber Grilled Cheese
Or try them all! And hey —  why not celebrate this 'holiday' with your friends? Prepare a platter of grilled cheese sandwiches, serve with your favorite micro-brews and kick back with your people for a good time Friday night feast.
Ah, yes. Life is cheesy good!