… and cattlemen to the culinary side of life.
Chefs from across the country came to Texas to see, hear, feel and fully experience the beef industry. And though each chef prepares Certified Angus Beef ® steaks, burgers and more for restaurant customers, most had never visited a working ranch, stood toe to toe with cattlemen and women, or got up close and personal with a cow.
By the end of this two-day tour, that story changed.
Fifty chefs from Canada, Colombia, Puerto Rico, Saudi Arabia and various states across the U.S. gathered in Amarillo for the 2013 Certified Angus Beef ® brand's International Chef Tour.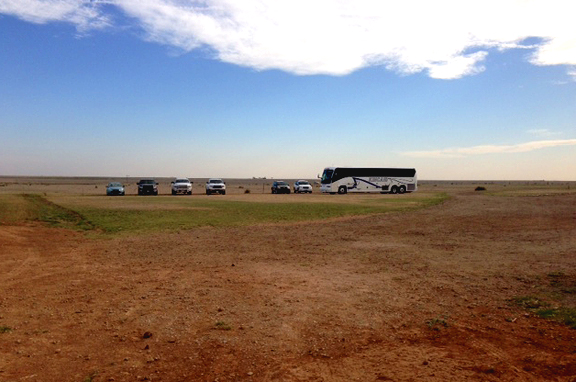 And yes, we seemed to be 'in the middle of nowhere'. The bus and fleet of tour-guide vehicles stuck out like a sore thumb on the open plains. This flat country is home to the Pohlman and Olson Cattle Companies, where four generations of the Olson family gave the chefs a warm Texas welcome — opening their home, businesses and hearts to culinary professionals.
It was a one-of-a-kind, once-in-a-lifetime experience for many of the restaurateurs.
While Grandpa Steve Olson shared his passion for ranching and how the family employs the utmost care in raising top-quality cattle, grandson Cutter kicked back and relaxed with his favorite heifer.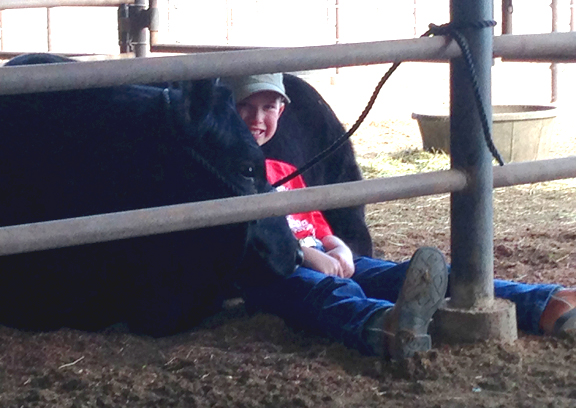 Meanwhile Steve's son-in-law, Scott Pohlman, was busy working the smoker and cooking up delicious prime rib for the welcome feast.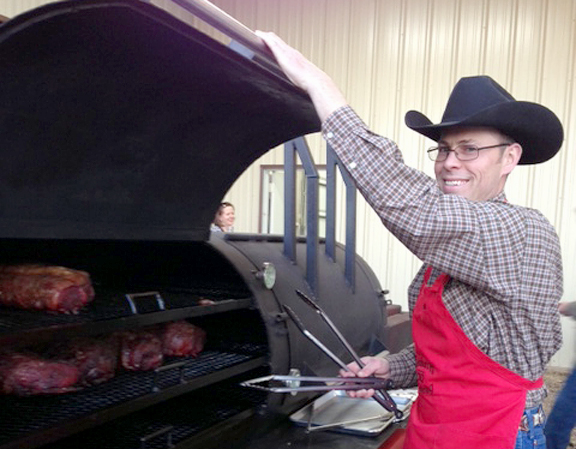 Edd Hendee, a radio commentator and owner of Taste of Texas restaurant in Houston, joined us for dinner. He spoke about the importance of a quality-focused business.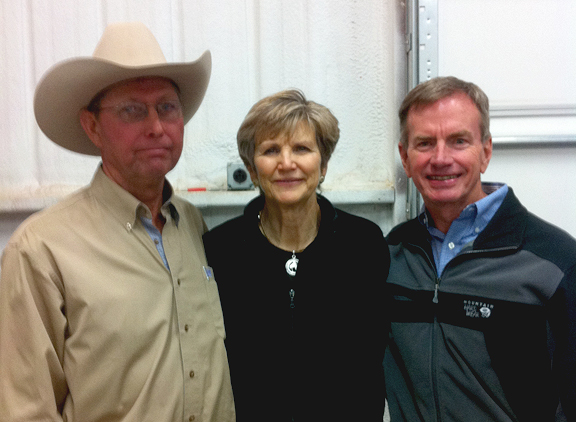 That's Edd (above right) with Steve and Ginger Olson.
It may be surprising — since we took these chefs out of the kitchen — that no one went hungry on this trip. In fact, the food was amazing.
Rory Schepisi, owner and chef at Boot Hill Saloon & Grill of Vega, Texas, catered a mouthwatering lunch complete with a Dijon-marinated Certified Angus Beef ® brand tenderloin Italian cowboy sandwich and southern strawberry shortcake with spiced, rum-soaked strawberries.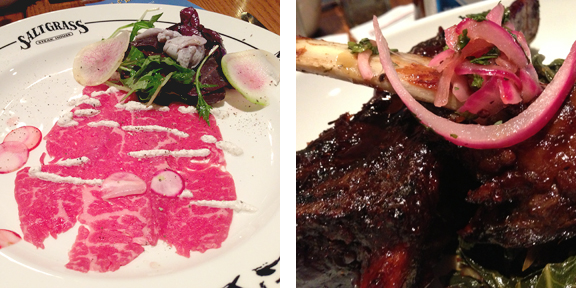 Ric Rosser of Saltgrass Steakhouse treated the group to dinner: carpaccio of tenderloin with braised quail egg, and bone-in short ribs with collard greens and cane syrup drizzle.
By the end of the event there were new relationships founded on a fresh understanding of the beef industry … an understanding that spans farm to fork.
Until we travel again,
Emily