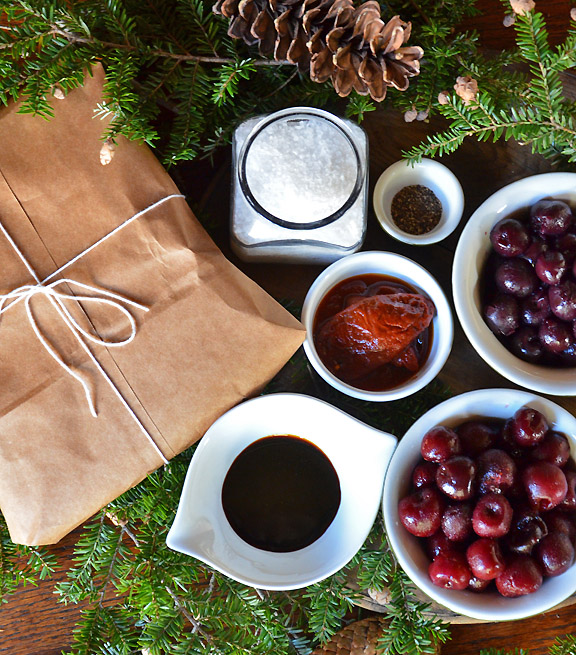 Reminiscing around the dinner table is one of my favorite holiday traditions. Presents under the tree are nice, certainly, but sometimes the most memorable gift is a fabulous meal and an evening of lively conversation with dear ones.
Next in our 12 Roasts of Christmas series is a sweet and spicy New York strip roast. It's served with a sweet heat glaze for good measure. And best of all, this show-stopping main dish is super simple to prepare!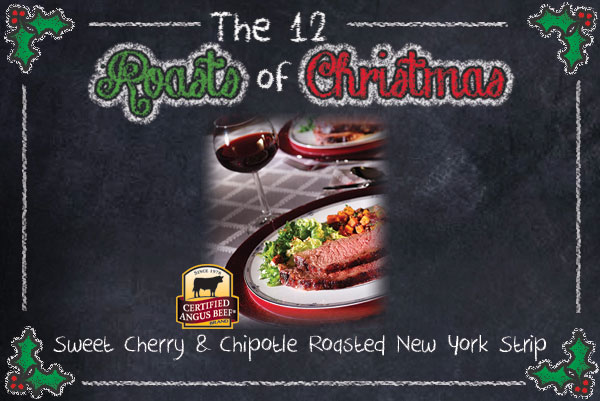 To make Sweet Cherry & Chipotle Roasted N.Y. Strip Roast you'll need a 5-lb. roast. Choose one from the fresh meat case at your local grocer, or have the butcher cut one especially for you. The roast will feed 10-12 people, but don't worry if your guest list is smaller. The leftovers are absolutely divine!
Click here for printable recipe.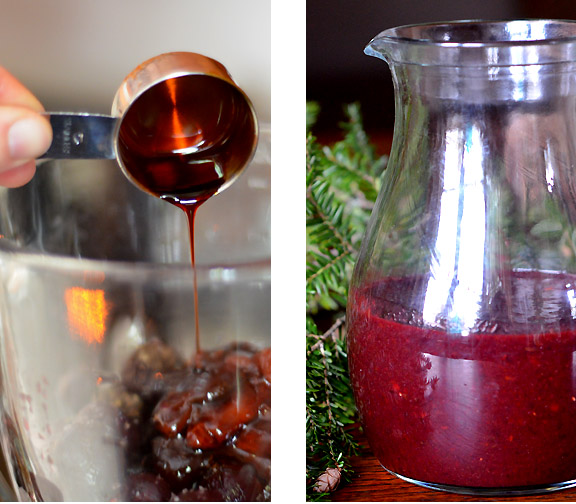 Step 1: Preheat oven to 500°F. Combine cherries, chipotle peppers and molasses in a blender. Divide sauce; reserving half for glazing the beef during cooking, and half to serve with the cooked roast at the table.
Note: The recipe calls for 2 tablespoons of chipotle peppers in adobo. I didn't puree the peppers in a food processor and measure exactly two tablespoons. I just spooned a couple of chipotles and a scoop of the adobo into the blender with the other ingredients. My final roast may have had an extra kick, but it was nicely balanced with the sweetness of cherries and molasses.
Step 2: Coat a roasting pan with cooking spray. Place roast, fat side up, in the roasting pan and season with salt and pepper. Place in preheated oven for 10 minutes.
Step 3: Reduce heat to 325°F. Remove roast from the oven and brush with a thin glaze of the cherry and chipotle sauce. Repeat every 15 minutes until the roast reaches desired doneness, approximately one hour. (145°F for medium rare doneness).
Step 4: Remove roast from the oven and let rest for 20 minutes. Heat remaining sauce in a small saucepan. Slice roast across the grain and serve with warmed sauce.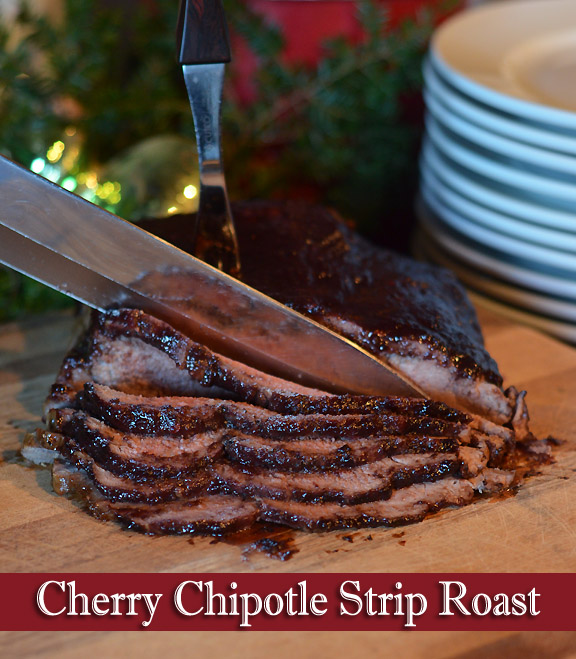 Yes … er … no. It wasn't as good as it looks. It was even better! And with cherry chipotle sauce dripping down their chins, my home recipe testers gave it a double thumbs up.
And we're not waiting for Christmas, either. We'll be serving Sweet Cherry & Chipotle Roasted N.Y. Strip Roast beside the turkey on Thanksgiving. That's another one of our family traditions. We appreciate several options at a family feast!
For more roasting tips and recipes in this series, visit us on Pinterest!
And for the rest of the roasts in this series, click here!