We're celebrating the holidays with sizzle! Join us for the 12 roasts of Christmas — our favorite cuts, greatest tips and step-by-step instructions from our kitchens to yours. Preheat your oven, get out your carving knife and join us as we toast the roast!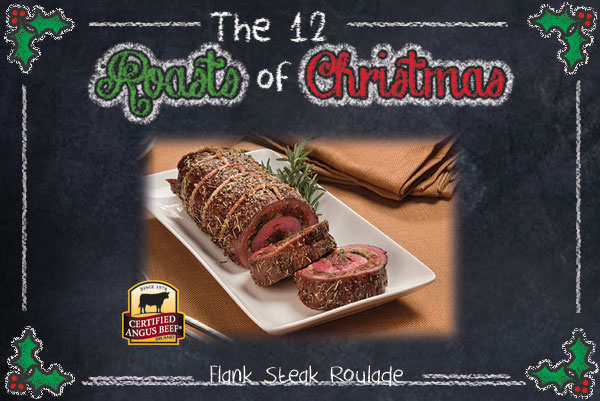 Chef Michael's Flank Steak Roulade is an exceptionally tasty and fanciful dish that's perfect for holiday gatherings — and it resembles a yule log! To make this recipe you need:
2 to 2 1/2 pound Certified Angus Beef ® flank steak
1/2 cup balsamic vinegar
8 ounces chopped walnuts (about 1 3/4 cups)
5 tablespoons grated parmesan cheese
1 tablespoon minced garlic (2 cloves)
1 teaspoon red pepper flakes
2 teaspoons coarse kosher salt
1/2 cup olive oil
2 cups loosely packed baby arugula
8 ounces jar sun-dried tomatoes, packed in olive oil
2 teaspoons dried rosemary, hand crushed
1/2 teaspoon freshly ground pepper
Butcher's twine
(Click here for printable recipe)
Step 1: Butterfly flank steak for roulade.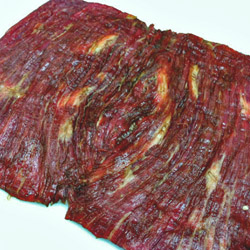 Roulade means 'to roll'. Picture a sheet of paper, folded in half. Imagine opening it into a full-sized sheet. To butterfly the flank, you cut it so it can open into that "full sheet" size. Hold a sharp knife parallel to the flank steak and cut in half, from side to side going with the grain. Stop cutting before you reach the opposite end. Open into one large, flat piece of meat.
Place the butterflied flank steak in a shallow baking dish with balsamic vinegar. Cover with plastic wrap and refrigerate.
Step 2: Make the walnut and parmesan filling.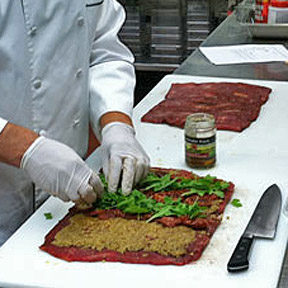 In a food processor, pulse together walnuts, 3 tablespoons parmesan cheese, garlic cloves, red pepper flakes and 1 teaspoon salt to the consistency of coarse cornmeal. Add olive oil while blending to make a paste; set aside.
Preheat oven to 450° F.
Remove flank, pat dry and lay flat on a cutting board. Layer with walnut paste, arugula and sun dried tomatoes.
Step 3: Roll and tie the flank steak before roasting.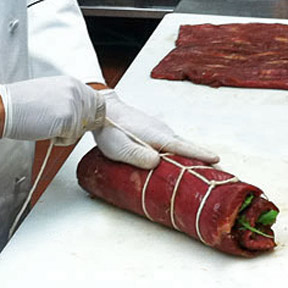 After spreading the filling and topping with tomatoes and arugula, roll and tie the roast with butcher's twine to hold the roll in place. Season the exterior evenly with remaining 2 tablespoons parmesan, 1 teaspoon salt, rosemary and pepper.
Set in a roasting pan with rack, uncovered. Roast for ten minutes. Reduce heat to 325° F and roast an additional 60 minutes for medium rare. Allow to rest ten minutes before slicing.
Serve two slices of Flank Steak Roulade per person. Happy holidays!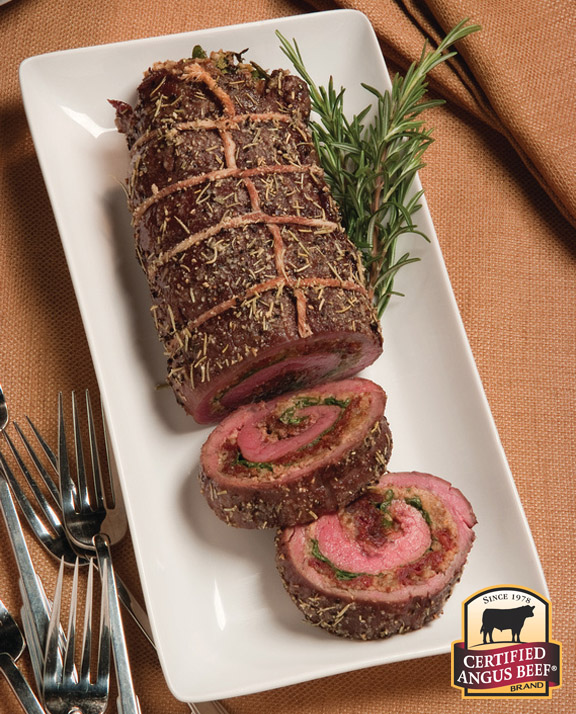 Visit us on Pinterest for more delicious recipes!