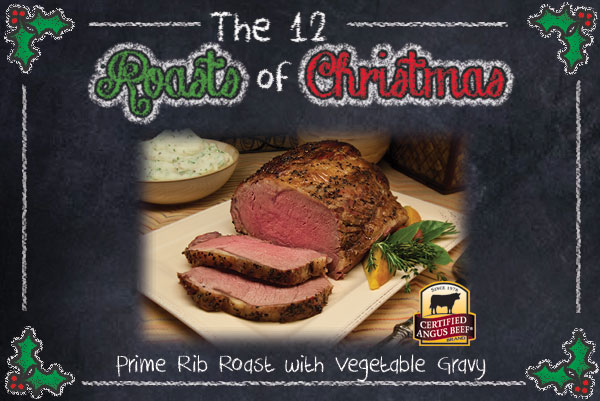 Prime Rib is a classic cut for special occasions and this recipe, prepared by Ashley Pado, chef at the Certified Angus Beef ® Education & Culinary Center, is an exceptional choice. The simplicity of the roast's rich, beefy flavors paired with a sauce of roasted vegetables and stock, is delicious and elegant. Your dinner guests will be delighted!
Prime Rib Roast with Vegetable Gravy
For this recipe you will need a 5-lb. Certified Angus Beef ® rib roast, salt, pepper, garlic powder, and onions, carrots, and celery. You will also need 4 cups of beef broth and 1/4 cup of flour to thicken the gravy. Click for a printable recipe.
Step 1: Preheat oven to 350°F. Combine salt, pepper and garlic powder; rub mixture evenly over the entire roast. Place on rack in a shallow roasting pan, fat-side up. Insert meat thermometer into thickest part of roast, making sure tip does not touch bone. Roast uncovered for 30 minutes.
Step 2: Chop carrots, celery and onion.
Add vegetables to the pan and roast an additional 1 to 1-1/2 hours for medium rare.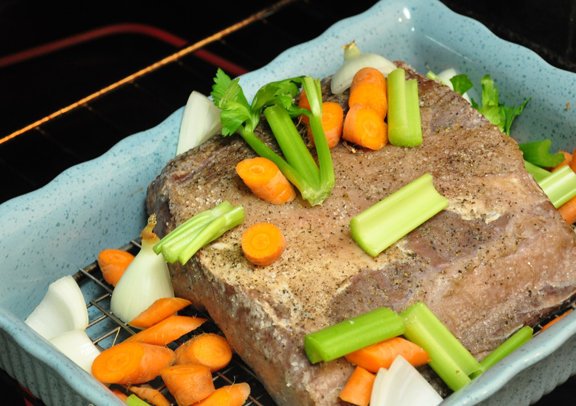 Use a meat thermometer to determine your desired degree of doneness.
Step 3: Transfer the roast to a cutting board and let rest 15 minutes before carving.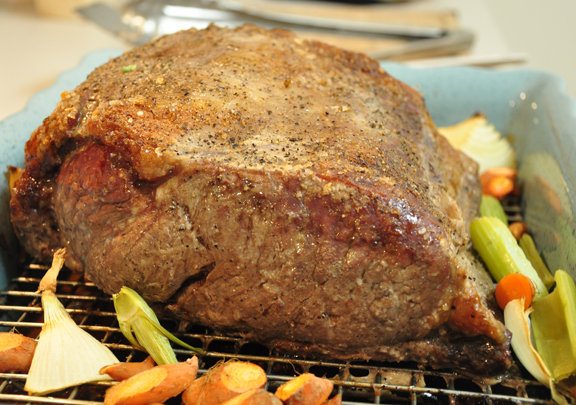 Step 4: While beef is resting, skim fat from the roasting pan juices. Place pan on top of range, add broth and bring to a boil, scraping the bottom and sides of the pan to incorporate all roast drippings. Reduce heat and simmer broth and vegetables for 10 minutes.
Step 5: Purée vegetables and broth in a blender or food processor. Pour back into the roasting pan or large saucepan, and return to heat. Thicken with flour and water mixture over medium heat for about 5 minutes. Season with salt and pepper to taste.
Serve the gravy with the sliced roast and your other favorite side dishes.
Tis the season for spectacular meals!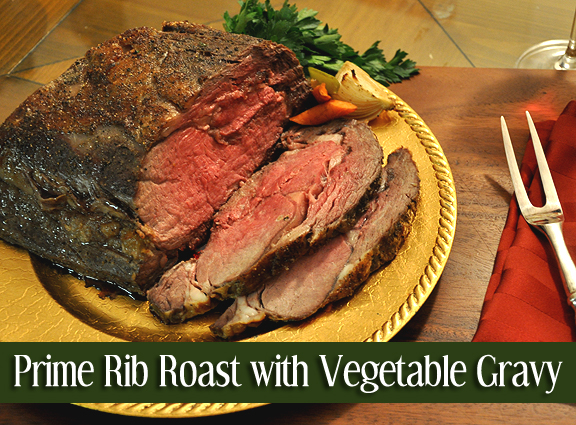 We hope you enjoy this and the other recipes in our 12 Roasts of Christmas series. See more on Pinterest and for other roasting stories in the series, click here. We'll be posting new roasts every week until Christmas!
A toast to the roast!