Today we're in the kitchen with Margaret Coleman, assistant director of digital marketing. Enjoy other recipes in our 12 Roasts of Christmas series here!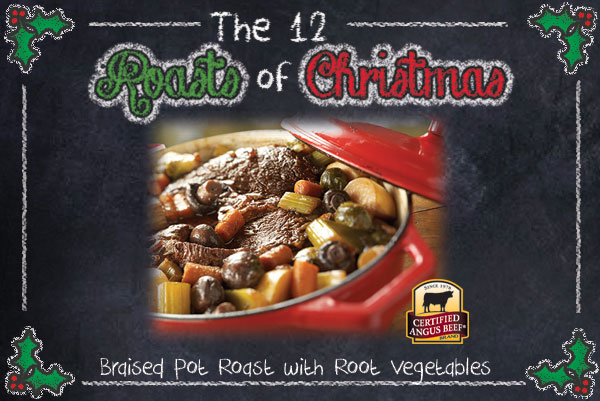 A flavorful, juicy, tender pot roast almost beats a steak in my book, and this Braised Pot Roast with Root Vegetables recipe did not disappoint. I'm not sure there could have been any more flavor steaming from that pot when it came out of the oven! From earthy vegetables to the robust beef, from the hint of sweetness from a single apple and dash of honey to the deep, full-bodied flavors of wine, I was in heaven before the first bite.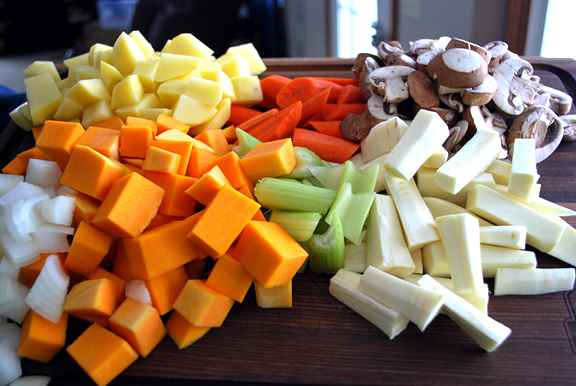 The ingredient list may look intimidating but trust me, it isn't. You need a variety of root vegetables including potatoes, onions, carrots, parsnips, celery, squash and mushrooms. You will need to give the vegetables a rough chop — I left them in big, bite-sized chunks.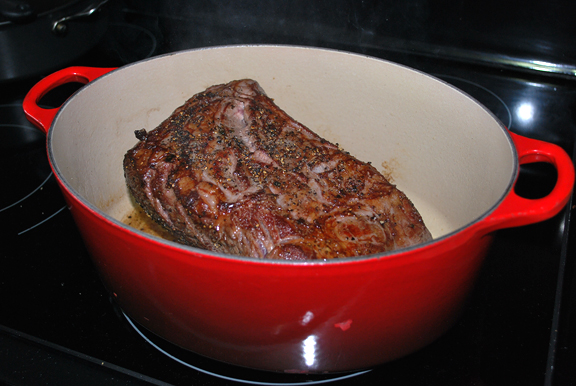 After seasoning with salt and pepper, sear the roast in a pan of heated oil. You want a dark, rich crust on all sides. Then transfer the roast to a plate to rest. And now to the veggies.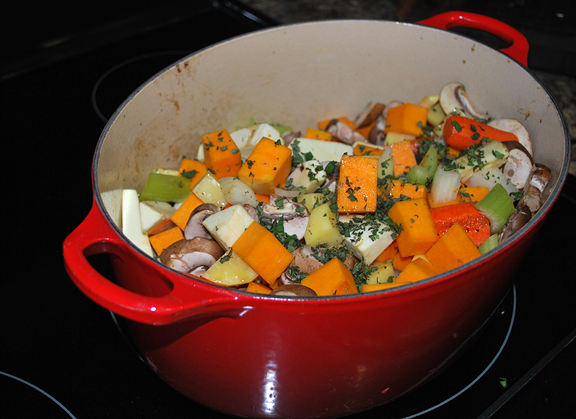 Toss into the same pan for a quick saute. Then remove them from the pan as well.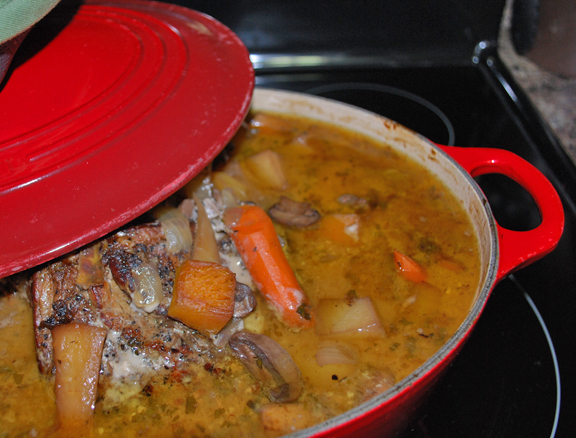 Next, I heated honey and wine until reduced. Added other liquids (see recipe), and stirred until everything was combined. Then it was back into the pan with the roast. Vegetables were placed on top and into the oven it went for the next four hours.
Tip No. 1: Use a large pan. As you can see, this recipe easily filled a 5.5 quart Le Creuset French oven!
Tip No. 2: For firm, rather than soft, vegetables wait until the last half of the cook-time to add vegetables to the pan.
I love roasts! They give me a homey, just-walked-into-Grandma's-house feeling. Best of all, this recipe made a fabulous meal and the leftovers are so easy to use!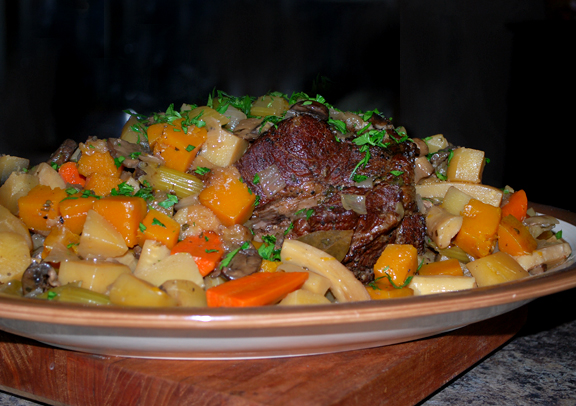 I debated between beef and noodles, beef and vegetable soup or shredded barbecue beef. Shredded barbecue was the winner. Simply shred leftover beef with two forks, heat in a skillet and add your favorite barbecue sauce. Serve on buns with steamed vegetables. Leftovers no more … more like here and gone!
We hope you're enjoying these visits into our home kitchens. What questions do YOU have about roasting and braising beef? Leave your questions in the comments!