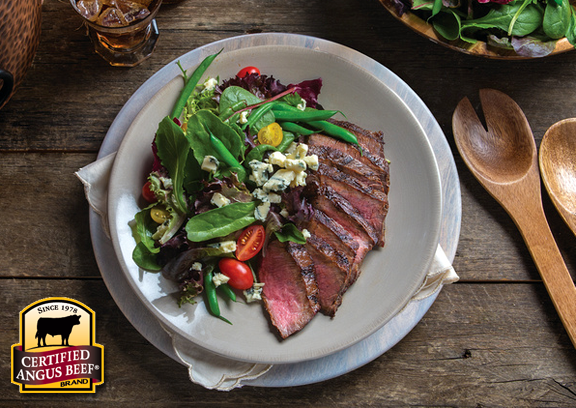 We're a week into the new year and here's hoping you're still feeling resolute. Did you determine to slim down or eat healthier meals in 2014? Good for you! Both are worthy, life-saving goals!
Health-conscious menus include lots of fresh fruits and vegetables, it's true. It's a good idea and good for you, too, to incorporate Z.I.P into your diet: zinc, iron and protein. Beef is a great source of all three. Calorie for calorie, beef is a nutrient powerhouse. It's also a great source of "B" vitamins to promote growth and help maintain health.
You can enjoy a steak dinner or a steak salad with confidence because when it comes to beef, it's not only what's for dinner, it's what's good for you, too. For lean beef, look for cuts with "round" or "loin" in the name (i.e. tenderloin, top sirloin, strip loin or bottom round roast).
There are 29 lean cuts of beef (less than 10g total fat, 4.5g saturated fat and 95mg cholesterol per 3.5-ounce serving
A 3.5 -ounce serving is about the size of a deck of cards
And to "resolve" your What's for Dinner dilemma, here's one of my favorite light-time recipes (with a little blue cheese crumbled in for good measure): Classic Steak Salad.
Classic Steakhouse Salad with Blue Cheese
Serves 6
3 (12-ounce) Certified Angus Beef ® New York strip steaks
2 tablespoons balsamic vinegar
1 tablespoon honey
1/2 teaspoon freshly cracked pepper
1/3 cup olive oil
5 ounces spring mix lettuce greens
8 ounces fresh green beans, trimmed and blanched
1/2 pint grape or cherry tomatoes, cut in half
4 ounces crumbled blue cheese
Coarse kosher salt and freshly cracked pepper to taste
In a small mixing bowl combine balsamic vinegar, honey and pepper. While whisking, slowly add oil to create a vinaigrette. Add a pinch of salt or more to taste; set aside.
Preheat grill. Season steaks with salt and pepper and grill to desired doneness. Allow steaks to rest 5 minutes before slicing thinly across the grain.
In a large bowl combine mixed greens, green beans and tomatoes. Lightly dress and gently toss salad (refrigerate extra dressing for another time). Serve with warm steak strips and garnish with blue cheese.