So you're looking to reduce some things in the new year … perhaps it's your waistline, your coffee consumption, even your phone bill. I understand. New Year's resolutions are a just cause but they can get the best, and worst, of us. I've found that success depends on my ability to maintain my strength and soldier on. I recommend B vitamins and lots of zinc, iron and protein. How?
Beef up. Make a reduction. It's simple. And delicious!
Here's the quick skinny: there are 29 lean cuts of beef. Sirloin happens to be one of them. So eat up! Have your beef and a reduction, too.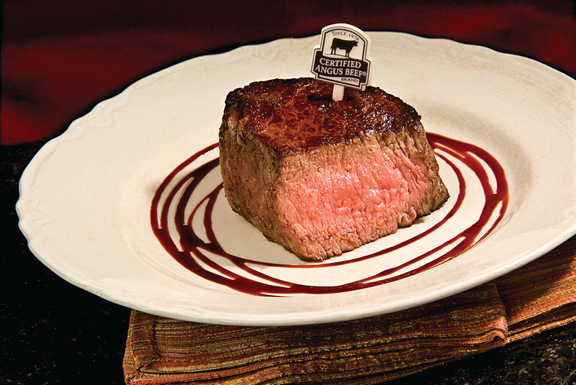 Top Sirloin with Balsamic Reduction
2 (8-ounce) Certified Angus Beef ® top sirloin steaks (Learn more about this cut)
1 tablespoon shallots, chopped                            
1 teaspoon garlic, chopped                            
2 sprigs thyme                            
1 tablespoon unsalted butter                            
Oil to coat pan                            
4 (17-ounce) bottles balsamic vinegar                            
Salt and pepper to taste

Steak instructions:
Preheat oven to 350ºF. Heat oil in heavy skillet (not nonstick) over medium-high heat. Season steaks with salt and pepper; sear in skillet for 1 to 2 minutes on each side.
Place steaks in the oven: about 5 minutes for medium-rare, or until desired doneness.
Remove pan from oven; add shallots, garlic, thyme, butter and baste steaks. Remove steaks from pan. Let rest for 3 to 5 minutes and serve with reduction.
To create reduction:
Pour vinegar in heavy-bottomed sauce pan and cook over medium heat until it reaches sauce consistency. The bubbles will change from small, to big, to small again; remove immediately from heat and place pan in ice to cool rapidly.
*Note: Four bottles is a lot of vinegar, I know. Because of its high sugar content, balsamic vinegar is easy to burn. Making a larger quantity reduces your chance of burning the liquid. And you'll have leftover reduction sauce to use the next time you're hungry for a steak! Just pour cooled reduction into a squeeze bottle or dish and keep in the refrigerator for up to six months.