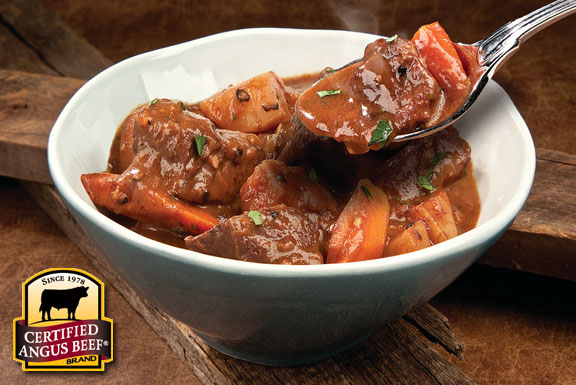 You would think that after decades of practice (no, I'm not going to say how many!) I would be used to the realities of wintertime in a Northern state. Alas, this is
not the case. Those who are nearest and dearest to me will attest — my mood is
directly correlated with the temperatures. When they fall, so do I.
Let's just say that at my house, we're all anxiously counting down the days until springtime. As the saying goes, "If Mama ain't happy, ain't nobody happy!"
In the meantime, the silver lining to those ominous, snow-filled clouds can be found in the warm comfort of my kitchen. Because the one thing, sometimes the only thing, that makes me feel better from the inside-out on these cold, gray days is a hearty, home-cooked meal. One that perfumes the air with its savory aroma. One where the family lingers around the table. One that makes you pause, set your worries aside for a few minutes, and give heartfelt thanks for the simple pleasure of eating something really, really satisfying!
My go-to lately has been a delicious beef stew recipe I picked up from my colleague, Chef Michael. It's kind of funny, because growing up, I was sure I hated beef stew. Hated it! Don't get me wrong, it was homemade with care (true confession: I've never even tried
the canned stuff). And my mom was, and is, a great cook, who learned from her mom, herself a master of memorably delicious meals. But the beef stew I remember from my childhood … well, it just doesn't measure up to this version. Meltingly tender beef, slowly cooked in a rich, red-wine infused sauce, seasoned with onions, garlic, bay leaves, thyme and rosemary – well, what's not to love?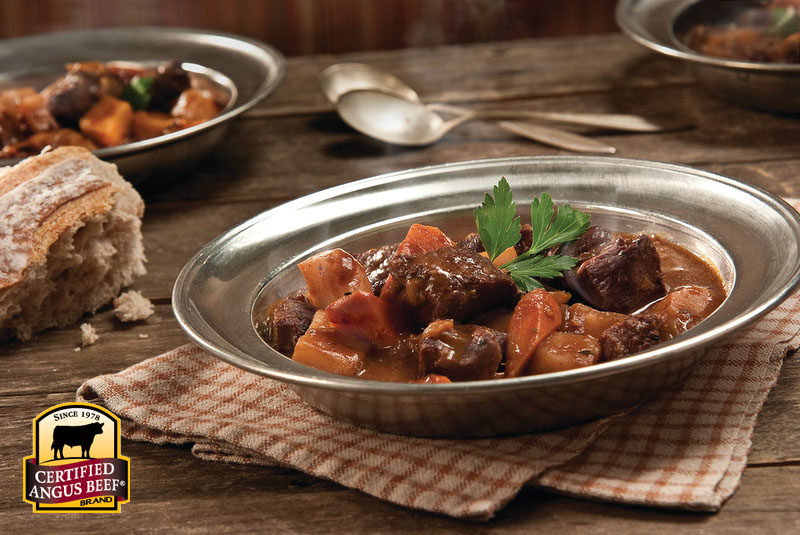 Perhaps the best part is its aroma. Remember the classic cartoons where any enticing smell was depicted as hand-shaped vapor, literally beckoning you closer? Well, that happened! Last time I started a batch, the kids were downstairs playing video games. After it'd been simmering a while, there was a stampede up the stairs, demanding to know what smelled so good and how soon would it be ready? Tearing two pre-teen boys away from video games — that's the power of this beef stew!
That evening, just after we'd finished eating, my parents stopped over on a quick errand. As they came inside, Mom demanded to know what smelled so good — and could she have some, even though they'd just had dinner? (Behold, again, the power of this beef stew!) Needless to say, it was a hit. But I didn't realize the impact it made until she texted me the next afternoon to say:
I keep thinking how good your beef stew was.
One of the best things I ever ate. 🙂
Wow! That's high praise! I think cooks of all stripes will agree you feel a special kind of pride when someone sincerely compliments your efforts — especially when the dish, as all the best ones are, was made with love. Granted, using the best ingredients and equipment and recipes and techniques can get you close to perfection — but it's that little something extra, I think, that elevates a meal from "good" to one you'll remember and crave.
Who knows? Maybe this dish will get passed down from generation to generation, and someday the boys will make it for their families. I sure hope so.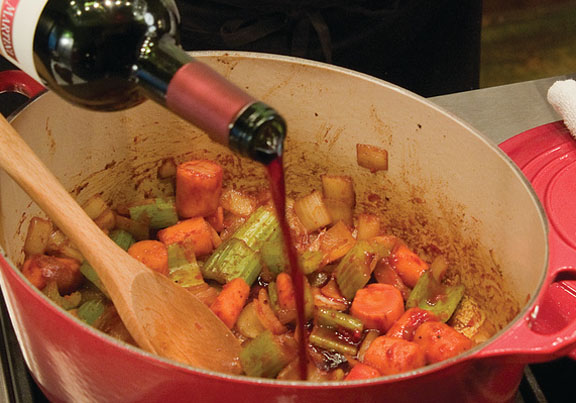 Need a few pointers to start on your own memory-making meals? Chef Michael can teach you the basics of braising — the magic-making method for this stew and a host of other savory slow-cooked suppers. And, browse this collection of our favorite comfort foods — perfect to warm your dinner table and your soul the next time you need a little lift!