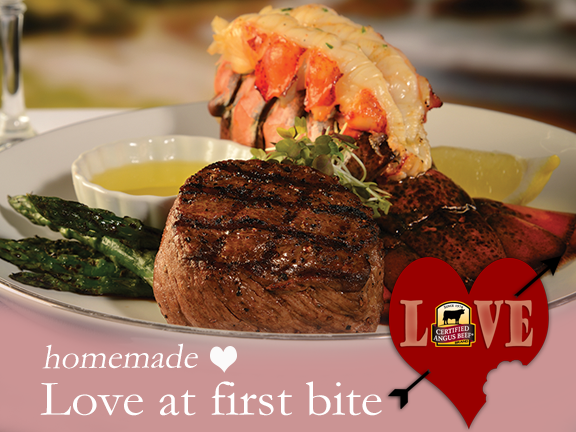 In my mind, surf and turf—that classic pairing of steak and lobster—is reserved for a restaurant. (A swanky one, with an old-school cool factor.) It's definitely not the kind of thing I'd whip up on a Thursday night for the kiddos before soccer and basketball practice. But Valentine's Day or another special occasion with my better half? Hmm … bring on the cattle and crustaceans!
When I mentioned this to my friend and Certified Angus Beef ® co-worker Michael Ollier, who just happens to be our corporate chef and an instructor extraordinaire, he offered to walk me through it. And he promised it'd be simple. I've picked up a wealth of cooking tips from him over the years, but I was still intimidated—and intrigued.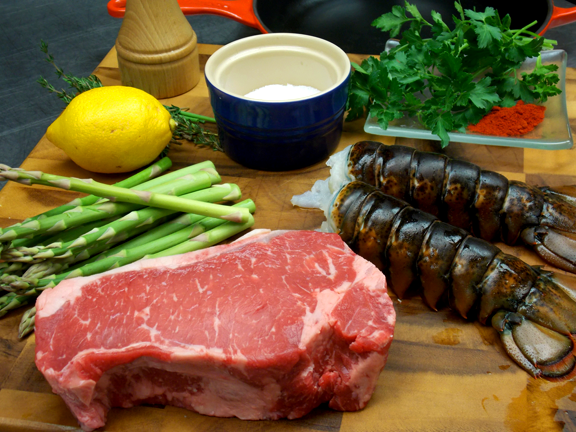 We started by collecting our ingredients, making sure we were ready to dive in. It doesn't require many, because the quality ingredients speak for themselves:
1 (16-oz.) Certified Angus Beef ® strip steak
2 lobster tails (4-6 oz. each)
½ cup (1 stick) unsalted butter
Paprika (just a sprinkle)
1 tablespoon canola oil
1 lemon, for zesting
2 small sprigs fresh thyme
2-3 fresh chives
2 sprigs fresh, flat leaf parsley
10 asparagus spears
Kosher salt and fresh ground black pepper, to taste
Start by placing the butter in a small saucepan over low heat to melt gently. At the same time, preheat your oven's broiler.
Then, the most challenging part (honestly!): preparing the lobster tails. Using kitchen shears, Michael cut through the top of the shell until reaching the point where the fin is attached. Then, he delicately separated the cut shell, and gently lifted the lobster meat above it, leaving it attached at the base. He cautions that it requires a little finesse to release the meat from the grooves along the sides and base of the shell, but when done slowly, anyone can do it. Here's the process in photos:

Once the lobster meat is out of the shell, carefully arrange it over top—you know, so it looks just like it would in a fancy restaurant. If the vein is still attached, use a paring knife to gently remove it, as you would to clean shrimp.
Place the prepared lobsters on a pan suitable for broiling. Pour most of the clarified butter into a ramekin, reserving about 2 tablespoons in the saucepan. Brush the butter from the pan over the lobsters, then season with salt and pepper, and sprinkle paprika lightly over the top.
Cook the lobsters under the broiler, approximately 1 minute per ounce. Ours took almost exactly 5 minutes; you'll know they're done when the lobster meat has turned white and is no longer translucent. While your crustaceans are cooking, it's a good time to preheat a cast iron skillet for the steak. Cast iron can withstand the heat, so it's fine to place it in the oven while the broiler is going.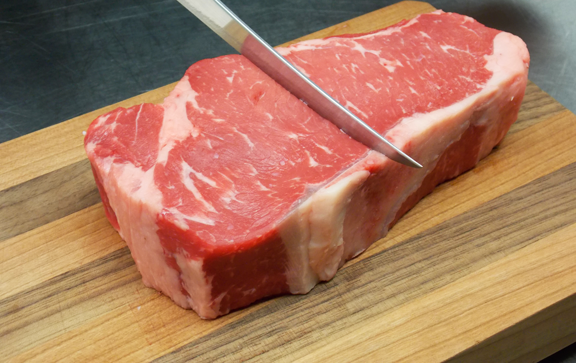 In the meantime, take your beautiful, thick, generously marbled steak, and cut it in half, right down the middle. (Yep, we went there!) This will give both you and your dinner date a delicious thick steak cut, but only about 8-ounces worth. (After all, there can be too much of a good thing. Or so I'm told …)
Then, lightly drizzle oil on each side of the steak, and season generously with salt and pepper. The oil will help the steak achieve a flavorful, evenly browned crust in the pan, without creating unnecessary smoke, like oiling the pan itself would.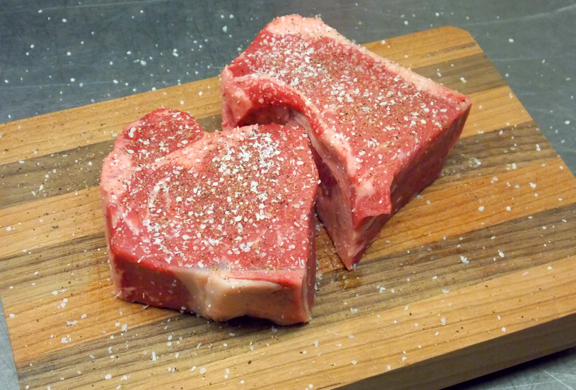 By now, it's probably time to check on your lobster tails. When they're ready, pull them from the broiler, reduce the oven heat to 450°F and pull out your empty cast iron pan. Please use an oven mitt or other protection, because those things get hot (exactly the point)!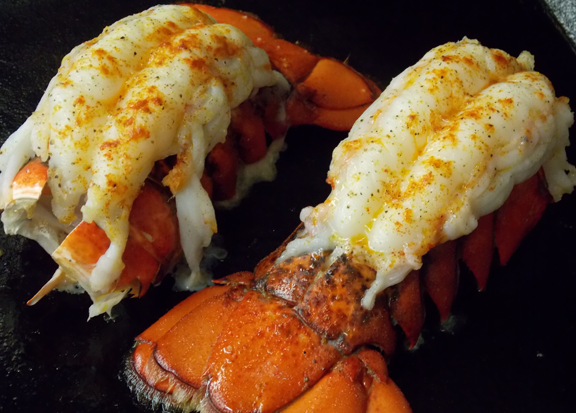 Place the hot pan over a burner on medium-high heat and carefully place in your steaks. You should hear lots of sizzling—that's what's going to create that amazing, flavorful crust. Hopefully you have good ventilation in your kitchen, because this will create some smoke. It's worth it, I promise!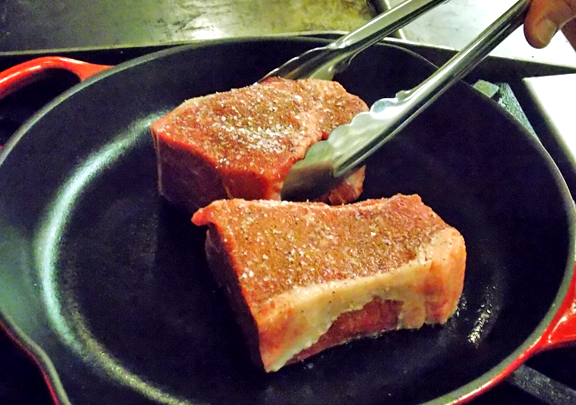 While the steaks are searing, zest your lemon, finely chop the thyme, chives and parsley, and stir into your reserved clarified butter, along with a pinch of salt and pepper.
After a few minutes—when the steaks release easily from the pan—it's time to flip them and get the other side just as deliciously toasty, which will require another couple of minutes. Then, add the asparagus. Drizzle everything lightly with about 1-2 tablespoons of the melted herb butter, reserving the rest to use as a dipping sauce for your meal. Place the pan in your preheated oven to finish cooking the steaks to your desired doneness. (Check with an instant-read thermometer for accuracy.)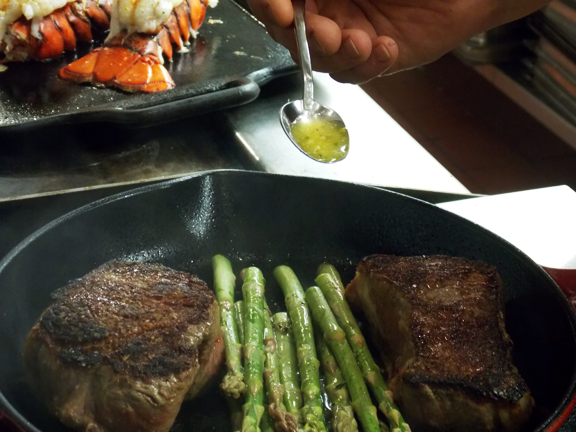 When your steaks are ready, let them rest just a few minutes—a good time to pour a couple glasses of wine. Then it's time to plate the steaks, lobster tails and asparagus. Yes, it really is just that easy. This landlubber fears the surf and turf no longer!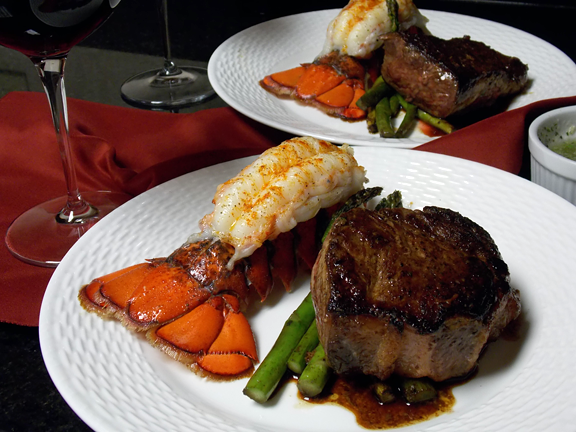 Looking for more restaurant-quality recipes for your next special occasion? Check out the rest of our Love at First Bite series!