What does it take to get you out of bed on a Saturday morning? Would the promise of a behind-the-scenes experience at an iconic steakhouse do it for you? Imagine you could witness a steak cutting demonstration and an explanation of what makes certain cuts stand head and shoulders above the rest. Throw in a session explaining how quality beef is brought to the table, from farm gate to dinner plate. Add some Texas history and local lore, and finish the day with a grilling class and taste testing. Just for good measure, what if a premium steak lunch was to conclude the day?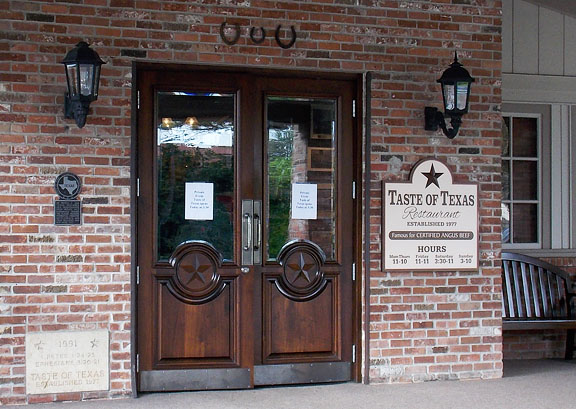 It's no dream, folks. The morning I just described may sound too good to be true, but a lucky group of nearly 70 meat lovers got to experience it for themselves at Taste of Texas Restaurant, Houston's legendary steakhouse extraordinaire. The annual "Grilling School" program began seven years ago, in honor of the restaurant's 25th anniversary. Die-hard meatheads join a waiting list for the privilege of attending. Their entire registration fee then helps fund the restaurant's generous employee scholarship program, which awards grants to staffers working towards their degrees.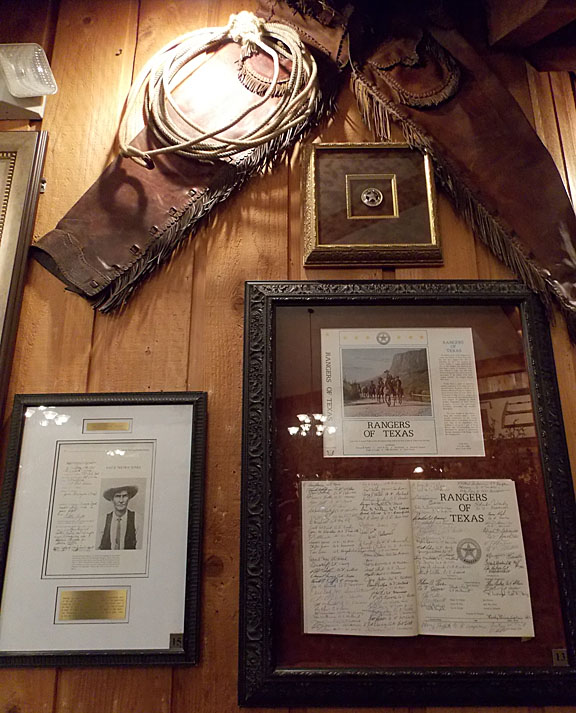 This spirit of "family" is evident in every moment of a visit to Taste of Texas. Restaurateurs and founders Edd and Nina Hendee, and their daughter Lisa Hendee Blackard, take their commitment seriously. Cutting corners simply isn't an option. They insist on quality, value, service — and delivering a memorable dining experience to their guests. "Good" simply isn't good enough.
It all starts with the beef, and Taste of Texas has relied on the Certified Angus Beef ® brand's quality since 1984. The key is marbling, the little white flecks of fat within a steak. The more marbling, the higher the quality – and the better the eating experience.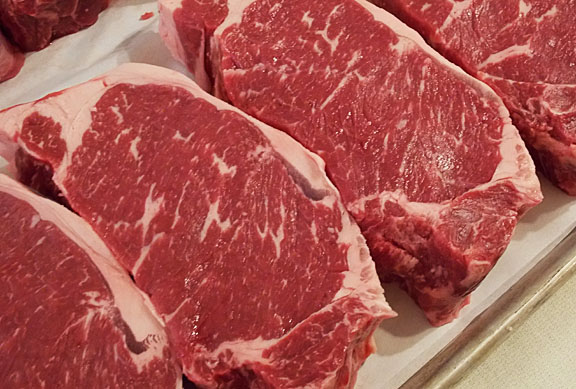 The next considerations are Taste of Texas' particular aging and trim specifications. The culinary team works hand-in-hand with Freedman Meats to source steaks that are cut to their exacting, and unique, requirements. These premium cuts are then aged, to release their full flavor potential and further enhance their natural tenderness. What sets Taste of Texas' apart is an additional two to three weeks of aging under carefully monitored conditions.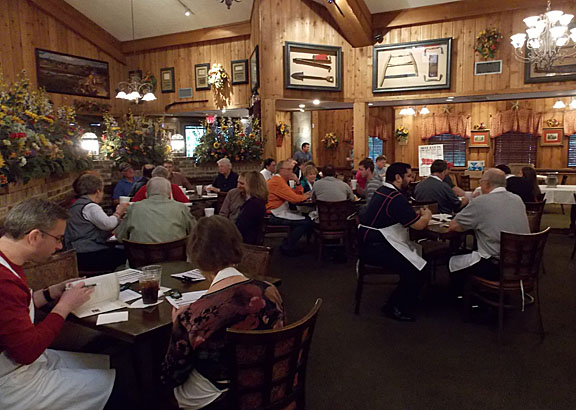 Grilling class guests got to learn more about the premium beef, and how it's cut, from a trio of Freedman's meat experts. Not only did they get to see a steak cutting demonstration, but also learned how to differentiate quality grades, and what sets different cuts apart. For guests looking to put practice into action, Taste of Texas allows them, if they like, to choose their exact steak from a well-stocked case of premium cuts. (If you ask me, you simply can't go wrong when faced with a decision like that!)
Now, if you're looking for someone to tell you how to choose and prepare a delicious steak, you'd be hard pressed to find someone better for the job than Lisa.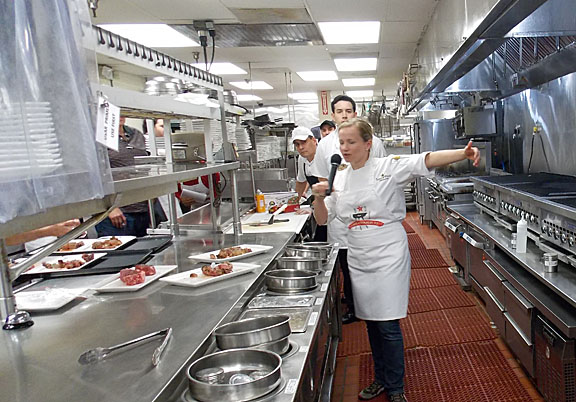 She's the gal in charge of the grill and was able to boil down her "secrets" to five tips — after you choose the perfect steak, of course:
Salt your steaks. Lisa recommends a generous sprinkle an hour before cooking. And, repeat after her: "I will not marinate Certified Angus Beef ® steaks — so help me, God!" As she explains, why mask marvelous, naturally robust beef flavor?
Prepare your grill. Preheat one side on high for at least 10 minutes, and the other side on medium high heat. Get the grates as clean as possible, and lightly oil them (use an oil-soaked rag and tongs) before cooking.
Make cross-hatches —those beautiful diamond grill marks. Place your steaks on the hottest part of the grill at a 45° angle. Cook for 2 minutes, then use tongs to rotate them 90°. Cook 2 more minutes, then flip and repeat. Then, move your steaks, lining up the grill marks, to the cooler part of the grill to finish cooking.
Check for doneness. Insert a digital thermometer into the thickest part of the steak, through the side (parallel to the grates).
Make it sizzle. Taste of Texas serves its steaks on a hot plate, topped with garlic butter that sizzles as it melts over the sides. At home, Lisa suggests serving steaks with your own compound butter, a chimichurri or a horseradish sauce on the side to amp up the "wow" factor.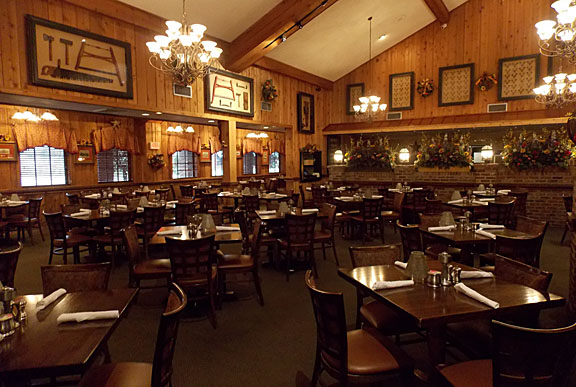 Looking to experience your own Taste of Texas? All of the steaks they serve are available for purchase online at www.tasteoftexas.com. Or, better yet, stop in and enjoy the Hendees' hospitality the next time you find yourself on Houston's west side. It's a flavorful tradition not to be missed!
Stay tuned for more culinary highlights from the Lone Star State, coming soon.