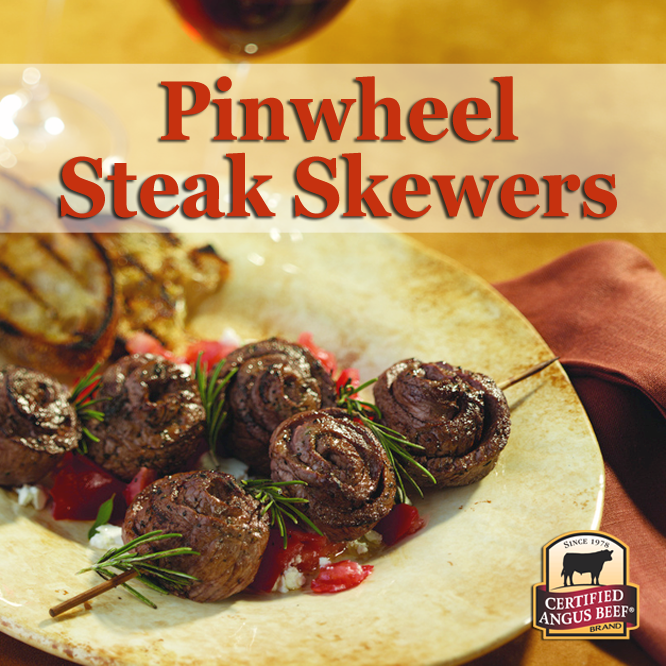 This is a great recipe for weekend gatherings or your next back yard bash. These skewers are an excellent way to serve steak to larger groups, too. Just grill several top sirloin or flank steaks, thinly slice the tender beef, roll pinwheels, and skewer. Juicy bites of luscious, mouthwatering steak for every guest without breaking the bank. Yes, please!

Pinwheel Steak Skewers
Ingredients
 1 1/2 pounds Certified Angus Beef ® top sirloin or flank steak
1 cup beef broth
2 tablespoons red wine
1 tablespoon Lea & Perrins® Worcestershire Sauce
1 tablespoon vegetable oil
1 teaspoon Italian seasoning
1/2 cup olive oil
3 large ripe tomatoes, diced
6 ounces feta cheese
1/3 cup chopped fresh oregano
Rosemary as needed for garnish
Salt and pepper to taste
6 metal skewers
Instructions
To make marinade, combine beef broth, red wine, Worcestershire, vegetable oil and Italian seasoning. Place steak and marinade in zipper-locking plastic bag; refrigerate 2 hours.
Remove flank steak from bag and discard any leftover marinade. Slice steak across the grain into thin strips. Roll each beef strip and thread onto skewers. Season with salt and pepper, and grill to desired doneness.
To serve, combine olive oil and tomatoes. Divide tomato mixture on each plate. Top with feta cheese and oregano. Place one skewer per plate and garnish with rosemary.
Chefs Note: Serve with hearty, bakery-fresh bread.