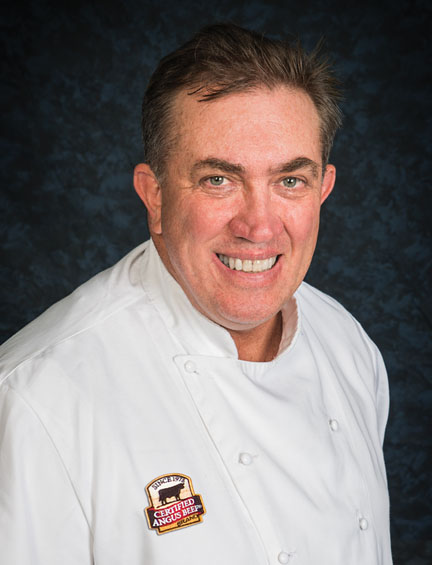 From cooking with family to cooking for royalty, Chef Tony Biggs has a world view of the culinary scene. And these days, he's doing so as director of culinary arts for the Certified Angus Beef ® brand. Like many chefs, his passion for food was prompted by someone else's love of cooking — his grandmother. As a youngster at her side, he learned to make traditional southern fare. His joy of cooking grew as a teen in Massachusetts. There he used cookbooks to make meals for his mother, the first was roast beef with Yorkshire pudding. Later, friends visited Tony's living room on Saturday nights for his 'restaurant'. Soon reservations were required!
Chef Tony says, "It didn't take me long to realize food makes people happy. If it's good, palatable and served in the correct way, people are very happy."
He's been a dishwasher, oyster shucker, singing waiter at his father's Buffalo restaurant, wine steward and valet — and those experiences prompted him to move on to the Culinary Institute of America. The stove-side experiences with top chefs were invaluable to his career. Tony then journeyed to Hyatt Hotels in Massachusetts and Puerto Rico, helping to develop flagship properties, but he didn't stop there. Next he conquered Japan's Tokyo American Club, known for thick-cut steaks, pizza and all-American cuisine, and a casino group in the Philippines.
Chef Tony eventually returned with his family to the United States and landed at the Second Harvest Food Bank in New Orleans, where he helped construct and run the community kitchen after Hurricane Katrina. He ventured on to Amman, Jordan, where he was executive chef for the royal family. Sounds like the guy could write a book! And his is — it chronicles his culinary journeys and even includes his stint on an oil rig in the North Sea.
I've met a lot of great people in my lifetime, and learned so much about bringing good food to the table. I enjoy introducing chefs — and people everywhere — to the most delicious ingredients and eating experiences.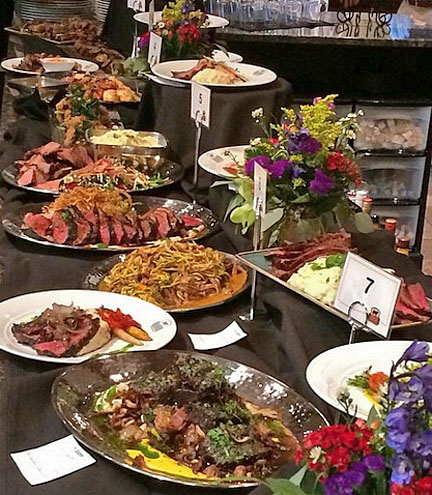 One of his first tasks as director of culinary arts was to serve on a judging panel for a beef cooking competition between 16 chefs visiting the Certified Angus Beef ® brand Education and Culinary Center. The competitors were part of an intensive chef summit that focused on premium beef cuts and recipe development.
Is there such a thing as too many cooks in the kitchen? Sixteen seems rather excessive, and Tony admits is something that he did consider. He was pleasantly surprised, however. "Chefs are chefs — they know the kitchen, what's ahead and what needs to happen in there."
But it's not all beefy battles, chef competitions, taste tests and judging panels.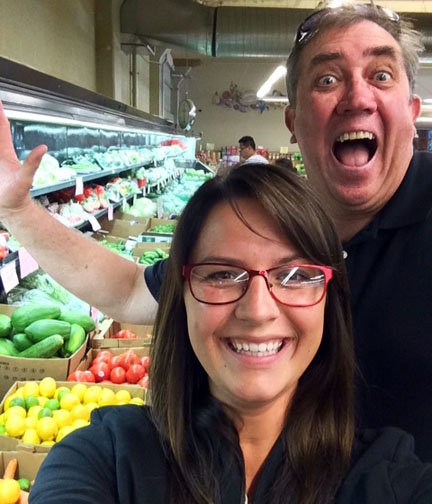 In his new role at the Education and Culinary Center, Chef Tony will focus on developing and expanding the brand's culinary vision. He must also find new ways to showcase and interpret the use of premium beef on menus and in the grocer's meat case — but he'll still have time for a few fun shopping trips with fellow ECC chefs.
With so many worldly adventures one might think Chef Tony deserves some down time — but he keeps busy. In his spare time [what's that?!] he golfs, skis and cooks for his wife, Candy and their two children. His favorite meal? A 2½-inch-thick Certified Angus Beef ® brand New York strip steak with a glass of cabernet sauvignon.
Mmm. Sounds good to me!