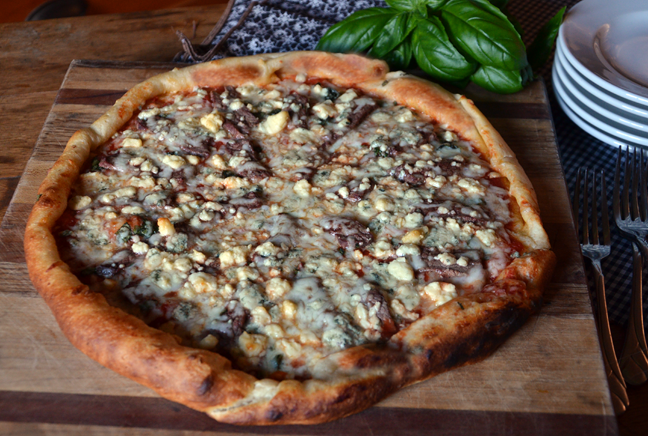 I hate to heat up the kitchen on steamy summer days. The only air conditioning in our old farmhouse floats in on the breeze through open windows. The solution is to cook outdoors and enjoy evening meals on the porch — and we do, frequently. Grilling is our cooking method of choice in summer (and who am I kidding, we love it year-round). Thankfully, we've perfected the art of preparing all sorts of delicious dishes — including pizza.
Grilled Pizza with Steak and Blue Cheese is one of our favorites.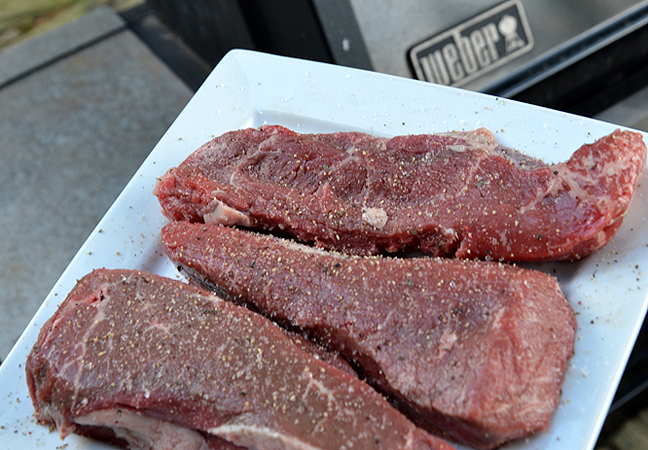 Meat is a grilling mainstay and truth be told, most of our meal prep begins by grilling meat. In this case, I seasoned several top sirloin strips (coulotte steaks) with Kosher salt and fresh-cracked pepper, then grilled. And while the steaks cooked, I picked some fresh basil from the garden. The original recipe calls for tomato sauce with basil, but who can resist fresh ingredients when you have them on hand?!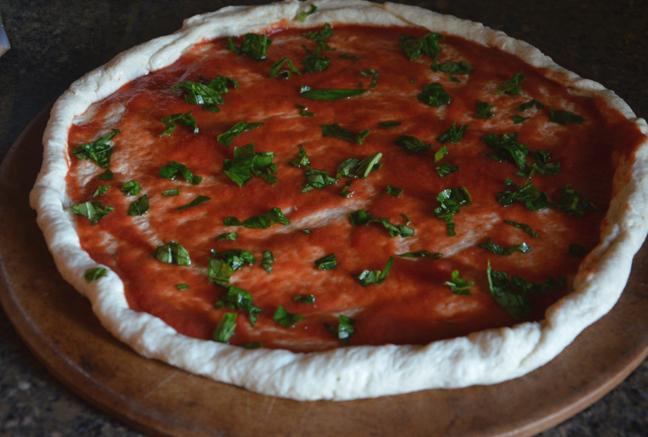 Remove steaks from the grill and allow to rest. Cook to medium-rare, because after you add steak to the pizza, you're going to put it back on the grill for more cook time.
You could make your own pizza crust, but I used a tube of pre-made dough. It was rectangular, so I rolled and stretched it into a circular shape. I'm a fan of  a big bite of crust at the end of the slice!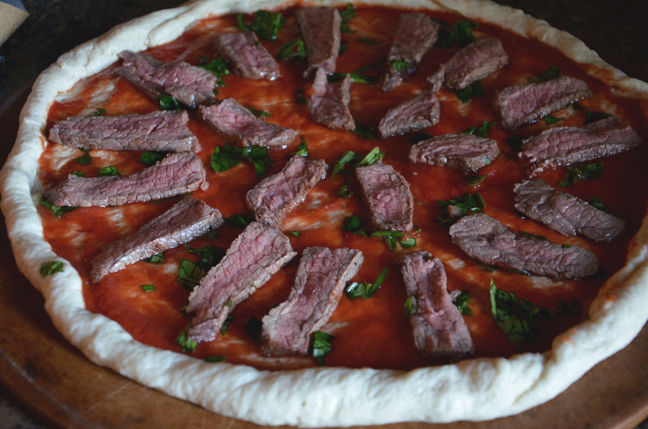 Top the crust with tomato sauce, fresh basil, and slices of grilled steak. Arrange them any way you want — the kids created a masterpiece, as you can see, above. Then add shredded mozzarella and blue cheese crumbles.
The original recipe suggests you grill the crust separately, then add toppings and heat until cheese is melted. It's delicious and you will get a crispier crust that way.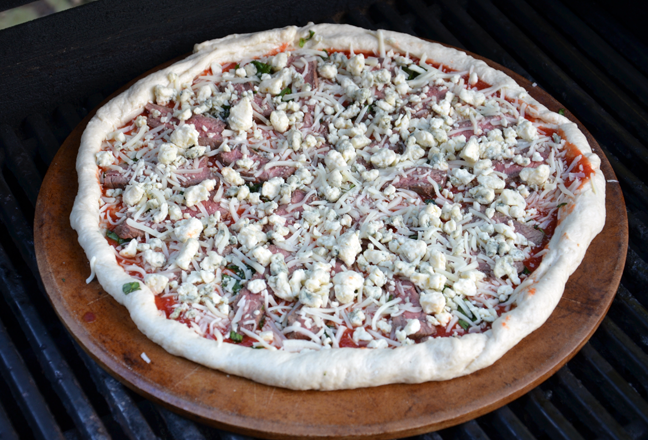 I happen to have a pizza stone, so I simply rolled out the crust, added toppings and put the whole shebang on a 500° Fahrenheit grill. It took about eight minutes to puff up and cook through. Be sure to rotate during grilling to ensure all sides are evenly browned.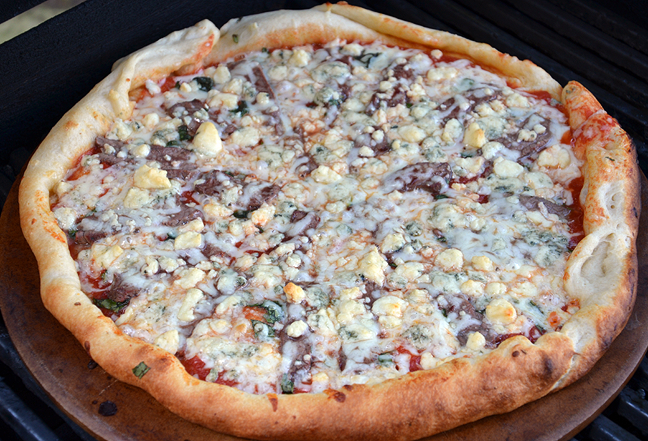 As it turned out, the pizza stone worked beautifully on the grill. The crust was brown and crispy, the cheese bubbled and melted into mounds of gooey glory, and the addition of steak made the whole thing a decadent delight.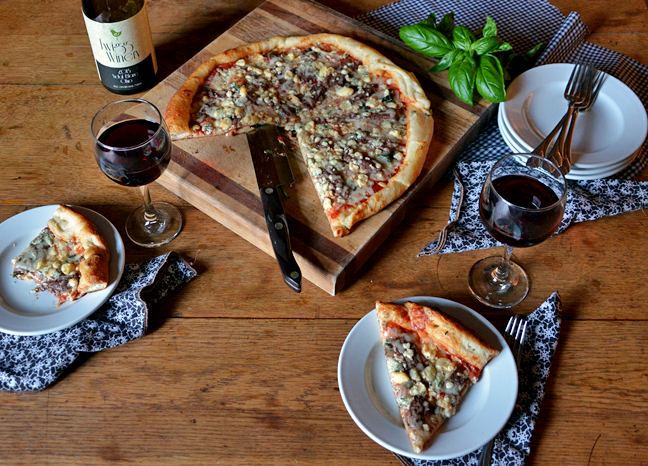 It was a beautiful evening with a rustic main dish that made everyone happy. Steak, cheese and fresh basil on a crispy crust from the grill? That's what I call divine dining!
Oh, and let me show you what we enjoyed for dessert …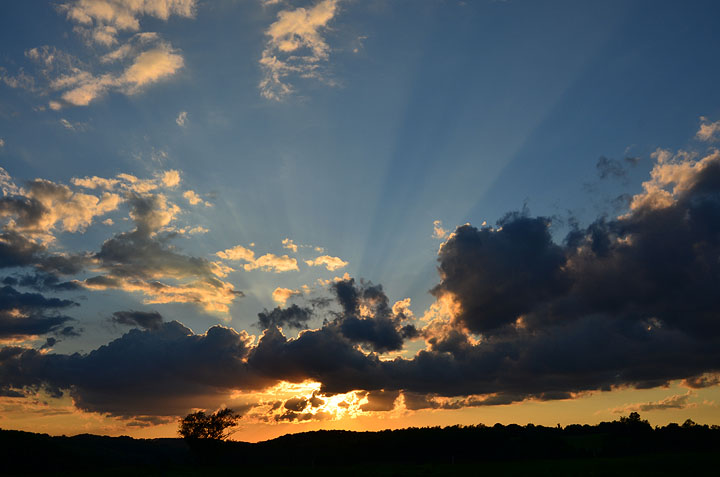 It was spectacular — as was the grilled pizza!
The original recipe is below. Feel free to modify and adjust as necessary. It's your meal, after all! Put your crust directly on the grill, or use a stone or even a griddle. Make a second pizza without blue cheese for younger kids, if you wish. Mine can't handle that much umami in one bite! However you prepare this recipe, whatever toppings you add or subtract, you can't go wrong. Have fun with it! Happy summer dining. Go forth and grill on!
Grilled Pizza with Steak and Blue Cheese
8 (4-ounce) Certified Angus Beef  ® top sirloin steaks
1 (13.8-ounce) tube pizza dough
2 tablespoons olive oil
1 cup prepared tomato basil sauce
8 ounces crumbled blue cheese
16 ounces shredded mozzarella cheese
Salt and pepper to taste
Preheat grill on high and reduce to medium when hot. Season steaks with salt and pepper; grill to desired doneness. Move steaks to cutting board and rest for 5 minutes.
Unroll and cut pizza dough into four equal pieces. Roll each piece to 1 1/2 times the original size and cut each piece in half. Brush with olive oil and grill about 2 minutes per side. Turn off flame to half the grill. (If using a charcoal grill, push coals to one side.) Place grilled dough on the cooler side.
Thinly slice steaks. Top each dough piece with tomato sauce, steak, blue cheese and mozzarella cheese. Shut grill lid 3 to 4 minutes for cheese to melt; serve.