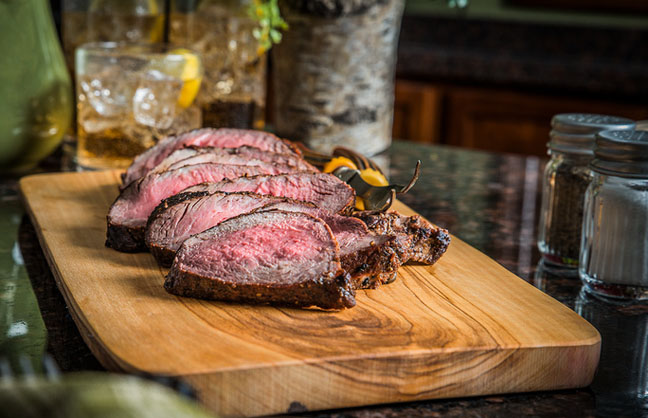 Is there really any such thing as too much of a good thing? 
Well, OK. Tequila, or wine, may not be the best example. There can definitely be too much of that … um, so I'm told…
But let's take chocolate chip cookies, for example.

Assuming you like chocolate, which cookie would you rather eat: one with just a few chips, or one loaded with melt-in-your mouth goodness in every bite?
Uh-huh. That's what I thought. The way I look at it, if I'm going to eat a cookie, then I want to enjoy every flavorful bite of it. I want it to be soft, and chewy, and melty, and rich, and … mmmmmmmm…
When I asked the kids and my hubby that very question the other night, they stopped and looked at me funny. Real funny. I had to reassure them it wasn't a trick question, but only then — warily — they replied that they'd much rather eat the cookie with lots of chocolate chips. So then I really annoyed them by asking them to explain why that is.
"Well, DUH," the 13-year-old replied, giving me a look like I'd really lost it this time. "More chocolate."
Hubs just stared at me and raised his eyebrows. And the 10-year-old requested a taste test, because he's no dummy. Fair enough, I thought. And then I got to thinking that chocolate chip cookies were an awful lot like premium steaks.
[And now you, dear readers, are probably raising your eyebrows and looking at me funny.]
If I were to ask you what sets a premium steak apart from a mediocre one, you might say the best steaks are tender. They're naturally juicy. And most importantly, they're full of robust beef flavor in every bite.
All true, and it begs the bigger question: why is certain beef naturally flavorful, tender and juicy? The simple answer is that it has more marbling. You know, those little white flecks of flavor that are sprinkled throughout the red meat. The marbling melts as beef cooks, and "bastes" it from the inside out, enhancing its tenderness and juiciness — and most of all, its flavor.
And, the more marbling, the better. That's why the Certified Angus Beef ® brand requires beef to meet a total of 10 quality standards, the most important of which is marbling. Not only does it have to have plenty of the good stuff, but it has to be finely-textured. That helps ensure it melts during cooking, to give you the maximum flavor in every bite.
Think of it this way … it's the difference between regular chocolate chips and mini chocolate chips. The minis melt faster, and will be distributed more completely throughout the cookie. Maximum deliciousness in every bite!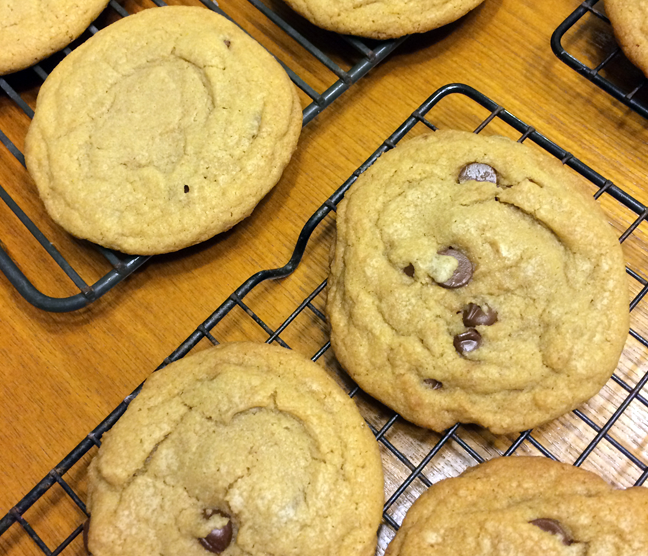 Just for fun, and much to my family's delight, I actually made four batches of cookies. The first batch used a tiny fraction of chocolate chips. I called these my Select cookies — mimicking the minimal marbling in most Select Grade beef. The second batch used more chocolate chips than the first batch, but not nearly as many as the recipe called for. I compared these to "low Choice" beef, which still earns the USDA Choice grade label, but doesn't have a lot of marbling.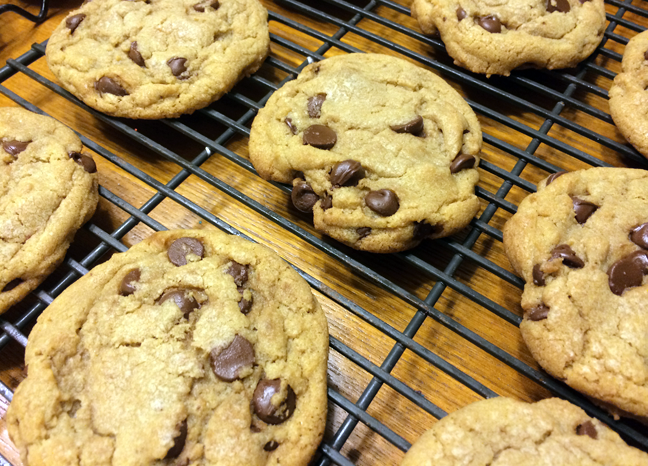 The third batch followed my tried and true cookie recipe exactly … just the right amount of chocolate chips to satisfy. To me, these compare to "high Choice" beef, which does grade higher on the marbling scale and delivers a consistent, satisfactory eating experience.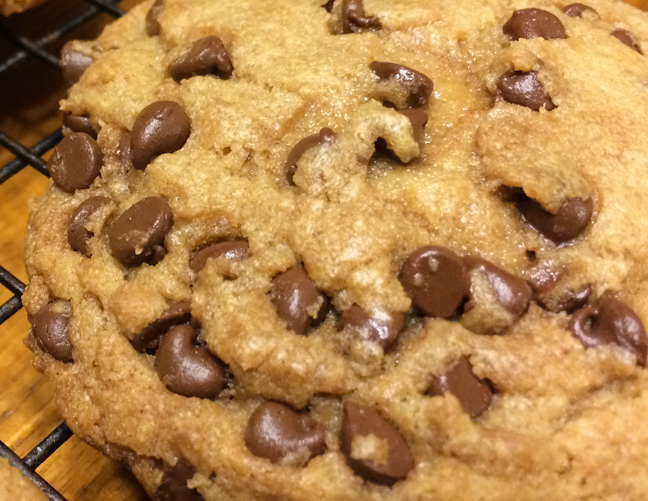 Finally, the fourth batch were my comparison to the Certified Angus Beef ® brand: the same amount of chocolate chips as the last "high Choice" batch, but mini chocolate chips to ensure they'd be well-distributed and melt even more easily in your mouth.
Was the experiment a success? I dare say it was, now that my family's begging for their next steak dinner … and cookies for dessert!
Want to try for yourself? Pick up some Certified Angus Beef ® brand steaks at a grocery store near you, along with the ingredients for my foolproof, guaranteed-to-please chocolate chip cookies.
Jen's Famous Chewy Chocolate Chip Cookies
Adapted from a recipe by Alton Brown
(Yield: 2 dozen large cookies)
2 sticks butter (I prefer salted)
2 ¼ cups bread flour (this is the "secret" — no substitutes!)
1 teaspoon kosher salt
1 teaspoon baking soda
¼ cup sugar
1 ¼ cups brown sugar (light or dark; I like to mix the two)
1 egg
1 egg yolk
1 ½ teaspoons vanilla extract
2 cups (12 oz.) semisweet chocolate chips (mini or regular)
Melt the butter in a heavy-bottom saucepan over low to medium heat; remove from heat and allow to cool slightly. Combine the flour, salt and baking soda in a large bowl and set aside.
Heat oven to 375°F. Pour melted butter in the bowl of a stand mixer; add sugars and cream on medium speed. Add the egg and egg yolk, and then vanilla; scrape down sides and mix until well combined. Slowly incorporate flour mixture until well combined. Stir in chocolate chips.
Scoop (or spoon) dough onto baking sheets lined with parchment paper, allowing room for cookies to spread as they bake. Bake for 10-12 minutes until bottoms are golden brown. Allow to cool completely on racks and store in an airtight container. (They also freeze beautifully, if they last that long!)