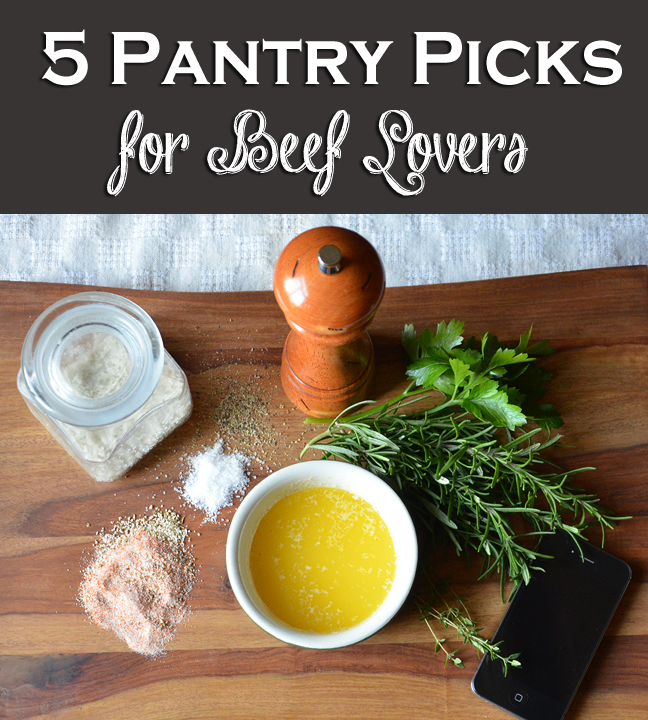 We all have our favorites and Chef Michael Ollier is no exception. Whether he's perfecting decadent beef dishes at work or grilling steaks at home, his top five pantry staples are a must-have for beef lovers everywhere.
1. Kosher salt and fresh-cracked black pepper.
The most important items to have in the kitchen — especially when cooking beef. A dash or two of both will perfectly enhance a tender, juicy hunk of beef.
2. Ready-to-Rock spice rub.
I like to keep spice rubs on hand for grilling. Mix up your favorite spices and store in the pantry. It's always ready when you have a hankering for a tasty steak. My favorite is the Arrachera Spice Rub — it's perfect for skirt steak and flank steak.
3. Fresh herbs.
Rosemary, thyme and sage are favorites. Use a bundle to baste beef, or throw directly on the coals of the grill. For example, sage is very strong when used directly on the meat. Lay this herb directly on the coals, though, and you've created a smoky atmosphere that flavors the beef without overpowering it.
4. Butter. Particularly, melted butter.
Complement a steak by basting it with melted butter. And it's especially flavorful when you add a clove of garlic. Compound butter is also handy. Prepare steak butter and store in the fridge until needed. Then, just slice off a disk and top your steak. Delicious!
5. Devices and Gadgets to make life simpler.
I'm currently experimenting with an iDevice called iGrill. These gadgets are especially good for grilling large cuts of beef like a whole tri-tip or brisket.
There you have it … spices, fresh herbs, butter, and cutting-edge technology.
Now go make our perfect steak!