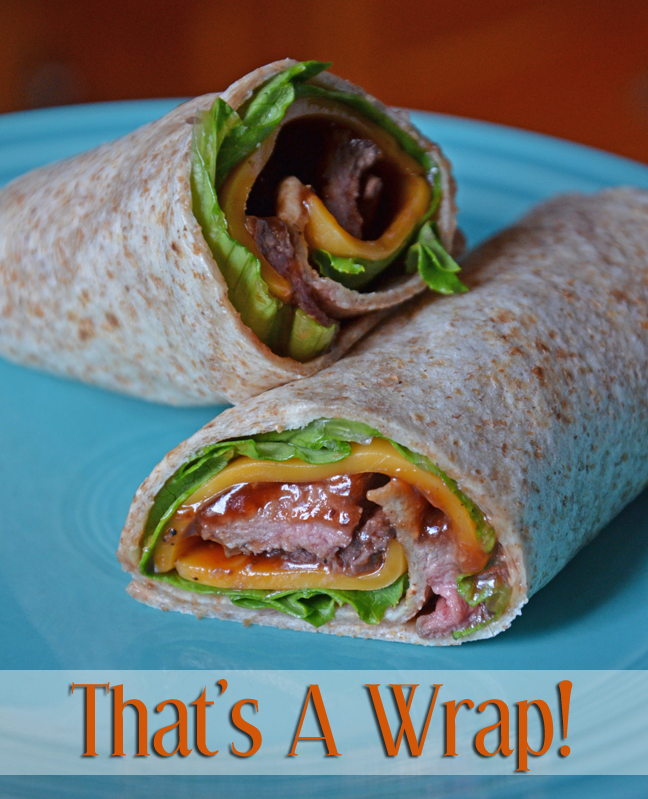 Midsummer lunch menus can be a challenge. One, because I'm busy doing other things and usually forget to plan ahead. Two, because it's hot! Who wants to cook?! I've found a simple solution for midday woes, though, and now my lunch plans are all wrapped up.
Wraps are one of the most versatile "sandwiches" in my mealtime arsenal. I usually go for whole wheat tortillas, but try flavored varieties like tomato basil or pesto. Or, use plain flour tortillas (or even corn). You choose!  Then add flavors by layers with favorite ingredients. Begin with a great sources of protein like lean beef and cheeses, then fresh veggies, fruits and your favorite sauces.
Just roll, wrap and go. Make ahead or make last-minute.  It's that simple.
The Kids Barbeque Wrap is a favorite in my house. It uses tender, juicy slices of grilled Certified Angus Beef ® brand steak, cheddar cheese, apple slices and our favorite barbecue sauce. I add lettuce, too. It's a cool and tangy meal for kids of all ages, and I can use leftover steak from dinner the night before, which helps with time crunch. And if you're a mom with messy eaters, you'll be thankful the ingredients in this meal are all wrapped up.
A few of our favorite wrap recipes — with a more adult inclination — include:
Top Sirloin with Sweet Potato Slaw Wrap
Blackened Strip Steak and Brie Wrap
Brisket Wrap with Cherry Salsa
And THAT is a wrap!