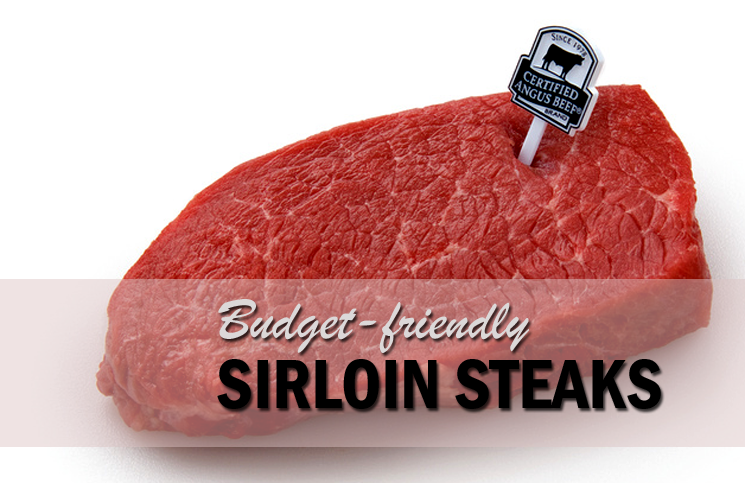 It's not often — as in hardly ever — that I show up at the grocery store with an unlimited budget and a 'whatever looks good' attitude. Let's be honest, we all have a goal in mind most of the time, and we're inclined to stick to it faithfully. Sometimes you try to cheat your own system, though. You think you can beat your budget and still come out on the top of the flavor scale. Have you ever comparison shopped for other brands of your favorite products? I have. Still do, occasionally. Sometimes I'm pleasantly surprised and other times I scream "NO, never again!" at first bite.
I don't compromise when it comes to beef.
Beef has a price tag that demands it be flavorful, juicy and tender with every. single. bite. There's just no comparison — the Certified Angus Beef ® brand is the best in quality and flavor, dollar for dollar. Oh, sure, you might see "USDA certified beef" on sale at your local grocer. Does it say Prime grade? Does it say Choice? No?! That probably means it's less than tender and tasty — USDA Select or lower. It's a trick; sounds good at first blush, but means nothing. You see, all beef is USDA certified. If your grocer doesn't bother with the USDA grade on that label, steer clear. It's highly likely you will only waste your hard-earned dollars on something that tastes like a comfortable, worn-out old shoe. I've done the beef comparison shopping, and let's just say there's no need for you to feel — or taste — my pain. Instead …
Look for the Certified Angus Beef ® brand logo.
It's the mark for 'always tasty, tender and juicy'. You can count on it! When you see that label you know you're buying the best Angus beef available. And truly, you can taste the difference. Afraid you'll encounter sticker shock? Don't be. You don't have to buy the cadillac of steaks every time to have a great meal — sometimes the four-door sedan is absolutely perfect. Like a delectable Certified Angus Beef ® brand …
SIRLOIN STEAK
Sirloins don't come with a cowboy claim to fame like ribeyes or a New York state-of-mind like the strip steak. They're not lauded for their buttery texture like filet mignon.
Here's the sirloin secret, my friends: it's always delicious and tender and budget-friendly!
The sirloin steak is a family-sized steak that offers lean, well-flavored and moderately tender beef at an affordable price. You can also have your butcher cut it into individual sirloin steaks, or grill the entire sirloin tip and slice thin for sandwiches. Sirloin has no bones and little fat so yeah, it's a lean cut and kind to your waistline. It's a versatile cut, too, meaning it can be prepared in a variety of ways for a juicy, beefy bite that'll tickle your taste buds with awesome flavor. Give it a try and then come back here and tell me about it. Seriously — I want to know!
Now, you could prepare your sirloin steaks in typical fashion — fire up the grill, cook 'em until they're a nice medium-rare with salt and pepper. Or, you could grill your steaks to desired doneness, slice thin and serve on slider buns with onion and your favorite cheese. However you prepare it, be sure to give sirloin a try. You won't be disappointed!