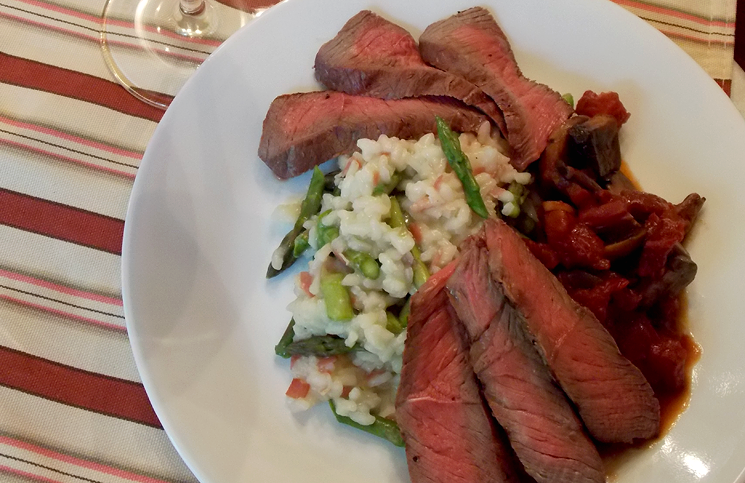 One of my greatest culinary disasters came a few years ago, during my first — and heretofore only — attempt at making risotto. Far from the sublimely creamy, magically satisfying dish I'd enjoyed at many restaurants, my version was a sticky, bland, paste-like concoction that stuck to my ribs in all the wrong ways.
Worse than the gluey glob on my plate, however, was the injury to my pride. I'm not a chef, but I've always been a pretty capable cook … or so I thought, until this culinary misstep shook my confidence to the core. So, like any reasonable perfectionist would, I decided I was done with risotto. Wasn't going to try again. Couldn't risk another failure. But then, my husband decided he wanted to try to make it. On Thanksgiving, of all days. For our families, who have come to expect a pretty good meal from us. The nerve! The chutzpah!
Now, it's not just that I'm competitive (because all right, I am.) But the fact is, this is a guy who feels like he needs to follow recipes to the T. Sets a timer to cook pasta for the duration prescribed on the box. He's got great skills and is a wonderful cook, but readily admits he doesn't often trust his culinary instincts.
And yet he thought he was going to pull off risotto, I sneered to myself.

Good luck with that, buddy.
Of course you see where this is going. He pulled it off brilliantly. It was sublime. Every bite was mouthwateringly delicious, full of nuanced flavor and inimitable texture. Truth be told, it made me fall more deeply in love with him.
But then he had to (innocently) taunt, "It really wasn't that difficult! Everyone says risotto is hard to make, but it just requires a lot of patience."
Beginner's luck, I thought, uncharitably. Until he proved me wrong, again and again, on many different special occasions when he impressed our guests, and sometimes me alone. Flash forward a couple years and I decided, rather out of the blue, that it was time for me to get back on the proverbial horse. I had to try making risotto again. Not to steal his thunder — because, honestly, it's pretty awesome to have someone who will make risotto for you — but to complete a bit of unfinished personal business.
The verdict: success! I don't know exactly what changed, but I took my husband's rather offhand advice to heart: it's really not that hard — it just takes some patience. And, of course, plenty of confidence.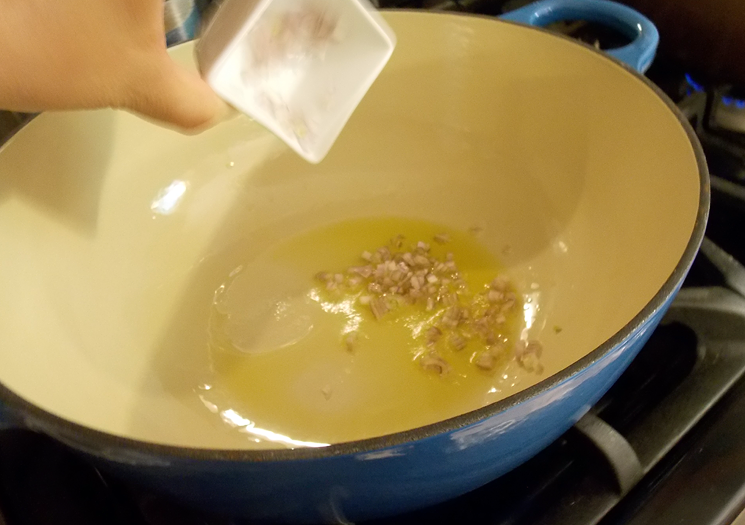 It starts by heating a bit of olive oil in a heavy-bottomed pan (I found my Le Creuset rounded-bottom braiser was perfect). Then, sauté your aromatics — for this recipe, a little finely chopped shallot and a good amount of pancetta. Add short-grained Arborio rice and continue sautéing until it's very lightly toasted.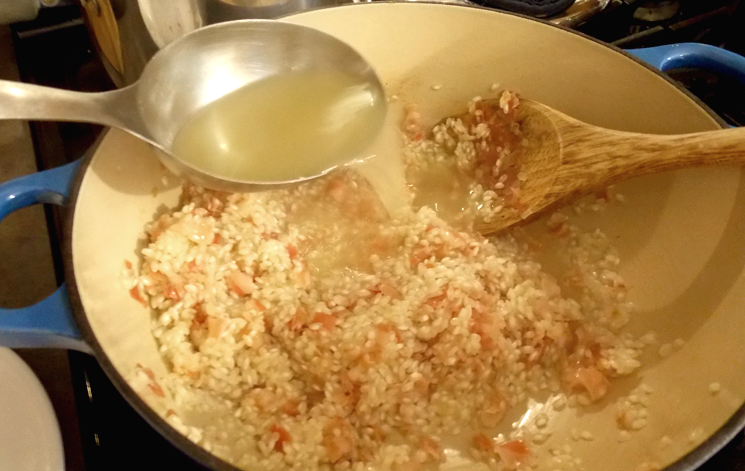 Then, I chose to deglaze everything with some white wine for a little extra flavor, but you can get straight to business – the part where the patience really comes in.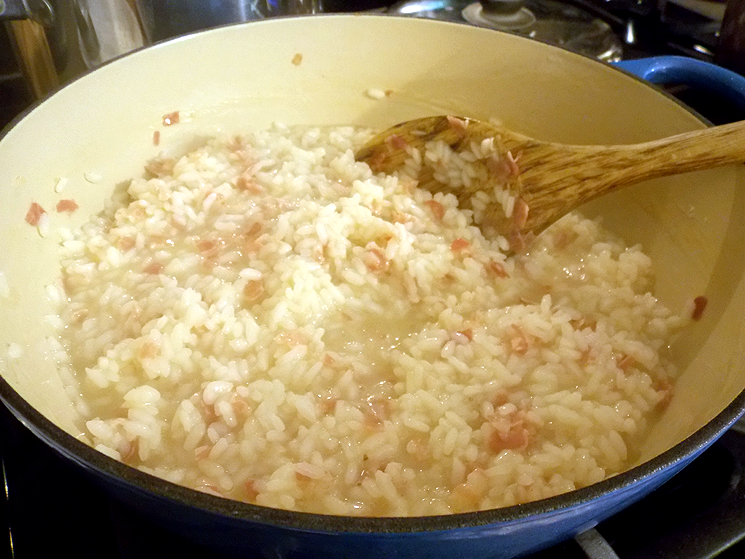 Add one cup of stock or broth (perhaps cut with some heavy cream to impart some extra richness), and stir in until it's nearly completely absorbed. Then repeat, over and over, about 6 to 8 times until your rice has cooked through and released its natural starch and transformed from mere rice into a gourmet dish that will make your taste buds sing!
It bears repeating — patience is required. You can't rush the process, which could total upwards of 40 minutes to an hour. You'll want to start things over higher heat, and reduce to medium-low once the liquid starts to go in. I believe temperature control is a big part of the equation, so that things cook at the proper leisurely pace that's required.
I've always heard that you should stir risotto constantly, but I found that to be somewhat exaggerated. Sure, each addition of broth should be stirred in, and you want to get things moving around the pan regularly – but don't feel that you need to cement your feet next to the stove top for the duration.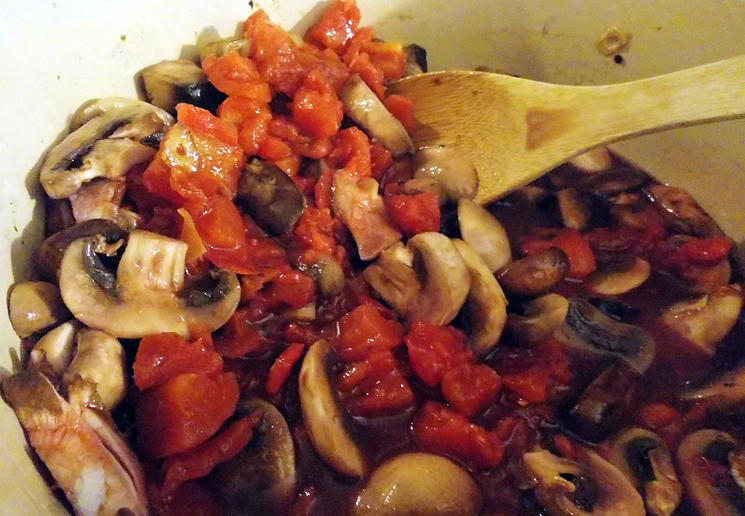 While my risotto cooked, I used a different burner to make a red wine, mushroom and tomato ragout.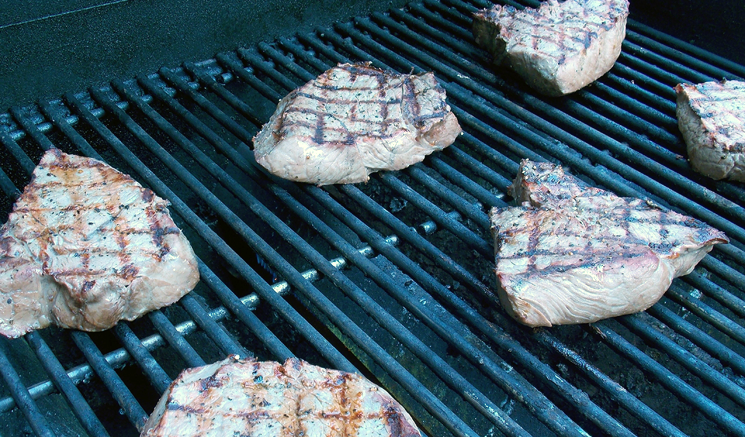 I also prepared center-cut top sirloin steaks on the grill. Then it was time to slice the steaks and assemble the dish.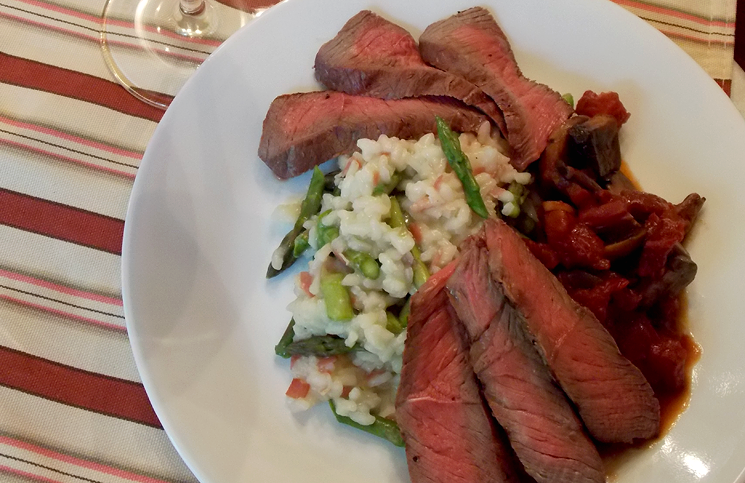 Have I whet your appetite, and given you the confidence that you, too, can give risotto a try? Try this recipe — Steak with Asparagus Risotto and Tomato Red Wine Sauce — for a gourmet meal at home!
Now I'm wondering … what will be next on my culinary bucket list? Share your suggestions in the comments! And hey, be sure to save this recipe for later — here's a handy step-by-step image to pin to your favorite foodie board on Pinterest!