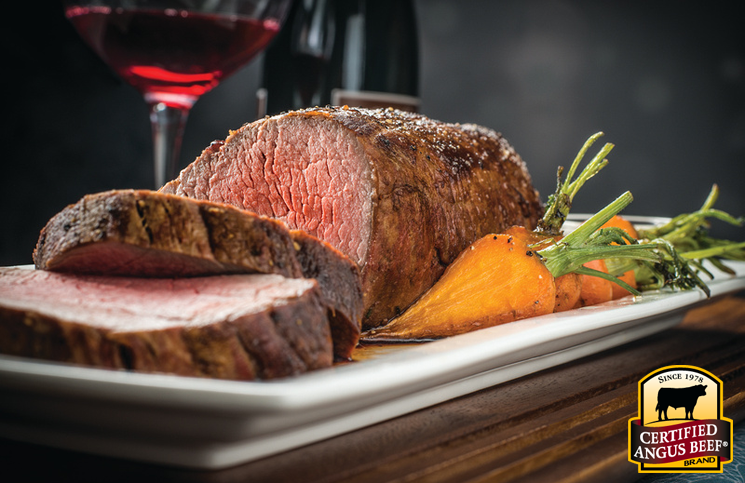 It's roasting season! While chestnuts over an open fire sound delightful, I prefer something with a little more substance … like a tenderloin roast with horseradish cream sauce. A beef roast by itself is a beautiful thing, but there's nothing wrong with gettin' a little saucy — enhance the flavors and the presentation of your main dish! The holiday season is reason enough to kick things up a notch, and this tangy topping is the perfect complement to the rich, beefy flavors. This roast and its spritely sauce  makes a perfect main dish for your next family feast, or serve as an appetizer for guests.
Here's the recipe — and here are more delectable roasts with delectable flavors.
Tenderloin Roast with Horseradish Sauce
Ingredients
1 (5-pound) Certified Angus Beef® brand tenderloin
¾ cup sour cream
¼ cup prepared horseradish
2 tablespoons minced fresh chives
2 teaspoons fresh lemon juice
¼ teaspoon cracked black pepper
2 French baguettes
¼ cup olive oil
Kosher salt and cracked black pepper to taste
Instructions
Mix together sour cream, horseradish, chives, juice and ¼ teaspoon cracked pepper; cover and chill.
Season tenderloin generously with salt and pepper and roast at 350 degrees F. for 30 minutes. Reduce temperature to 325 degrees F. and roast for 45 minutes or to desired doneness.
Remove from oven and let rest 10-15 minutes before slicing.
For an entree, cut into 2½-inch slices for 6 to 7 ounce servings.
Serve with horseradish sauce.
For an appetizer, cover roasted tenderloin with plastic wrap and cool completely in refrigerator.
Cut into ¼-inch slices and serve with French bread and horseradish sauce.
Nutrition Information
Serving size:
Serves 6 as an entree; 30 as an appetizer