In this post, Certified Angus Beef Chef Ashley Pado recounts her experience on a recent episode of the competition cooking show, Cutthroat Kitchen. The show aired Sunday, Jan. 4, 2015. Chef Ashley sailed through round one while other competitors played hot potato, or were sent to the bunks. Round 2 was even more challenging. Although she didn't win with her take on Southwest salad, she earned 'beef queen' status with ease.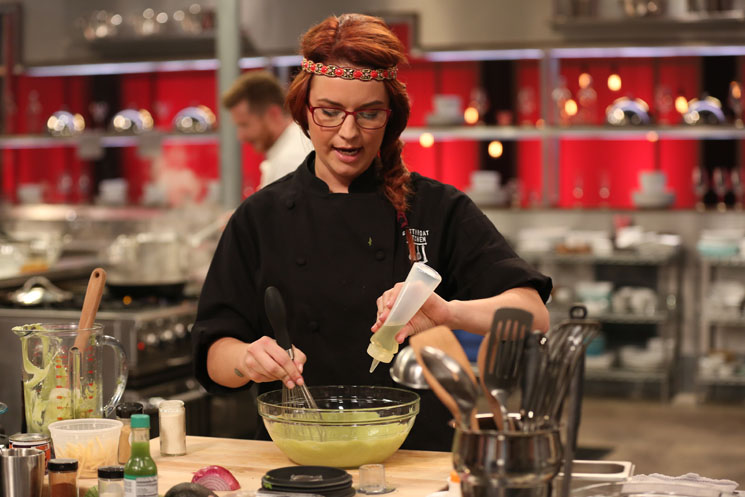 A Food Network producer calls your cell phone and tells you they want to cast you on season 7 of Cutthroat Kitchen. How do you react?
I won't deny it, it took me a moment before it fully sunk in. I was so focused on exactly what he had just said to me. THE FOOD NETWORK. Wants me – me!
The Food Network is the sole reason I ever really became interested in food in the first place. The Food Network is the one network that everyone you know has probably watched at least once in their life. Now I was being approached about appearing on it!
I can't tell you exactly how it felt, but I knew the next words out of my mouth would be "Yes! When?"
After the shock wore off, the excitement and anticipation really kicked in. I started looking up old episodes of "Cutthroat Kitchen" online and started studying. I initially wasn't very familiar with the show, so I knew I needed to learn everything I could. If you've never seen it, four chefs compete against each other. Each one is given $25,000, which they can use to bid on items or challenges that can either help them in the kitchen or sabotage their competitors. Needless to say, it's important to have a good strategy!
I watched the episodes with great concentration, paying attention to what sabotages intimidated me the most, and to think through how I would handle those situations. Learning the ins and outs of the show, and gaining great respect for the creativity put into each episode, really sparked my fire to get to Los Angeles! The more I watched, the more confident I became that I could do well.
My family started pulling pranks on me at home to test me. They replaced my knives with cheese slicers, and took away all my pots with sheet pans as the substitute! It was a trip and I'm certain my family got a bigger laugh at me than they ever had before.
Aside from these test runs, I dusted off some old cookbooks and touched up on my basics. My Papa always said, "Back to the basics!" and that's exactly what I did. I worked on my knife skills, practiced my mother sauces and brushed up on basic French techniques. I felt ready for anything! With my episode notes in hand, I packed up for L.A.
My time in Los Angeles was magical. Working with the Food Network was unbelievable, and I found myself remembering the 8-year-old me who was spellbound watching Julia Child and Gale Gand make incredible cakes on their shows. Now, I was competing for a title of sorts on the same network, and felt – and feel – so blessed to have the opportunity. It was truly a dream come true!
It's funny how nervous I can be when I anticipate things, but once in front of the camera I was ON!  I was tearing through the kitchen like I built it myself. However, it was hard to know that 30+ people were standing behind giant cameras waiting for you to do something worth filming! I had to be focused on the task at hand, but also pay attention to the "hate mail" coming from my other competitors. Of course, that just helped kick my girl power into high gear! I was on fire and felt so confident. I knew in my heart that I deserved my spot on the show, and that was what I needed most.
On a good day, any chef that sets foot on the Cutthroat Kitchen set would be in heaven! It's completely loaded with top of the line cookwear, and it's all so organized and neat. It's only when you add a time limit and sabotages that things get crazy! By that point, I couldn't tell you which way was up and I had forgotten all about the giant cameras. I just cooked.
Cooking is home for me and that's exactly what I did. The occasional sabotage made it interesting, of course, but through it all, I couldn't help but think: "You're cooking on the Food Network, and Alton Brown is rooting for you. KEEP GOING!"  The taping flew by. I couldn't tell you what day it was, or how long we'd all been cooking, but I was in my element and happy.
The worst part? Waiting. Since the show taped, I haven't been allowed to tell anyone what happened. So I've waited and kept my secret for months, wanting to share more about what happens and to watch the episode back. (As a chef, you don't ever get to see yourself in action. After all, nobody keeps a mirror in the kitchen!) I was so interested to see my facial expressions, and remember back to those specific moments when I was either nervous and rushed, or confident and in control.
I'm really proud. This was a terrifying, amazing adventure that really pushed me as a chef!