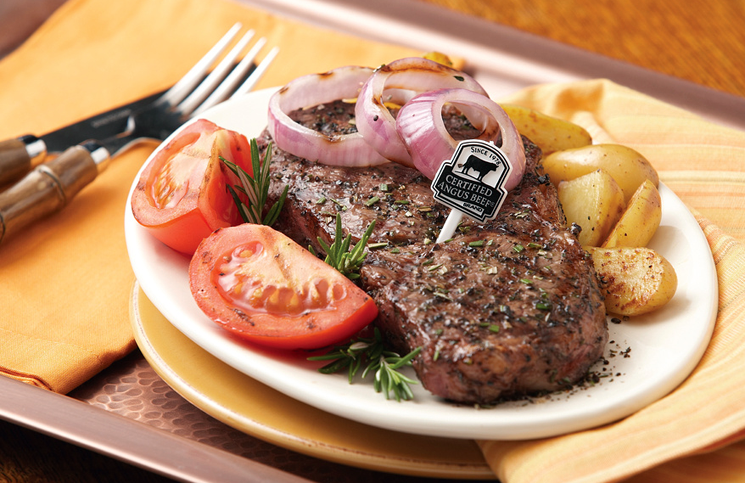 Even if you can't tell a fumble from a field goal or a huddle from a Hail Mary, I'm still willing to bet you're at least a little interested in the big game on Sunday. I'm one of those people who actually enjoys the commercials (well, at least those that deliver laughs). There's also the extravagant halftime show, and the anticipation of seeing whether the national anthem singer can actually hit that tough "land of the free" note. (Admit it … you've tried and can't do it justice.)
And, of course, there's the food. The delicious, we-don't-eat-like-this-everyday food, inspired by tailgates and sports bars and what we imagine the players themselves must eat to maintain their bulk and heft. In other words: you probably aren't going to dine on a delicate plate of leafy greens this Sunday night. (Not that there's anything wrong with it if you do, but … [raises eyebrows].)
For those who are rooting for a particular team, or hail from the cities represented, it makes sense to feature regionally inspired dishes.
The first thing I think of when I think of Seattle is coffee, which led me to this flavorful steak rub (recipe below) that includes … you guessed it! … coffee. But rather than tasting like you dunked your steak into a cup of Joe, it gives a robust, subtle earthiness that perfectly complements a naturally juicy steak. Try it on top sirloin, brave the elements and grill to desired doneness (you can even "grill" indoors if you prefer), then slice thin against the grain. I like to serve it on slider buns for perfectly portable mini steak sandwiches.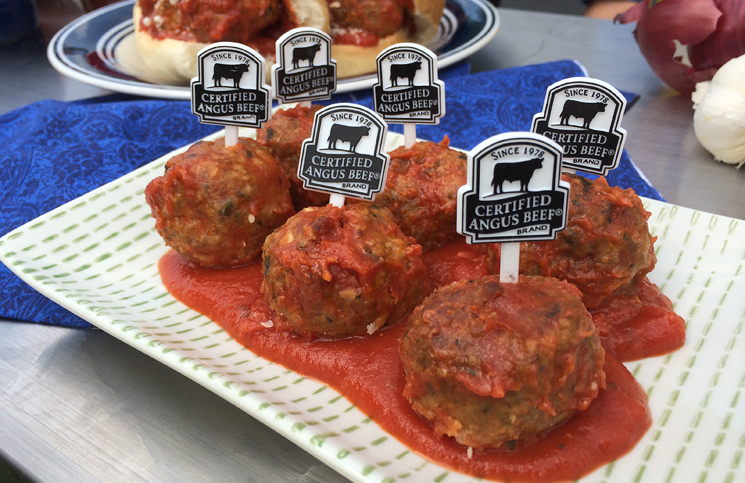 Now, for New England … of course the iconic dish is chowder (perhaps I should say chowdah). And that's all well and good, but in light of Deflategate, I think it's the year to serve meatballs (recipe below). Flatten them if you like; either way, I think they're perfect game day eats. Keep them warm in your slow cooker and serve with full-size or slider buns to make the perfect sandwich.
Looking for more ideas? These football-ready recipes will also please your passionate pigskin fans!
Mediterranean Steak Rub
Ingredients
2 teaspoons hand crushed dry rosemary
1 tablespoon dry thyme
2 teaspoons coffee
1 teaspoon Kosher or sea salt
1 teaspoon cracked black pepper
Instructions
Combine all ingredients and rub on selected Certified Angus Beef® brand cut just before grilling or cooking.
Notes
Yields 1/4 cup. Perfect for 2 lbs. of steak.
Classic Meatballs
Ingredients
3/4 pound Certified Angus Beef ® ground chuck
1/4 pound bulk sweet Italian sausage (casing removed)
1/2 cup bread crumbs
1/2 cup grated Parmesan cheese
2 cloves garlic, minced
1 large egg
2 tablespoons minced fresh flat-leaf Italian parsley
1/2 teaspoon dried oregano
1/2 teaspoon salt
1/2 teaspoon freshly ground pepper
1 cup tomato sauce
Instructions
Preheat oven to 350° F.
In a large mixing bowl combine beef, sausage, bread crumbs, Parmesan, garlic, egg, parsley, oregano, salt and pepper by hand.
Form into 16 meatballs approximately 1 1/2-inch in diameter (can be made a day ahead, stored in refrigerator). Coat bottom of a 9 x 12-inch baking dish with tomato sauce and line with meatballs.
Bake uncovered for 20 minutes. Turn each meatball upside down and bake an additional 10 to15 minutes. Use an instant read thermometer to confirm meatballs are fully cooked. (160° F internal temperature)