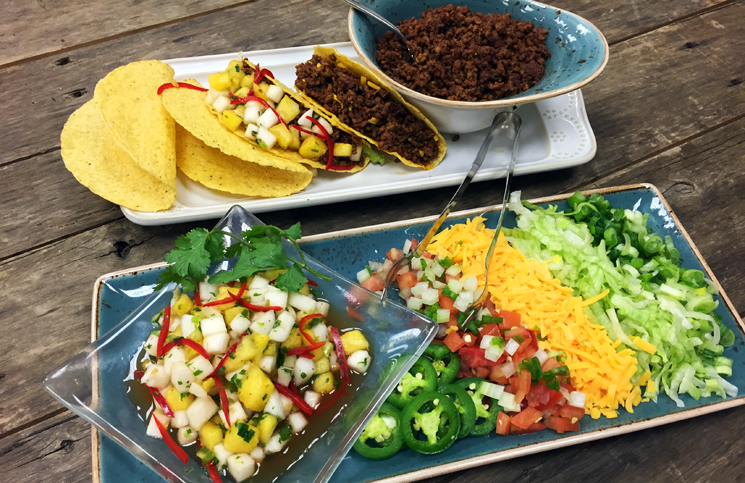 Are you stuck pondering how to achieve the perfect sweet and spicy balance when creating a recipe? I admit this is a concept that has eluded me for years! Until now. Chef Peter (one of the Certified Angus Beef ® brand chefs) shared his secret for a perfectly sweet and spicy outcome. Simply put, it takes more than just sweet and spicy components. It's a combination of spicy, sweet, acid, and salt — added in the correct order, that results in a perfect dish. And it's key to taste as you go to maintain balance.
Sweet & Spicy In 4 Simple Steps
Step 1: Start with spicy. Create your dish with as much heat or spice as you like, then then take it a touch further. You will bring it back in the next step, the sweet.
Step 2: Add sweetness. The most basic sweet ingredients are brown sugar, white granulated sugar and honey. Each type of "sweet" has its place and sometimes it takes using them in concert for the perfect outcome.
Brown sugar for color and caramelization. Its earthy flavor adds depth to a dish but a little bit goes a long way. It can quickly overpower other flavors. A touch of brown sugar works well in rubs used as a seasoning on grilled cuts of beef because it helps to caramelize the outside of the meat. It also creates those crunchy bits we all love. Be careful, though. Too much brown sugar could give you steak candy (maybe that's something to explore?!)
White sugar for marinades and dressings. It disappears quickly into the dish you're preparing, and adds sweetness without overpowering or affecting the color.
Honey for subtle sweetness. A little goes a long way. Honey is a good ingredient to use when you won't be adding heat to whatever you're making. Honey naturally coats other ingredients — helping other seasonings and flavors "stick" to the larger pieces in your dish.
Step 3: Blend in acid. The acidity in a recipe blends spicy and sweet to create a harmonious flavor.
This was very clear to me when I made Chef Peter's Pineapple Salsa recipe. The green onions, jalapenos, and cilantro were STRONG when first added to the pineapple and jicama. I think I even had a tear or two in my eye. Then I added the sugar which really sweetened it up, but it tasted sugary. I can't believe how just a touch of honey helped smooth out and tone down the super sweetness I tasted with only the white sugar.
Tasting as I went, it hit me how even after adding two different "sweets" I could still taste distinct, spicy and sweet flavors in one bite. BUT when I added the acid: lime juice. It was amazing how it blended into a spicy sweet flavor in each bite. I could still taste both in each, but they were no longer fighting for taste bud territory.
Step 4: Balance with salt. Just a touch of salt takes away any bitterness that comes from the acid. Note the last step is salt only — no pepper or you may have to start your balancing act all over again. Oh, what a vicious cycle that would be!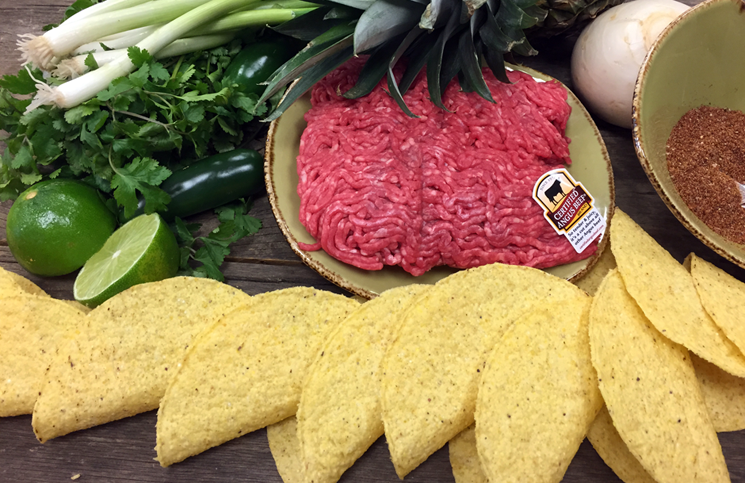 Breaking down layers of flavor was so helpful while trying to wrap my brain around creating the perfect dish. Enjoy Chef Peter's delicious Sweet and Spicy Taco recipe, below. It's a perfect balance of sweet and spicy. Try it for yourself and experiment with the four steps: Spice, Sweet, Acid and Salt. Train your taste buds as you go, so next time you can create your own perfectly sweet and spicy dish!
Sweet and Spicy Tacos with Pineapple Salsa
Author:
Ingredients
2 pounds Certified Angus Beef ® brand ground beef
2 tablespoons brown sugar
1 tablespoon chili powder
1 teaspoon corn starch
1 1/2 teaspoons ground cumin
1 teaspoon salt
1 teaspoon black pepper
1/2 teaspoon paprika
1/2 teaspoon granulated garlic
1/2 teaspoon granulated onion
1/4 teaspoon cayenne pepper
Instructions
Mix all dry ingredients together to form the seasoning blend.
Fully cook ground beef in a skillet until no pink remains. Drain the excess fat and return cooked beef to the skillet.
Add seasoning mixture to the ground beef.
Add one cup of water and cook until seasoned taco meat is moist and water has evaporated.
Notes
The use of corn tortilla shells will classify this dish as gluten free.
Pineapple Salsa
Author:
Ingredients
1 cup pineapple, peeled and diced
1 cup small jicama, peeled and diced
1/4 cup white sugar
1 green onion, chopped
1 teaspoon chopped fresh cilantro
1 tablespoon honey
1 teaspoon finely chopped fresh jalapeño
1 teaspoon lime juice
1/2 teaspoon salt
Instructions
Peel, core, and finely dice fresh pineapple. Place it in a mixing bowl.
Add chopped green onions, jalapenos, and cilantro.
Add peeled and small diced jicama.
Add honey, sugar, lime juice, and salt.
Mix well, cover, and store in refrigerator until ready to serve.