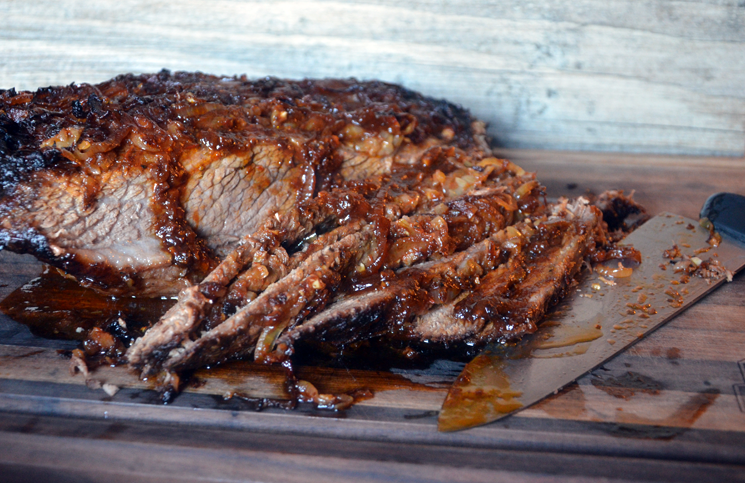 Americans have a love affair with brisket. There's pecan and hickory-smoked brisket from Texas. There's Kansas City-style and its infamous burnt ends. You'll even find country-style versus city-style brisket. There are endless possibilities, all undoubtedly delicious. And here's another brisket recipe to add to your collection: Shortcut Oven-braised Brisket. It takes only minutes to prepare and four hours of cook-time for countless bites of enjoyment. It's one of my personal favorites because it's simple and always yields tender, juicy beef for family meals, friendly gatherings or game day feasting.
Brisket for a crowd (or dinner with lots of leftovers!).
You will need a 6-8 lb. Certified Angus Beef  ® brand boneless brisket flat. Don't see it in the meat case? Ask the butcher, he may keep them in the cooler for safe-keeping. Yeah, they're that good!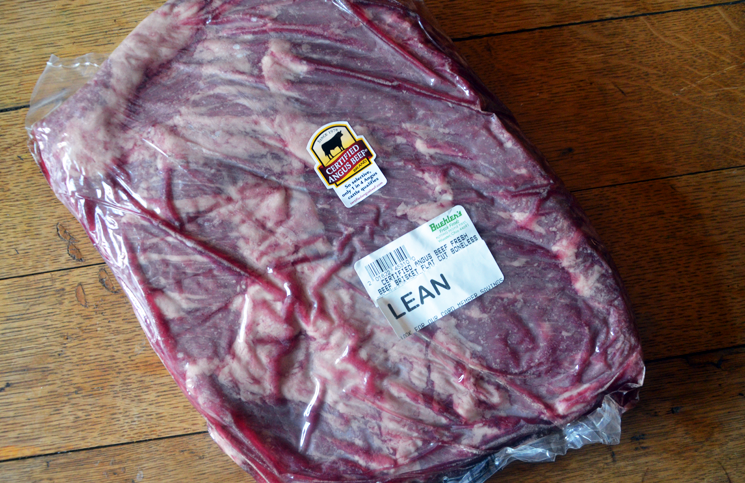 You're reading that sticker correctly — brisket is a lean cut of beef. Brisket is a perfect beef cut for smoking — you probably already know that — but it's also an excellent candidate for braising. And that's just what we're going to do in this recipe. So let's get cookin'.
Step 1: Preheat oven to 350°F. Place brisket in a large roasting pan, fat side up. Cover with minced garlic, coarse kosher salt, and freshly cracked black pepper (complete recipe below).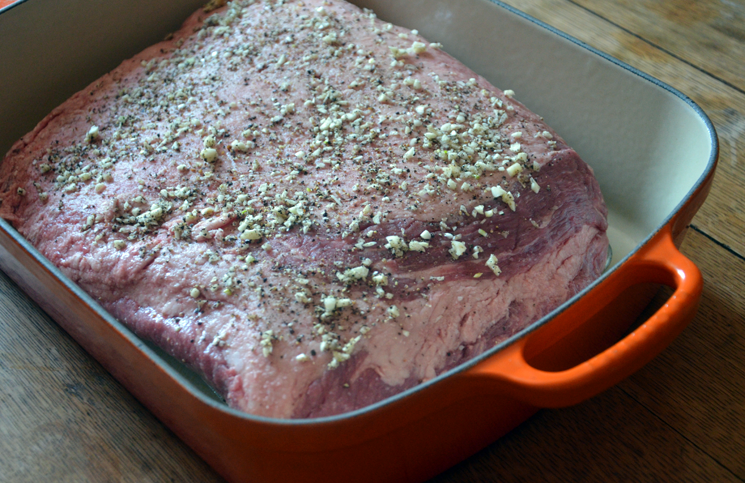 Step 2: Slice an extra-large onion. Place onion rings over the top of the beef.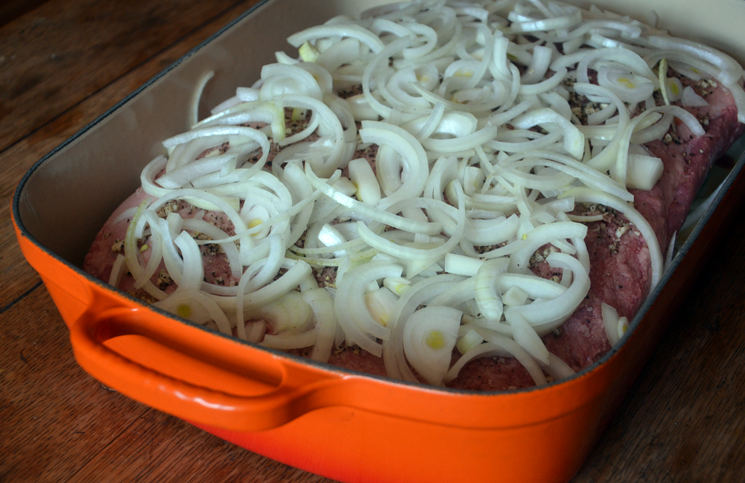 Step 3: Combine chili sauce, beer, Lea & Perrins Worcestershire Sauce, and brown sugar in a bowl. Slowly pour over the top of the brisket. Cover tightly with foil.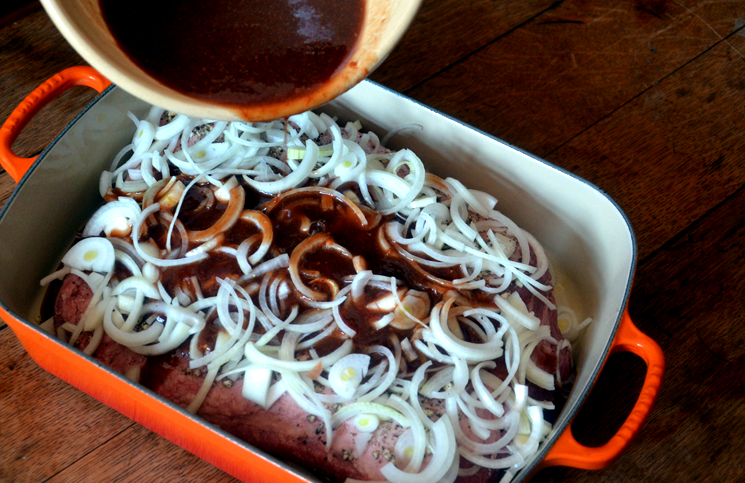 Step 4: Place in the oven for two hours.  When timer rings, remove from the oven and uncover. Scrape onions into the pan, carefully flip the roast over, and baste the top with the onion and sauce mixture from the bottom of the pan. Cover with foil and return to the oven for another two hours, or until brisket is fork-tender. (Depending on the size, you may need to add an additional 15-30 minutes.)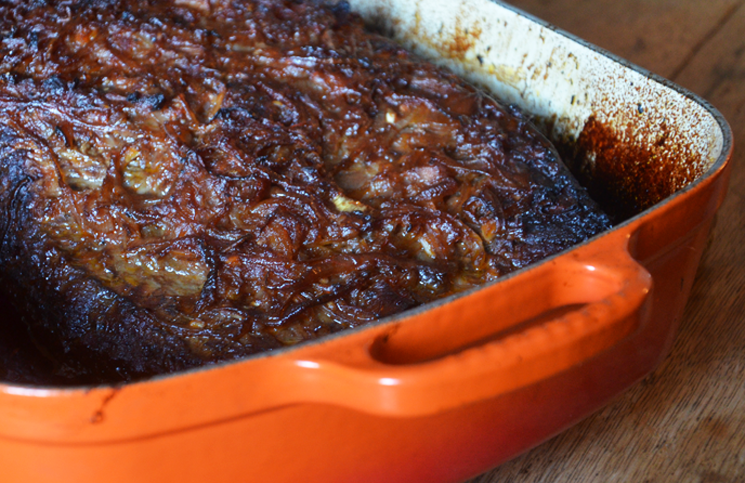 Step 5: After cooking, allow brisket to rest for five minutes. Then slice across the grain and serve. Or, shred with a fork if desired. Enjoy with your favorite side dishes or combine with onions from the pan, additional barbecue sauce, and then serve on a bun, bread or biscuit.
Shortcut Oven-braised Brisket
Prep time:
Cook time:
Total time:
Ingredients
6-8 lb. beef brisket
4 cloves garlic, minced
2 teaspoons fresh ground black pepper
1 teaspoon course kosher salt
1 extra-large onion, peeled and cut into ¼-inch slices
12 oz. bottle chili sauce
1 cup beer
1/4 cup Lea & Perrins Worcestershire Sauce
1/4 cup packed brown sugar
Instructions
Preheat oven to 350ºF. Place brisket in roasting pan, fat side up.
Combine garlic, salt and pepper; spread evenly over brisket.
Slice onion and separate into rings; arrange over brisket.
Combine chili sauce, beer, Worcestershire sauce and sugar; slowly pour over brisket and onions.
Cover with aluminum foil and cook for 2 hours.
Turn brisket over; stir onions into sauce and spoon over brisket. Cover; cook 2 hours more or until fork tender.
Transfer brisket to cutting board. Slice across the grain or shred with fork.
What to do with all of those leftovers? Get creative! Or …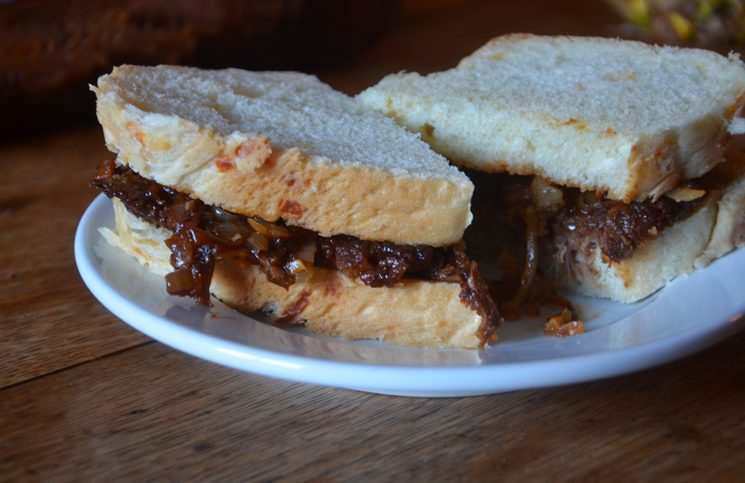 … make a sandwich. Sometimes simple is spectacular! But just in case, you will find more delicious brisket recipes here. Still itchin' to try your hand at smoking? Here's how to smoke brisket on a grill!