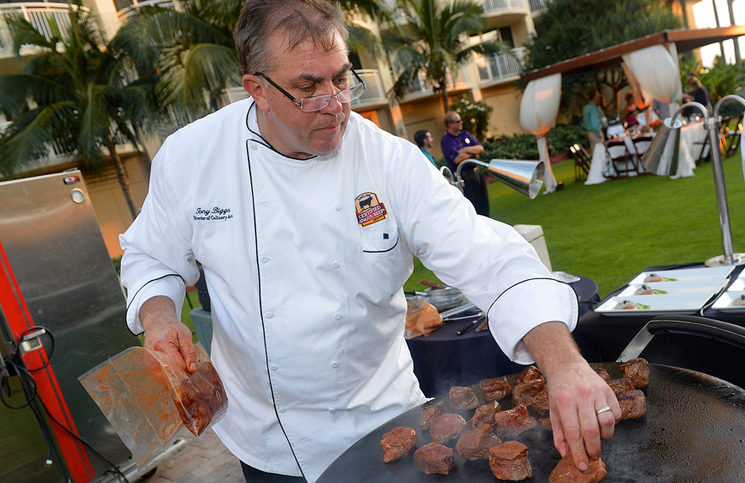 Feeling a little bleary-eyed after watching the big game last night? You're not alone! And, if you're a football fan, no matter what your team, it's easy to feel a little sad at the end of another season. No more games for the next six months … sigh. There's always the hope, though, that next year will be the year. (Yes, even for us Browns fans!)
Of course, if you follow the Patriots, you're no doubt rejoicing their win today. Chief among you is Certified Angus Beef ® brand Chef Tony Biggs, a Massachusetts native who's lived, and cooked, around the world but remains a die-hard New England fan. He suggests a post-game-day celebratory feast, inspired by some classic Boston culinary traditions: clam "chowda," tender, marinated steak tips, and baked beans.
Using sirloin is a great choice for the steak tips, as they're naturally tender and flavorful – but you'll take them to the next level by further tenderizing them with a mallet and a tasty marinade. If you like, you can grill them outdoors, but cooking them inside is just as good!
New England Steak Tips
Author:
Ingredients
1 1/2 lbs. Certified Angus Beef ® sirloin steak
1 cup creamy Italian dressing
1 cup Italian dressing
1 cup barbecue sauce
Instructions
Pound steak with a meat mallet to further tenderize. Cut into 1 1/2- to 2-inch cubes.
Combine dressings and barbecue sauce into a large food storage bag; add cubed steak and shake vigorously.
Marinate in the refrigerator overnight. Remove steaks from bag, discarding marinade, and grill (indoors or outdoors) to your desired doneness.
New England Clam Chowda
Author:
Ingredients
6 pieces bacon, cut into small pieces
1 medium onion, chopped
2 (5 oz.) cans baby clams, with juice reserved
6 potatoes, cubed
2 (10.5 oz.) cans cream of celery soup
1 cup heavy cream
1 cup milk
1 tablespoon butter
1 teaspoon dried dill weed
Instructions
Add bacon to pan and cook on medium-low heat until crispy.
Add onion and cook until translucent.
Add clam juice from both cans; then add potatoes. Cover and cook until potatoes are fork tender, about 15-20 minutes, stirring occasionally so potatoes don't stick.
Add clams, soup, cream, milk, and dill weed, stirring together. Add butter and let melt into the chowder.
Cook for about 30-45 minutes or until thickened, stirring occasionally.
Boston Baked Beans
Author:
Ingredients
2 cups dried navy beans, soaked overnight
1/2 lb. bacon, chopped
1 onion, chopped
4 tablespoons molasses
3 tablespoons ketchup
1/3 cup brown sugar
1/2 teaspoon dry mustard
Salt and pepper to taste
Instructions
Soak beans in water overnight.
Mix together all ingredients in slow cooker; add water to cover.
Cook on high for about 8 hours, checking periodically.
Looking for more of Chef Tony's culinary vision? You can find it on Instagram.