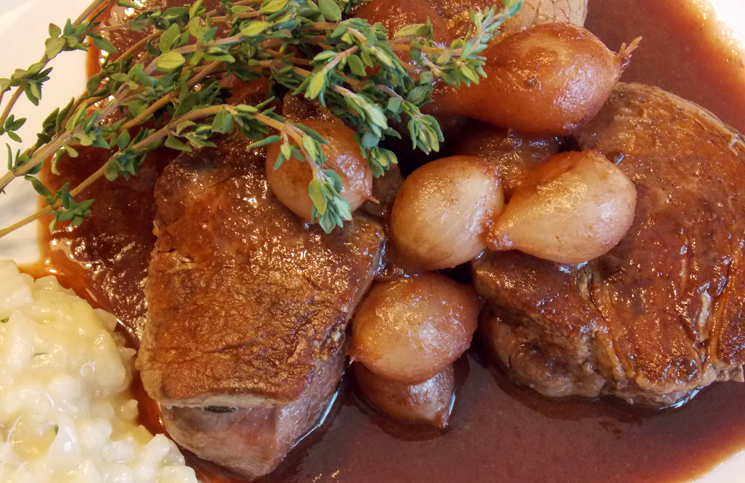 Kitchen magic, that is. (And isn't that the very best kind?)
I'm talking about a recipe that's fast. Uses easy-to-find ingredients. Most of all, delicious. Not to mention it's easy.
After you taste it, you'd swear this couldn't possibly all be true. But I kid you not. If there is such a thing as the perfect recipe, I hereby declare I've found it.
We're talking serious culinary alchemy, folks… and it's the perfect choice for any special occasion dinner. I'm going to be making this again for Valentine's Day. (This just in from the Department of Understatements: I'm pretty sure my husband will approve.)
You start with about 1 lb. of tender beef medallions … the more marbled, the better. Of course tenderloin (a.k.a. filet mignon) is the obvious choice for a tender steak, but any cut from the sirloin will work beautifully too. I tested it with both bottom sirloin and top sirloin, and both performed flawlessly!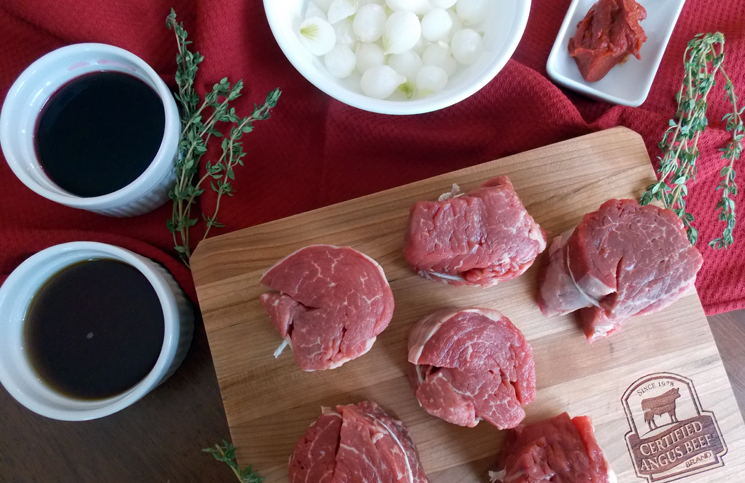 Portion your steak into medallions of approximately 2-3 oz. each. Uniform sizes mean uniform cooking. As you may be able to tell from my photos, I decided to make my medallions a bit prettier by tying them with butcher's twine to achieve a more round shape — totally optional.
Now, for the "secret" — which isn't really a secret, but more a case of "the right tool for the right job": a high-quality stainless steel/aluminum core sauté pan, with lid. I highly recommend Le Creuset's, which was, simply put, a dream to cook with. (Where has this pan been my whole life?)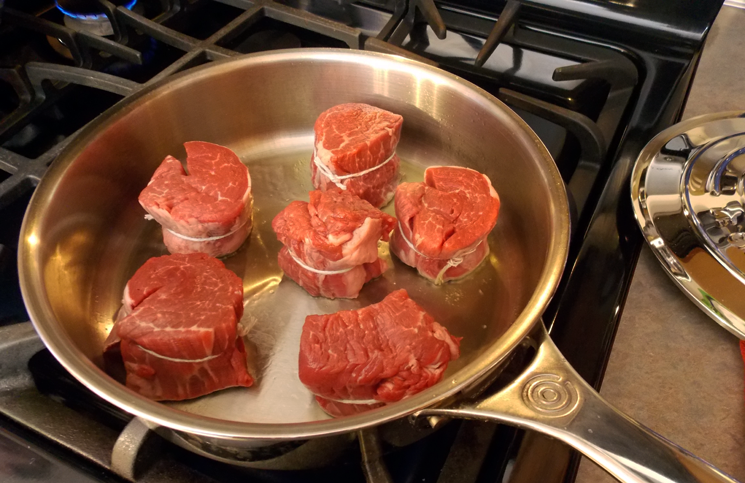 Heat your sauté pan, add a bit of oil to lightly coat the bottom, and place the medallions in. You should hear sizzling, and that's a good thing. You may notice that if you try to move the medallions around at first, they stick — hard — to the bottom of the pan, and that's also a good thing, believe it or not. See, you want to leave your steak in the pan long enough to develop a beautiful mahogany crust, which is going to be so full of flavor your taste buds will sing in gratitude. But you have to give it time! We're only talking a couple minutes … I know you can do it!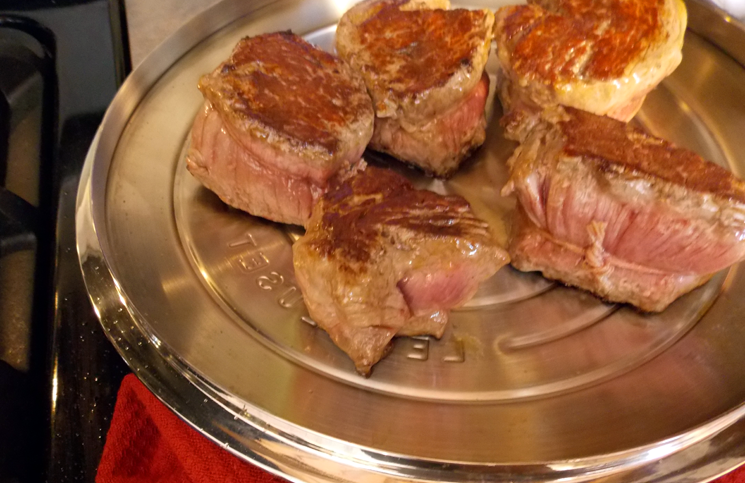 When your steaks do lift easily from the pan, and they will — see that beautiful browned crust that developed? – go ahead and turn them over to sauté on the other side. Same as before, leave them alone a few minutes until they lift up easily. Move your seared steak to a clean plate (or, in the case of my new favorite pan, turn the lid over on your counter and let them rest in the lid for the time being).
Take about a cup of peeled pearl onions (you can use fresh or frozen, both work great) and add them to the hot pan, stirring them occasionally and sautéing until they, too, develop a flavorful browned exterior. Then add about ½ cup of a red wine blend (not too light, not too robust) and deglaze the pan to lift up any flavorful browned bits — i.e., fond, of which I am VERY fond. You're not going to believe how much flavor this is going to give your finished dish.
Once the wine has reduced by about half, add a half cup of good quality beef stock (homemade or from a box — either works just fine) and stir in a tablespoon of tomato paste, a sprig or two of fresh thyme and a bit of salt and pepper to taste. Allow to cook down a minute or two and thicken.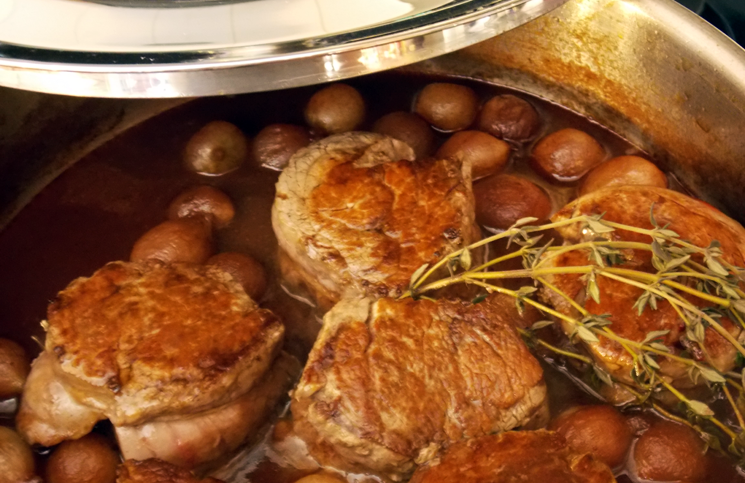 Once the enchanting aroma becomes too good to be true, it's time for the "magic" part. Add your medallions back to the pan, cover the pan with its lid, turn off the heat … and walk away for exactly 5 minutes.
Yep. Do NOTHING for 5 minutes. Well, you can work on finishing a side dish, or maybe setting the table, or perhaps pouring a couple glasses of wine. But leave your medallions alone! The closed lid is going to allow the residual heat to gently circulate and finish cooking your steak to a perfect pink, juicy doneness. Trust me!
When your timer goes off, that's it! Spoon some of that glorious sauce on your plate, place your medallions on top, and finish with another spoonful of those flavorful sautéed onions and sauce (why not, right?)
From start to finish, it's a truly gourmet meal, made at home, in less than 20 minutes. It's so crazy good it's kind of crazy. As my husband said after he tried it, "I'd happily pay 50 bucks for this dish at a restaurant." (Guess what? It costs significantly less than that!)
Simple, satisfying and designed to make you look like a world-class chef. What's not to love? With a few quality ingredients, the right equipment and solid technique, you're bound to enjoy a magical dinner!
Sautéed Medallions with Pearl Onion Red wine Sauce
Author:
Ingredients
1 pound Certified Angus Beef ® bottom sirloin medallions (2-3 ounces each)
2 tablespoons vegetable or canola oil
1 cup frozen petite pearl onions
1/2 cup red wine blend
1/2 cup beef stock
1 tablespoon tomato paste
1/2 teaspoon coarse kosher salt
1/2 teaspoon cracked black pepper
2 sprigs fresh thyme
Instructions
Pat beef medallions dry. Heat oil in pan over medium heat. Sear medallions, browning for 2 minutes on each side to develop a dark mahogany crust; remove from pan.
Add pearl onions and sear until golden. Add red wine; reduce by half. Add beef stock, tomato paste, salt, pepper and thyme. Simmer 2 minutes until sauce has thickened.
Add medallions, cover and turn off heat. Allow to sit covered for five minutes before serving.