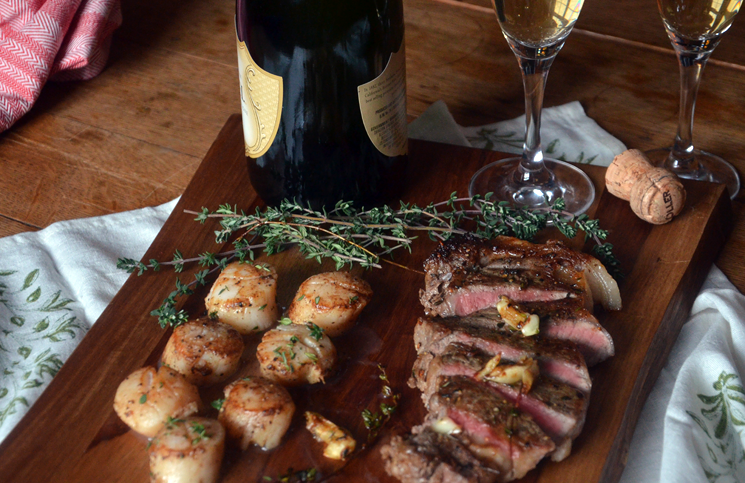 "Keep it simple!" Chef Tony Biggs told me, when I asked for advice on a Valentine's Day dinner. I wanted a unique spin on surf and turf — scallops — instead of more typical lobster. With a few suggestions and an easy but mouthwatering recipe from the chef, Valentine's Day will be pure perfection.
The scallops — cooked in a hot skillet with butter and fresh thyme, are rich and luxurious. Tender, juicy strip steaks are first seared in a skillet for a caramelized crust, then finished in the oven with butter, garlic and thyme. Serve the surf and turf on a cutting board or platter, sprinkled with fresh herbs, season with kosher salt and black pepper. And don't forget the champagne. "You must have champagne with this meal!" Chef Tony implored.
And the key to success for any meal is to plan ahead and work in steps. In this case, the steps are pretty simple:
Prepare the steaks and let them rest
While the steaks rest, prepare the scallops
Plate your surf and turf, pour the champagne and enjoy a romantic meal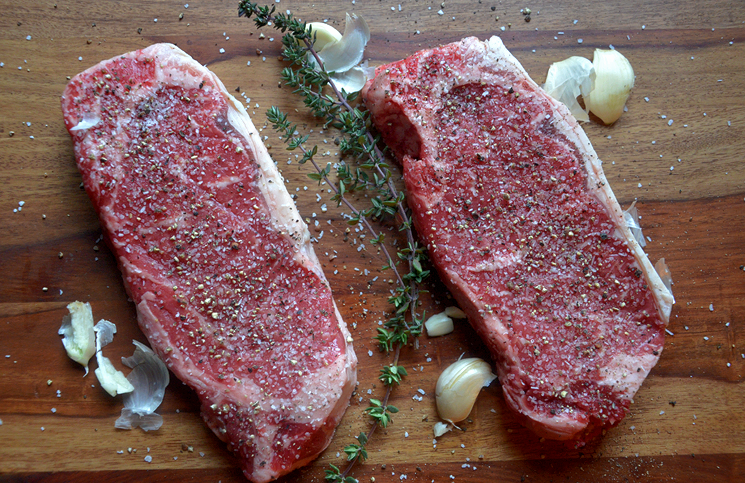 Need a few more specifics? Here are the recipes, in order of preparation. They're simple, spectacular and will surely capture the heart (and taste buds!) of your beloved. Don't forget the bubbly and perhaps some strawberries, too. Oh, and candles are always nice for any meal!
Simple, elegant surf and turf: the perfect romantic meal to prepare in your love shack on Valentine's Day. Enjoy!
Pan-seared Strip Steaks
Ingredients
2 (8-ounce) Certified Angus Beef ® strip steaks
1 teaspoon peanut or canola oil
1/2 teaspoon coarse kosher salt
1/4 teaspoon freshly cracked black pepper
3-4 thyme sprigs
2 garlic cloves, partially crushed
2 tablespoons butter
Instructions
Place skillet in oven and preheat oven to 450°F. Brush both sides of steak with oil and season with salt and pepper. When oven is heated, carefully remove pan and place on stovetop over medium heat.
Place steak in skillet and sear for 2 minutes. Flip, top with garlic and thyme and place skillet back in oven for 6-7 minutes.
Put skillet back on stovetop over low heat. Flip steak, top with butter and carefully tilt pan while scooping melted butter, garlic and thyme to continually coat steak for 1-3 minutes. Confirm doneness with an instant read thermometer and pull from skillet at 120-125°F for medium rare. Let rest five minutes and coat with browned butter before serving.
Notes
Note: This technique creates a great mouth-watering charred steak using a very hot skillet while emitting a great deal of smoke. Be prepared with pot holders and proper ventilation.
Scallops with Herb Butter Sauce
Ingredients
2 tablespoons butter
2-3 sprigs fresh thyme
1 lb. sea scallops
dry white wine
salt and pepper
Instructions
Melt butter over medium heat in a non-stick skillet.
Add two sprigs fresh thyme to melted butter for 1-2 minutes.
Salt and pepper scallops, then place in the skillet.
Cook scallops for 1-2 minutes, then gently flip.
Deglaze the pan with a splash or two of dry white wine.
Cook scallops for one minute, spooning butter wine sauce over the top.
Remove from heat, sprinkle with chopped fresh thyme before serving.
Notes
Scallops take only a couple of minutes to cook — any longer, and they become tough and rubbery. Add them to a hot skillet so the bottom forms a caramelized crust, flip after 1-2 minutes.
Want to save this recipe for future occasions? Pin it! Here's an image for your Pinterest board: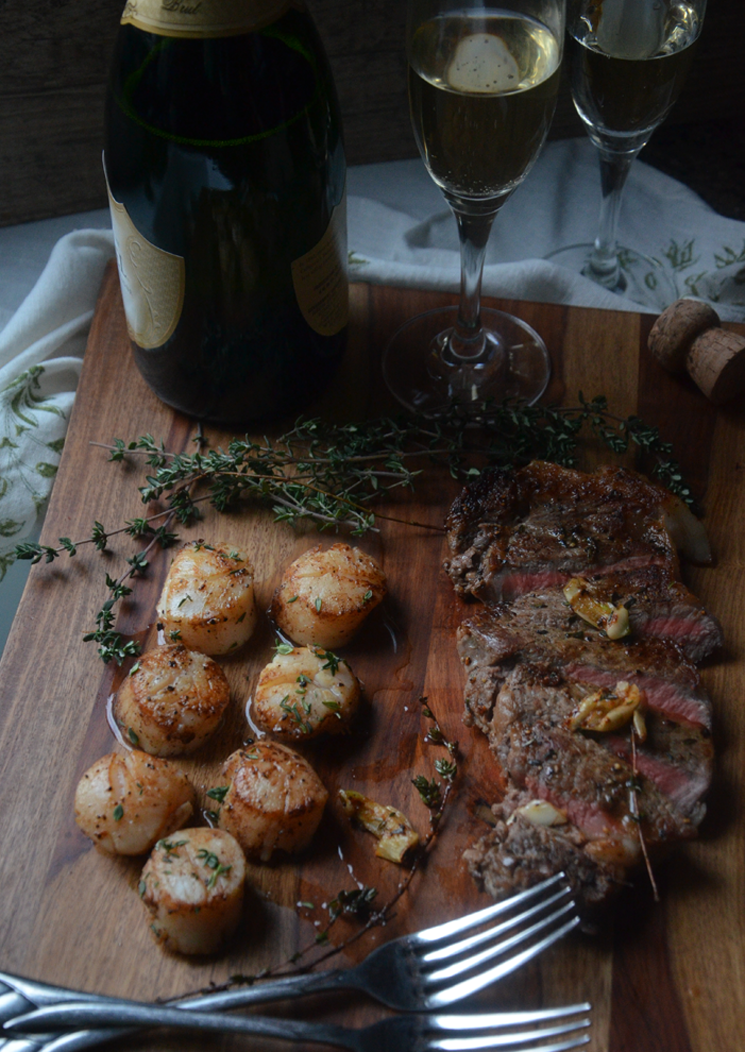 For more Valentine's Day ideas, check out our Pinterest boards!