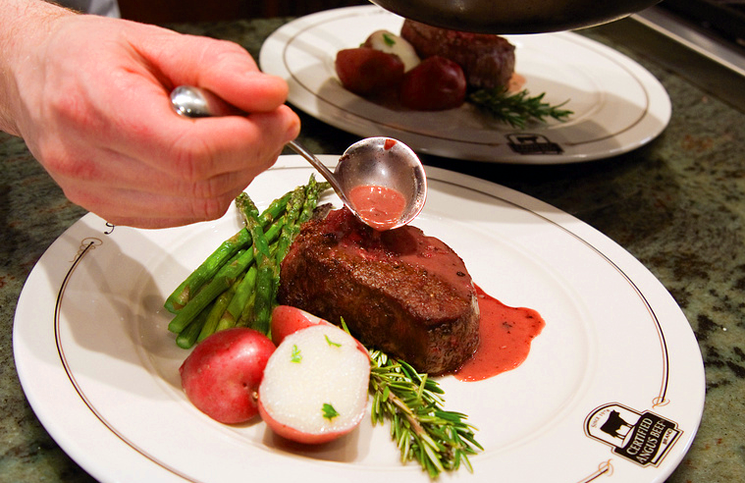 Pan roasting is a simple technique that yields juicy tender steaks with sizzle. Simply prepare and cook the steaks, then set them aside to rest. While that's happening you can prepare a rich, decadent pan sauce in the same skillet. In this cooking video, Chef Michael Ollier shows you how easy it really is.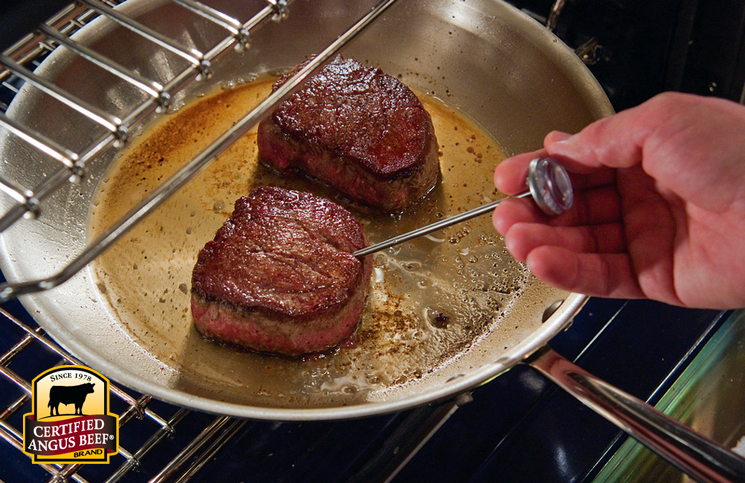 Pan Roasted Filet with Red Wine Sauce
Author:
Ingredients
2 Certified Angus Beef ® filet steaks, cut 1 1/4 to 1 1/2 inches thick
1 tablespoon dry thyme
1/2 tablespoon crushed dry tarragon
1/2 tablespoon crushed dry chives
1/2 tablespoon cracked black pepper
1/2 teaspoon salt
1 teaspoon olive oil
1 tablespoon diced onion
1 teaspoon chopped garlic
1/4 cup red wine
1 teaspoon Dijon mustard
1 tablespoon butter
1 tablespoon chopped parsley
Salt and pepper to taste
Instructions
Pre-heat oven to 350ºF.
Prepare French Rub by combining thyme, tarragon, chives, pepper and salt.
Heat oil in a heavy non-stick skillet over medium-high heat. Season steaks with French Rub and sear for 1 to 2 minutes on each side.
Place in the oven and cook for about 5 minutes or until desired doneness. Allow steaks to rest.
After removing steaks from pan, add onion and garlic; cook for 2 minutes on low heat. Whisk in wine and mustard; reduce by 2/3. Swirl butter in pan to melt. Remove from heat; add parsley and season to taste. Serve over steak.