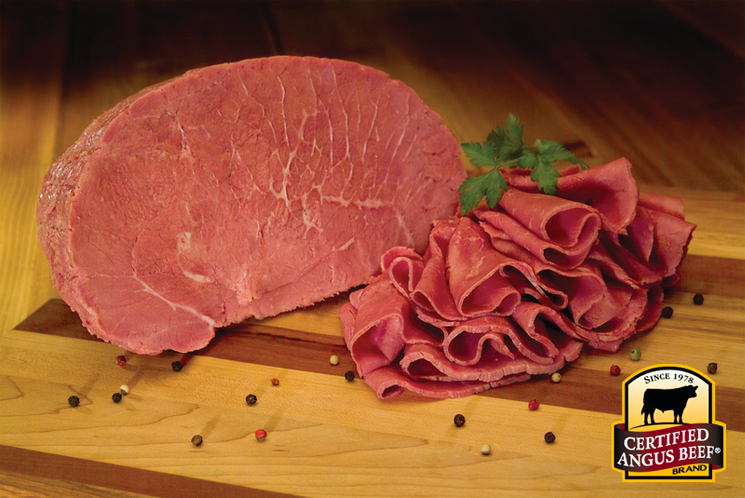 You can make a hearty breakfast sandwich with a fried egg and Certified Angus Beef ® brand sliced corned beef. Pile it high with a slice of sharp cheddar on a homemade buttermilk biscuit (or take the easy route and buy pre-made biscuit dough — I won't tell!). Then, spice it up with a blend of mayo, chili sauce and pepper.
Take a bite outta breakfast … lunch or dinner!
Corned Beef and Egg Biscuit Sandwiches
Ingredients
12 ounces [url href="http://www.certifiedangusbeef.com" target="_blank" title="Certified Angus Beef brand"]Certified Angus Beef ® [/url]corned beef, sliced
4 tablespoons mayonnaise
1 tablespoon chili sauce
1/4 teaspoon freshly ground pepper
4 egges, beaten
2 tablespoons unsalted butter
4 buttermilk biscuits
4 pieces red leaf lettuce
4 slices sharp cheddar cheese
2 red onions, caramelized
1 tomato, sliced
Instructions
Blend together mayonnaise, chili sauce and pepper.
Pan fry corned beef with 1 tablespoon butter. Remove from pan.
Pan fry eggs over low heat with remaining butter.
Cut biscuits in half. Create sandwich by stacking eggs, corned beef, lettuce, cheese, onions, tomato and mayonnaise.
For more recipes and sandwich ideas, visit certifiedangusbeef.com or follow us on Pinterest.