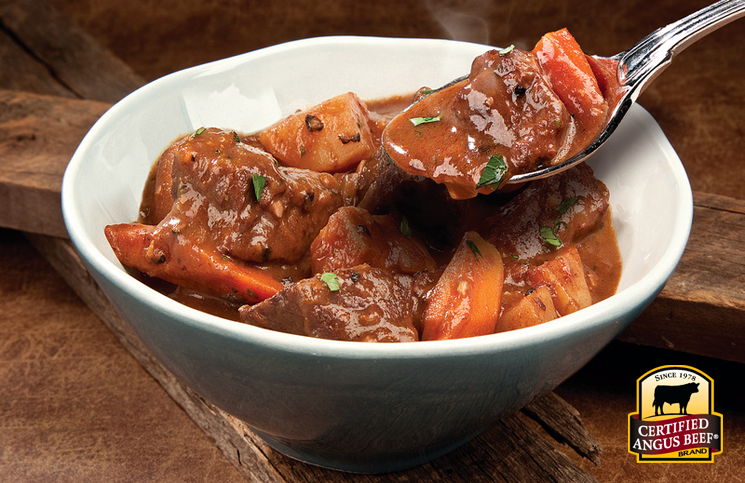 This Irish Pot Roast Stew takes a bit of time (several steps over two days) and it's absolutely worth it. Your labor of love and a list of fresh ingredients will result in rich, beefy flavors and tender vegetables stewed together in a hearty base. It may be the best stew you've ever tasted!
Make Irish Pot Roast Stew
Ingredients
4 pounds [url href="http://www.certifiedangusbeef.com" target="_blank" title="Certified Angus Beef brand"]Certified Angus Beef ® brand[/url] chuck roast[br][b]Day One Ingredients[/b]
2 tablespoons coarse kosher salt
2 tablespoons freshly ground black pepper
2 tablespoons vegetable or canola oil
1 large onion, chopped
2 carrots, chopped
2 stalks celery, chopped
4 sprigs fresh thyme
2 bay leaves
1 (6-ounce) can tomato paste
1 (12-ounce) bottle Guinness beer (or comparable stout)
2 cups beef stock[br][b]Day Two Ingredients[/b]
2 tablespoons butter
2 onions, large dice
2 carrots, large dice
2 cloves garlic, minced
1/4 teaspoon ground allspice
2 tablespoons caraway seeds
1/2 head cabbage, cored and thinly slice
1 (12-ounce) bottle Guinness beer
2 large Idaho ® potatoes, peeled and cut in large dice
1 1/2 cups apple butter (11-ounce jar)
1/4 cup minced fresh flat-leaf Italian parsley
Instructions
Season roast on all sides with salt and pepper. Put oil in a large heavy-bottom pan on stovetop over medium-high heat.
When oil is hot, just as it begins to smoke, add the chuck roast to the pan. Sear for 3-5 minutes on each side; remove from pan.
Add onion, carrot, celery, thyme and bay leaves and sear for 1 minute. Add tomato paste and beer and bring to a boil, scraping brown bits from bottom and sides of pan. Transfer to a slow cooker, add roast and beef stock, cover and braise on low until roast is fork tender, about 5 hours.[br][b]Day Two Instructions[/b]
Remove roast from gelatinous liquid. Cut roast into 3/4-inch cubes and set aside.
Discard fat, bay leaves and thyme sprigs while reserving roasted vegetables and cooking liquid.
In a blender puree roasted vegetables with liquid until smooth; set aside.
In a large pot (at least 6 quart), add butter, onions, carrots, garlic, allspice, caraway and cabbage. Stir over medium heat for 3-5 minutes. Add beer and bring to a boil.
Stir in potatoes, reserved vegetable puree, apple butter and beef.
Return to a boil, reduce heat to low and simmer 30 minutes, until potatoes become soft.
Serve in large bowls garnished with fresh parsley.