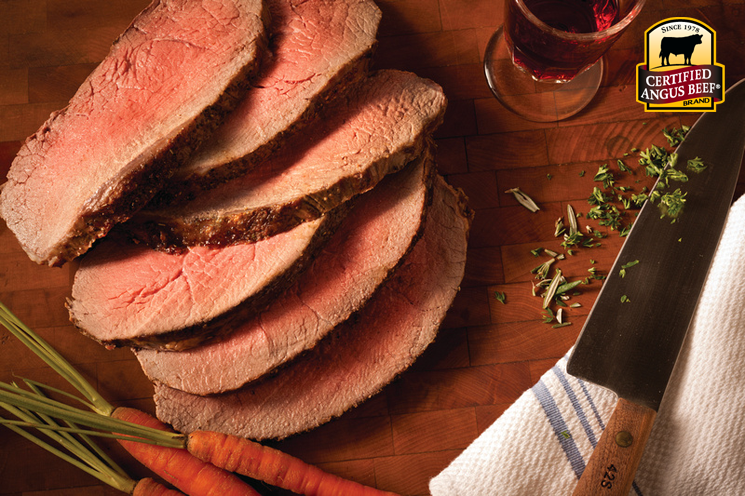 Spring holidays require something special, something rich and flavorful on the table. And while grilling is a great option for warm weather gatherings, some occasions call for more refined celebrations. Consider the typical Sunday roast, kicked up a notch. Lovely herbs, colorful vegetables and fresh spring ingredients will transform a beef roast into the showstopper of any spring affair.
Carrots are a must this time of year. The bright green of asparagus is a welcome addition to the table. Both vegetables complement the deep, golden-brown sear of perfectly cooked beef. Please your guests with mouthwatering vegetable side dishes, but knock their socks off with the complex flavors of a simple roast. Consider this sirloin roast or try one of our other favorite spring roasting options. They're all delicious and anything but boring!

Make A Perfect Spring Roast
Ingredients
1 (2½-pound) Certified Angus Beef ® sirloin tip center roast
1 teaspoon kosher salt
1½ teaspoons coarsely ground black pepper
¾ teaspoon dried oregano leaves
½ teaspoon crushed dried rosemary
¾ teaspoon dried thyme leaves
¼ teaspoon dry mustard
¼ cup balsamic vinegar
⅓ cup blue cheese crumbled
1¼ cups sour cream
2 teaspoons Lea & Perrins ® Worcestershire sauce
½ tablespoon chopped fresh chives
½ teaspoon celery salt
Instructions
Preheat oven to 325°F.
In a small mixing bowl combine salt, ½ teaspoon pepper, oregano, rosemary, thyme and dry mustard.
Brush roast with vinegar and rub with herb mixture. Roast uncovered for 1 hour and 10 minutes for medium doneness. Remove from oven and let rest, covered, 10 to 15 minutes.
Blend or whisk together blue cheese, sour cream, Worcestershire sauce, remaining pepper, chives and celery salt.
Slice roast and serve with blue cheese sauce.
Be the perfect host or hostess and serve a roast. Usher in a spring revival of fresh flavors!