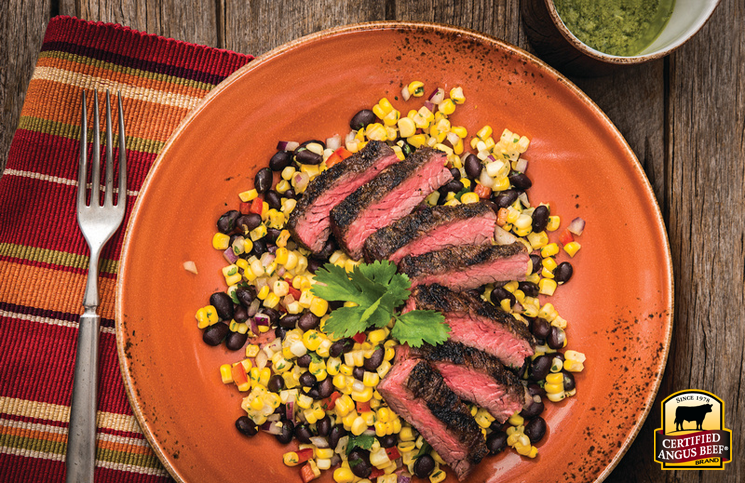 Do you get tired of typical salads? So does Chef Ashley Pado! She created this recipe using fresh ingredients like corn, beans and peppers, with tender slices of marinated and grilled steak. This salad is delicious … and trust me, you won't miss the lettuce!
Southwest Salad with Avocado Dressing
Ingredients
1 (1 to 1-1/2 lb.) flank steak
1 teaspoon granulated garlic powder
2-1/2 teaspoons ground ginger
1 Tablespoon ground cumin
1/2 Tablespoon granulated onion powder
1/4 teaspoon cayenne pepper
1 Tablespoon sugar
2 teaspoons salt
1 teaspoon pepper
3 cups corn, cooked and cut off the cob
2 cups canned black beans, rinsed and drained
1 red onion, minced
2 bunches cilantro, divided
2 red bell peppers, minced
2 ripe avocados, peeled and pitted
1/2 cup olive oil or grapeseed oil
juice from 1 lime (about 2 Tablespoons)
2 cloves garlic
1 Tablespoon rice wine vinegar
2 Tablespoons Greek vanilla yogurt
Instructions
Combine garlic, ginger, cumin, onion powder, cayenne, sugar, salt, pepper; mix well and rub into both sides of raw steak. Grill to desired doneness. Let rest while preparing the rest of this dish.
Mince 1 bunch cilantro. In a large bowl, combine corn, beans, onion, minced cilantro, peppers; season with salt and pepper to taste. Set aside.
Prepare dressing by mixing avocados, oil, lime juice, yogurt, garlic, vinegar and cilantro in a blender or food processor; blend until smooth. Season with salt and pepper to taste.
Toss dressing with corn mixture (use clean hands in a large bowl).
Plate the salad and top with thinly-sliced steak.
For more recipes, including lighter fare, visit certifiedangusbeef.com.