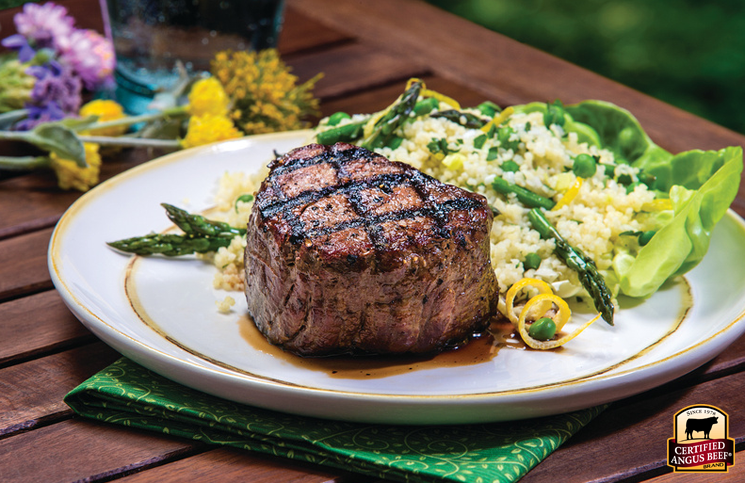 A mother is not a person to lean on, but a person to make leaning unnecessary." ~ Dorothy Canfield Fisher
It is a truth universally acknowledged that mothers everywhere regularly put their families' needs above their own. When we, as sons and daughters, step back and acknowledge this fact, it's only natural that we're overcome with an impulse to spoil Mom, to celebrate her and thank her for … well … everything.
What better way to do it than by preparing a special meal, and raising a glass to toast her? That's right … break out the bubbly (yes, you really might want to consider splurging on the good stuff this time) and have a spirited get-together where you create new memories of special time spent together.
Looking for dishes worthy of Mom? We recommend the following:
Tender, elegant filet mignon, paired with lemon-zested couscous tossed with spring-fresh asparagus and peas – pairs perfectly with the crisp, light flavors of champagne, and a meal that's truly worthy of Mom.
All that I am or hope to be, I owe to my angel mother." ~ Abraham Lincoln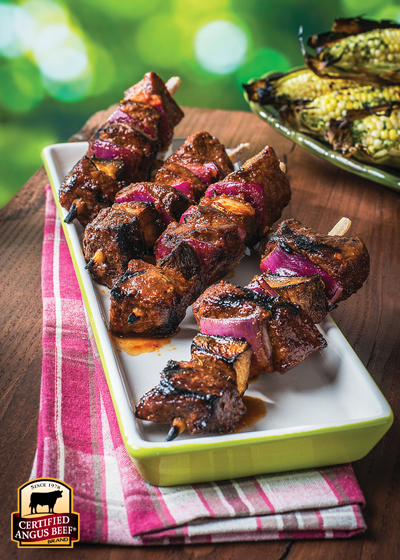 A somewhat more casual selection (it is, technically, meat on a stick), but still full of flavor and sure to please. Bold citrus flavors – orange and lime – evoke another champagne favorite, the mimosa. (Or, as we call it in my family, "the Momosa.") Add red onions to the skewers for additional flavor and a beautiful color.
No influence is so powerful as that of the mother." ~ Sarah Josepha Hale
A man loves his sweetheart the most, his wife the best, but his mother the longest." ~ Irish proverb
Cheers to you, moms!
May your days be filled with love, family – and really good meals prepared by someone else for a change!
Grilled Sirloin with Melon Tomatillo Salad
Author:
Ingredients
2 lbs. Certified Angus Beef ® top sirloin steak
1 teaspoon ground cumin
1 tablespoon champagne vinegar
¼ teaspoon freshly ground white pepper
2 tablespoons olive oil
½ honeydew melon, cut in ½ inch pieces
1 pound tomatillos, husk removed and cut in ½ inch wedges
½ jalapeño, seeded and minced
¼ cup minced cilantro
Kosher salt & fresh ground black pepper to taste
Instructions
Put cumin in a sauté pan over medium heat to toast. As it begins to smoke, transfer to a small bowl. Add vinegar and white pepper; slowly whisk in olive oil. Set vinaigrette aside.
In a large mixing bowl combine melon, tomatillo, jalapeño and cilantro. Add vinaigrette; gently toss.
Season steaks with salt and pepper. Grill to medium rare or desired doneness. Remove from heat and allow to rest for 5 minutes. Slice thinly across the grain; serve with melon salad.