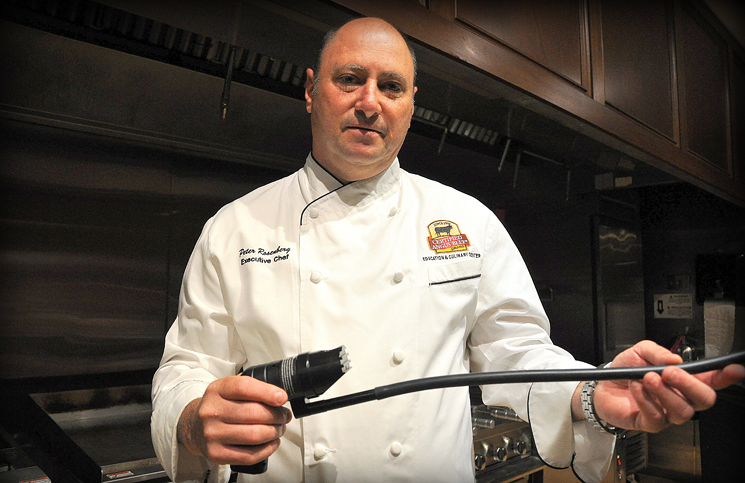 Meat and smoke. For as long as man has walked the planet, the combination of that deep, rich, ashy flavor and a tender, juicy cut of of meat have played so nicely together it makes one wonder why they'd ever be apart.
Needless to say, there are folks who've spent a lifetime finding better ways to bring these dishes to fruition. From smoking in caves in the days of early man to better preserve meats; to full-on smokehouses; to home cook-friendly patio smokers and tow-behind units, the notion of enhancing meat with smoke is much more than a passing fad.
Chef Peter Rosenberg has been immersed in smoking for decades. In fact, before moving to Ohio to assume his role of executive chef of the Certified Angus Beef ® Education & Culinary Center, he spent years in College Station, Texas, overseeing culinary operations at Texas A&M University and running his own meat-centric catering company.
And if anyone is picky about their smoked meats, it's the Texans.
So when Chef Peter discovered the smoke gun — a firearm-shaped device that burns wood chips and "shoots" smoke through an attached tube — there were, understandably, some reservations.
Months after he started playing around with the device — there are several varieties made by a slew of kitchen gadget manufacturers — Chef Peter is adamant about one thing: it's legit. The smoke gun is designed especially for cold smoking: that is, the method of applying smoke to items that either do or do not need cooked (think cheeses, salads or certain raw dishes), or before they are cooked.
It's particularly good with steaks — or things that have a relatively fast cook time that could be enhanced by a little smoke. And, the beauty is, you don't have to be a chef or have a professional kitchen to make this work. Just follow these steps:
Load the smoke gun with wood chips.
Light the chips
Place meat or items to be smoked in a paper bag
Just add smoke … then tie bag with string
Once all wrapped up, take the bag and place it in your walk-in cooler (or refrigerator) overnight. That delicious smoky goodness will work its way throughout the meat — and be quite evident even after you cook it the next day.
The smoking gun? Indeed.