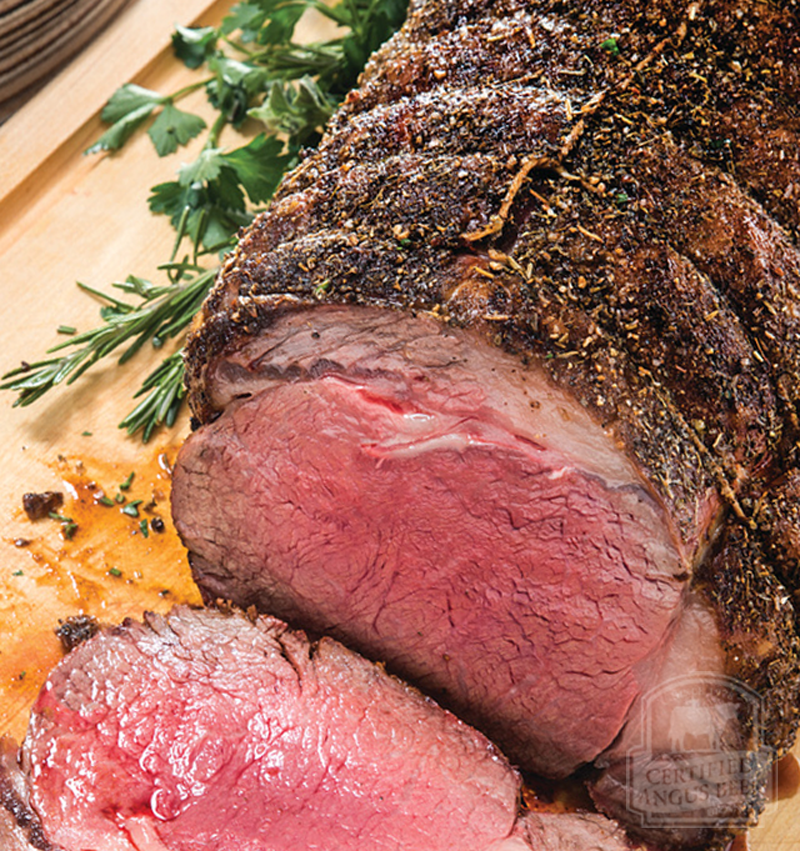 'Roasting' means to bake food uncovered. The term originated long ago, when hunks of meat were cooked over open flame. Modern roasting employs all methods of heat transfer: radiation, convection and conduction. Heat radiates from oven walls to cook the surface. Hot air in the oven transfers or convects heat into the meat. And the meat's heated exterior conducts heat to the inside. But roasting is much more than that.
"Roasting is an adventure. It combines the transformation of a seasoned roast into an event that is artful and fulfilling," says Chef Peter Rosenberg. He has assembled a sample holiday feast menu for us. Use it as is, or let it inspire you to create your own memorable meal.
Behold, some of Chef Peter's holiday favorites!
Rosemary Ribeye Roast
Ingredients
1 (5 pound) [url href="http://www.certifiedangusbeef.com" target="_blank"]Certified Angus Beef ®[/url] ribeye roast (Prime Rib)
2 tablespoons balsamic vinegar
2 tablespoons minced garlic
2 tablespoons kosher salt
2 tablespoons chopped fresh thyme or 2 teaspoons dried thyme
1 tablespoon chopped fresh rosemary or 1 teaspoon dried rosemary
1 tablespoon olive oil
Instructions
Preheat oven to 450ºF. Place roast, fat side up, on a rack in a shallow roasting pan. Brush entire surface of roast with balsamic vinegar.
Combine garlic, salt, thyme, rosemary and olive oil to make an herb paste. Coat roast evenly with paste and place in a pan fitted with a rack.
Place pan in oven for 15 minutes. Reduce heat to 325ºF and continue roasting for approximately 2 hours for medium (when thermometer registers 135-140°F), or adjust for desired doneness, checking temperature with a thermometer.
Transfer roast to cutting board; loosely tent with foil and let rest 15 to 20 minutes. Slice across the grain.
Classic Beef Tenderloin with Cabernet Roasted Garlic Sauce
Ingredients
1 (4-5 pound) Certified Angus Beef ® tenderloin roast
1/4 cup olive oil
1 tablespoon fresh chopped garlic
Kosher salt
Fresh cracked black peppercorns[br][br][b]Cabernet Roasted Garlic Sauce[/b]
1 head garlic
1 tablespoon olive oil
1 cup Cabernet wine
2 cups beef stock, heated
1 cup (2 sticks) unsalted butter, cut into small pieces
1/2 teaspoon kosher salt
1/2 teaspoon cracked black pepper
Instructions
Preheat oven to 425°F.
Brush roast with oil, rub garlic evenly onto roast and season with salt and pepper. In a large hot skillet, sear roast on all sides. Transfer to a shallow roasting pan.
Roast in oven for 45 minutes or until internal temperature reaches 120°F on meat thermometer (for rare), or until desired doneness. Remove from oven, tent loosely with foil and rest 15 minutes before carving.[br][br][b]Cabernet Roasted Garlic Sauce[/b] (can be prepared a day ahead)
Preheat oven to 350°F.
Slice off top of garlic head. Place in a small oven-proof baking dish; lightly coat with olive oil and roast until garlic is tender, fragrant and consistently light golden brown, approximately 35 minutes.
While garlic is roasting, create a reduction by pouring wine in heavy-bottomed sauce pan. Cook over medium heat until it thickens and reaches sauce consistency.
Remove garlic from oven and cool. Peel outside of bulb and squeeze each clove out.
In a blender, add garlic, reduction, beef stock, butter, salt and pepper; blend until smooth.
Adjust seasoning as needed.
For an added twist to sauce, add 2 tablespoons fresh finely chopped parsley, 1 tablespoon fresh finely chopped thyme and 1/2 teaspoon fresh finely chopped rosemary to blended sauce and pulse blender.
Serve over roast. (If prepared a day ahead, reheat sauce over low heat.)
Teriyaki-glazed Flank Steak with Mushroom Salad
Ingredients
1 [url href="http://www.certifiedangusbeef.com" target="_blank"]Certified Angus Beef ®[/url] flank steak, trimmed
1/2 cup soy sauce
1/2 cup teriyaki sauce
1/2 cup olive oil
1/2 cup oyster sauce
4 cloves garlic, finely chopped
2 green onions, finely chopped
2 tablespoon brown sugar
2 tablespoon honey
2 teaspoon fresh ginger, grated, juice only
1/4 teaspoon black pepper
*Reserve 1/2 cup marinade for mushroom salad[br][br][b]Mushroom Salad[/b]
1 cup thinly sliced mushrooms
1/2 cup reserved marinade
Instructions
Combine soy sauce, teriyaki, oil, oyster sauce, garlic, onions, brown sugar, honey, ginger juice, and pepper.
Reserve 1/2 cup marinade from mushrooms. Place steak in a zipper-locking plastic bag and pour remaining marinade over beef. Close bag, removing air.
Refrigerate 2 – 4 hours.
Remove steak; discard marinade.
Grill on medium-high heat to desired doneness. Remove from grill and let rest 5 minutes.
Slice thinly across the grain.[br][br][b]Mushroom Salad[/b]
In a bowl, combine mushrooms and reserved marinade; cover and chill for 2 hours.
Strain mushrooms and serve with sliced chilled flank.
Pumpkin Cheesecake
Ingredients
[br][b]Graham-Cracker Crust [/b]
1 1/2 cups finely ground graham crackers
1 tablespoon sugar
5 tablespoons butter, melted[br][br][b]Cheesecake[/b]
3 (8-ounce) packages cream cheese
1 cup, plus 1 tablespoon sugar
1 cup whipping cream
1/2 vanilla bean, seeds scraped out (or 1 teaspoon vanilla extract)
1 cup canned pumpkin
3 eggs
1/2 teaspoon cinnamon
1/4 teaspoon nutmeg
1/4 teaspoon allspice
Instructions
Instructions
Pulse graham-cracker crumbs, sugar and butter in a food processor until combined (or mix well in a bowl). Spray bottom of 8" springform pan with nonstick cooking spray. Firmly press crumb mixture onto bottom of pan.[br][br][b]Cheesecake[/b]
Preheat oven to 350°F.
In a mixing bowl, add cream cheese and sugar, using the paddle attachment to mix until smooth.
In a medium-sized pan, heat whipping cream and vanilla bean; simmer until hot. Remove from heat. Add pumpkin, eggs, cinnamon, nutmeg and allspice; stir until smooth and creamy.
Slowly add pumpkin batter to cream cheese and mix until fully blended.
Pour batter into springform pan with graham-cracker crust; bake for 45 minutes to 1 hour, reducing oven temperature 50°F every 15 minutes. The center should be firm in middle. If the top starts to brown before cheesecake is firm, loosely cover with foil.
Remove from oven and cool; refrigerate overnight. To remove springform pan, heat sides of pan. Decorate with whipped cream and fruit compote.
Hot Wassail
Ingredients
2 quarts sweet apple cider
2 cups pineapple juice
1 1/2 cups orange juice
3/4 cup fresh lemon juice
1 cup granulated sugar
2 cinnamon sticks
1 teaspoon whole cloves
Instructions
Combine ingredients and bring to a boil. Serve hot.
And a wonderful side dish to accompany this delectable meal: Roasted Brussels Sprouts with Bacon and Pecans from Le Creuset®. Click for the recipe, or better yet — download the Roast Perfect app on iTunes or Google Play. The app contains our best beef roast recipes and cooking instructions, plus side dish options that will please every taste bud at the table.