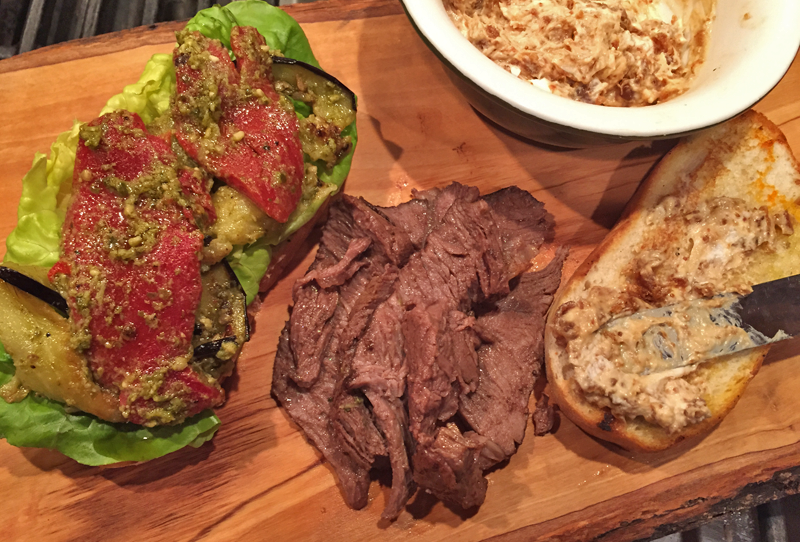 The Italian Steak Sandwich. It's not an ordinary sandwich, that's for sure. There's flavor oozing everywhere, from the pesto and sauteed veggies to the spread of goat cheese and fig jam. Top it off with tender, juicy, sliced steak or leftover Certified Angus Beef® roast, and every bite is layer upon layer of flavor — served between thick slices of toasted ciabatta bread.
For this sandwich, you could grill the steak of your choice, allow to rest, and slice. Or, use leftover beef roast for rich, beefy flavor. 
Don't let the addition of eggplant throw you for a loop. It's deliciuos on this sandwich, and after sauteing in olive oil with the red peppers and tossing in pesto, you won't recognize its bitter disposition. Layer all on a crisp bed of Boston lettuce.
This is a homemade gourmet sandwich that'll knock your socks off! Find more sandwich recipes and recommended beef cuts here.
Italian Steak Sandwich
Author:
Ingredients
1 (1 1/2 – 2 pound) Certified Angus Beef ® strip roast, or 1 1/4 pounds leftover roast
Olive oil for brushing
1 eggplant, sliced in 12 (1/4-inch) thick round slices
1 (12-ounce) jar roasted red peppers
4 tablespoons basil pesto
5 ounces soft goat cheese or cream cheese
1/4 cup fig spread
4 ciabatta or hoagie buns
4 leaves Boston lettuce
Salt and pepper to taste
Instructions
Thinly slice leftover beef roast and set aside. Sandwiches can prepared hot or cold.
Lightly brush oil on both sides of egg plant slices. Grill or sauté egg plant and red peppers on both sides in a large skillet over medium-high heat. Place in bowl and toss gently with pesto; set aside.
In a small bowl, mix goat cheese and fig spread; set aside.
Lightly brush inside of buns with olive oil and toast using a grill or pan.
Spread cheese topping on both top and bottom of buns, then layer with sliced steak, 3 slices eggplant, roasted peppers and lettuce; top with lid.