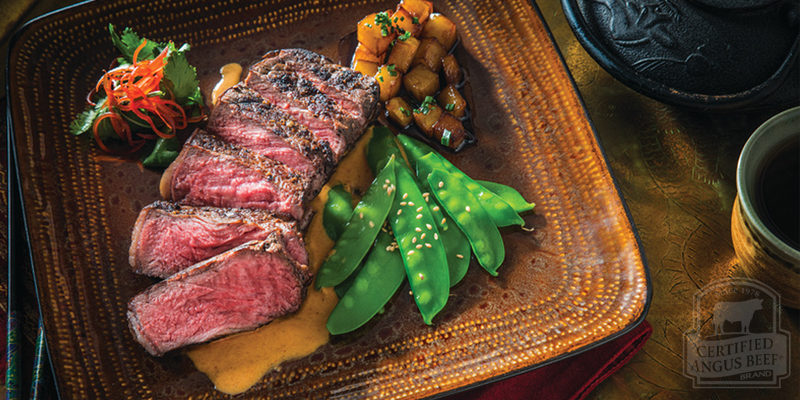 Here's a quick and easy way to add new and unique flavors to your favorite steaks. The sauce combines red curry paste with coconut milk and brown sugar. Grill your favorite cut — think strip steaks or tenderloin — and allow to rest. Spoon the Thai curry sauce on the plate, slice steak and "shingle" or fan out atop the sauce, then sprinkle with toasted sesame seeds, if desired.
Enjoy this quick and tasty sauce. It's a great idea to 'kick it up a notch'. Enjoy!
Thai Curry Steak
Author:
Ingredients
1 (2 1/2-inch) Certified Angus Beef ® strip steak
2 1/2 tablespoons red curry paste
1 (13.5-ounce) can coconut milk
1 tablespoon brown sugar
1 kaffir lime leaf, optional
2 tablespoons canola oil
Salt and pepper to taste
Instructions
Preheat oven to 425°F.
In a small sauce pan, lightly heat curry. Slowly add coconut milk and whisk until paste has dissolved; bring to a boil, whisking continuously. Add brown sugar and lime leaf, simmer for 1 minute on low heat, remove from heat and set aside.
Season steak with salt and pepper. Heat oil in oven-proof frying pan. Sear steak on all sides. Place pan in oven until internal temperature reaches 140°F for medium, or to desired doneness. Remove and let rest 3-5 minutes. Slice across the grain in 1/4-inch slices.
Spoon a pool of curry sauce on each plate, shingle steak on top of sauce. Garnish with toasted sesame seeds, if desired.
For more recipes and meal ideas, visit CertifiedAngusBeef.com.