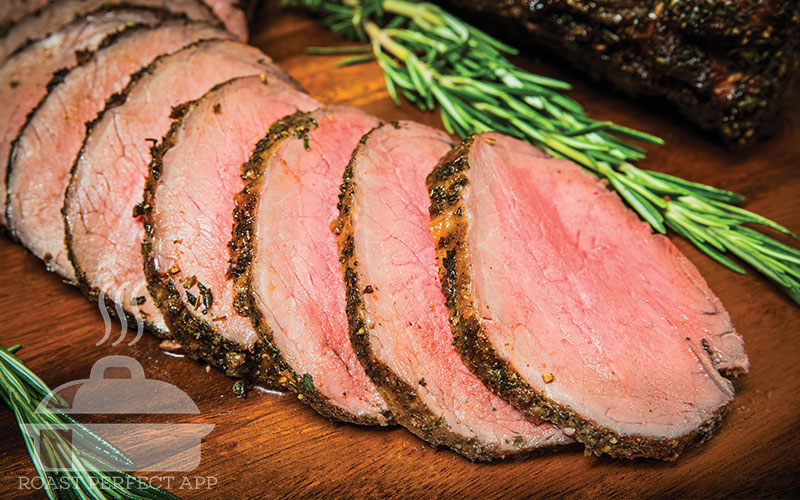 Hayrides and pumpkins and cool autumn evenings,
Cider and donuts and seasonal feasting,
Marbled and juicy beef roasts tied with string …
These are a few of my favorite things!
Apologies to Rodgers and Hammerstein, for my amateur re-working of the classic song "My Favorite Things" from "The Sound of Music." But sometimes you're just moved to try to express yourself in song!
All of a sudden it seems I'm thinking about the holidays and planning celebrations with my loved ones. With our crowd, it seems like any excuse is a good one to get together — as long as there's something delicious on the menu! This Cider Marinated Top Sirloin Roast is juicy, flavorful and incorporates some wonderful seasonal flavors that are sure to please.
Be sure to plan ahead to allow your roast enough time to marinate — 6 to 8 hours, or overnight is perfect. The top sirloin roast is delicious when seasoned simply with salt and pepper, but is an ideal choice for a flavorful marinade like this one.
Cider Marinated Top Sirloin Roast
Author:
Ingredients
1 (4-pound) [i][url href="http://www.certifiedangusbeef.com" target="_blank"]Certified Angus Beef[/url][/i] ® top sirloin roast
4 garlic cloves, crushed
1/2 cup olive oil
2 teaspoons soy sauce
1 teaspoon fresh rosemary leaves, crushed
1/2 teaspoon dry mustard
1 cup sherry
1 cup apple cider or juice
1/4 cup wine vinegar
2 teaspoon kosher salt
1 teaspoon fresh cracked black pepper
Instructions
Cook garlic in oil, stirring frequently. Add soy sauce, rosemary and mustard. Remove from heat and stir in sherry, apple cider and vinegar. Allow to cool completely.
Place roast in a large plastic zippered bag and pour marinade over roast. Close bag and marinate roast in refrigerator 6 to 8 hours, or overnight.
Remove roast from refrigerator and pat dry with paper towels. Discard marinade and preheat oven to 450 F. Season roast with kosher salt and black pepper and place in a shallow roasting pan fitted with rack. Roast 15 minutes in preheated oven, then reduce heat to 325 F. Cook approximately 1.5 hours to reach medium doneness (135-140 F).
Remove roast from oven, tent loosely with foil and rest 15 minutes before carving.
Looking for roasting tips and some amazing recipes like this? You'll find everything you need in the free Roast Perfect app, available in the iTunes store or Google Play. It'll guide you through choosing the right size roast for your table, to preparing it to your desired degree of doneness. It even has side dish recipes, courtesy of cookware master Le Creuset … I think this roast would pair perfectly with an Autumn Squash Gratin!