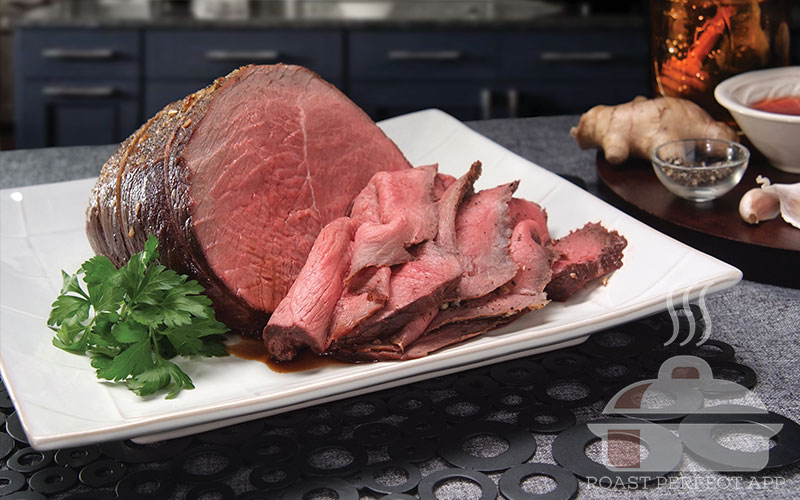 I love my family and the holiday season. But I'll admit there are times in the hustle and bustle of things that my holiday spirit is enhanced by another kind of spirits (ahem). Everything in moderation, of course.
I should also note that I'm not alone at my holiday table, and bourbon is one example that's made more and more appearances over the past few years—occasionally to sip, but more often as an ingredient in some of our dishes. I'm especially partial to a bourbon pecan pie that has become a tradition.
So needless to say, Bourbon Marinated Sirloin Tip Roast in the Roast Perfect app definitely caught my eye. (Actually, it's just one of many delicious options that sound amazing.) I think it'll pair perfectly with roasted Brussels sprouts with bacon and pecans, also found in the app … not to mention the pie.
Roast Perfect is a free app (available in the App Store and Google Play) that offers all the tips you need to make the perfect roast. Learn about different beef cuts that are ideal for roasting, what size roast to buy, and even exactly how long to cook it to your desired degree of doneness. It's everything you need to get in the flavor of holiday spirit—really!
Bourbon Marinated Sirloin Tip Roast
Author:
Ingredients
1 (5-pound) [url href="http://www.certifiedangusbeef.com" target="_blank"][i]Certified Angus Beef[/i] ®[/url] sirloin tip center (knuckle) roast
1/4 cup bourbon whiskey
1/4 cup brown sugar
1/3 cup soy sauce
3 tablespoons olive oil
2 tablespoons Dijon mustard
2 tablespoons minced fresh garlic
2 tablespoons red wine vinegar
3 teaspoons freshly ground black pepper, divided
1 tablespoon Worcestershire sauce
1 tablespoon minced fresh ginger (optional)
2 teaspoons kosher salt
Instructions
Combine all ingredients except kosher salt and 1 teaspoon black pepper. Place roast in a large plastic zippered bag and pour marinade over roast. Close bag and marinate roast in refrigerator 6 to 8 hours or overnight.
Remove roast from refrigerator and pat dry with paper towels. Discard marinade and preheat oven to 450°F. Season roast with kosher salt and remaining 1 teaspoon black pepper and place in a shallow roasting pan fitted with rack. Roast 15 minutes in preheated oven, then reduce heat to 325°F. Cook approximately 1 1/4 hours to reach medium doneness (135 to 140°F on thermometer).
Remove roast from oven, tent loosely with foil and rest 15 minutes before carving.