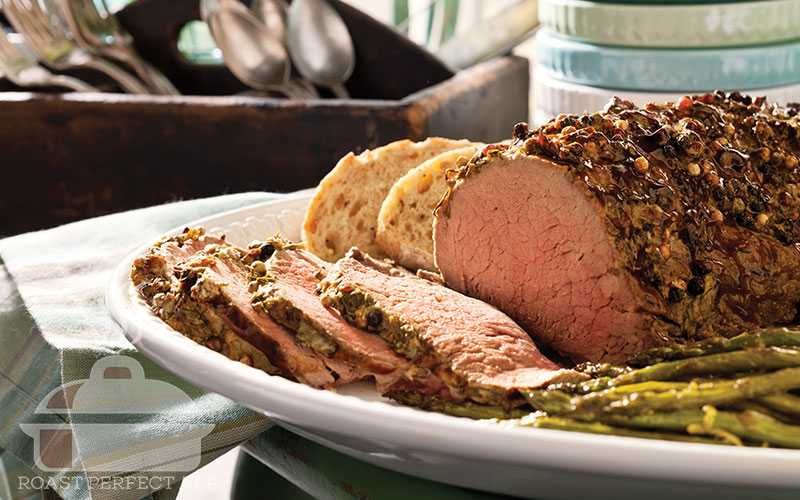 The eye of round has a reputation for being a bit of a tough cut. And I'll be frank: my previous experiences with cuts from the round didn't inspire me to sing "Love Me Tender." The Roast Perfect app changed all that! 
Certified Angus Beef ® brand cuts are always extremely flavorful. But I wondered, "Could a cut from the round also be juicy and tender?" I was skeptical, and shame on me! The simple recipe, and the Roast Perfect app's built-in timers for searing, roasting and resting to medium-rare doneness made the steps easy to follow. I cut this aromatic roast against the grain into thin slices. The result? Absolutely delicious! Savory Herb Eye of Round Roast is tasty, juicy and yes, tender. It will be for you, too — if you remember two important tips for success:
Always start with the best beef — Certified Angus Beef ® brand cuts
Follow instructions on the free ROAST PERFECT app, available from the Apple Store and Google Play. Get it now!
Savory Herb Eye of Round Roast
Author:
Ingredients
1 (3-pound) [url href="http://www.certifiedangusbeef.com" target="_blank"]Certified Angus Beef[/url] ® eye of round roast
1 tablespoon dried oregano leaves
1 tablespoon dried rosemary, crushed
1 tablespoon dried thyme
2 teaspoons coarse kosher salt
1 teaspoon dry mustard
1 teaspoon coarsely ground black pepper
Instructions
Preheat oven to 450°F. In a small mixing bowl combine oregano, rosemary, thyme, salt, dry mustard and pepper. Rub mixture evenly on roast and place in a roasting pan fitted with a rack.
Roast for 15 minutes, then reduce oven to 325°F and continue roasting approximately 1 ¼ hours for medium rare (125-130°F).
Remove from oven, tent loosely with foil, and rest 10 minutes before slicing.
For more roasting recipes, tips and meal ideas, go to our Roast Perfect Pinterest board! And don't forget: get the Roast Perfect app now from the App Store & Google Play!