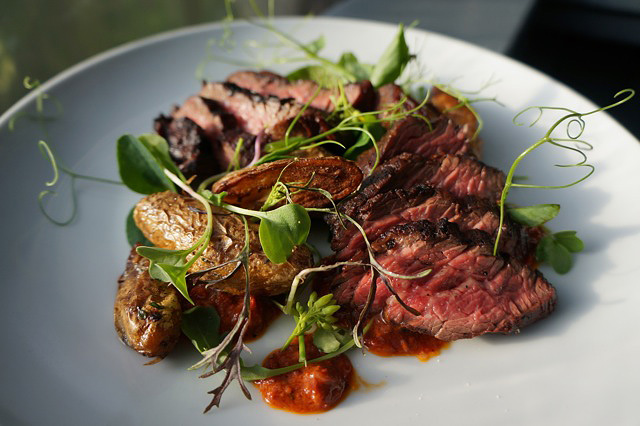 Need a sensational recipe for someone special? Prepare Grilled Hanger Steak with Blackberry Romesco. It's a special recipe from Chef Govind Armstrong, a culinary expert renowned for his attention to detail and respect for seasonal ingredients.
Govind is executive chef and co-owner of Post & Beam, Willie Jane and several other ventures. He's been working with food since age 13. Born in Inglewood, Calif., and raised on the Caribbean coast of Costa Rica, Govind is the author of Small Bites, Big Nights, and has been featured in People magazine's "50 Most Beautiful People" issue. He's also been touted in Bon Appetit and Gourmet magazines, and on television shows like Oprah, Top Chef, Iron Chef America and Today. Read more about Govind Armstrong here … and surprise your special someone with this mouthwatering meal!

Grilled Hanger Steak with Blackberry Romesco
Author:
Chef Govind Armstrong
Ingredients
1 Certified Angus Beef ® brand hanger steak, grilled to medium rare
6 bell peppers, roasted
6 cloves of garlic
1½ cups almonds
1½ cups pecans
12 tablespoons parsley
12 tablespoons sherry vinegar
6 teaspoons paprika
3 teaspoons cayenne pepper
3 cups extra virgin olive oil
4 cups blackberries, divided
1 lemon
Instructions
Combine peppers, garlic, almonds, pecans, parsley, vinegar, paprika, cayenne and 3 cups blackberries.
Blend, while drizzling olive oil into the blender, until slightly chunky.
Season with sea salt to taste and fold in remaining 1 cup blackberries, chopped. Add juice of one lemon.
Serve with Certified Angus Beef ® hanger steak, grilled to temperature and sliced.
For more recipe ideas or restaurants near you, visit CertifiedAngusBeef.com.