Buffalo style burgers turn up the heat — and the flavor! This recipe takes a typical burger and ordinary hot sauce and turns it into something that will make your taste buds tingle!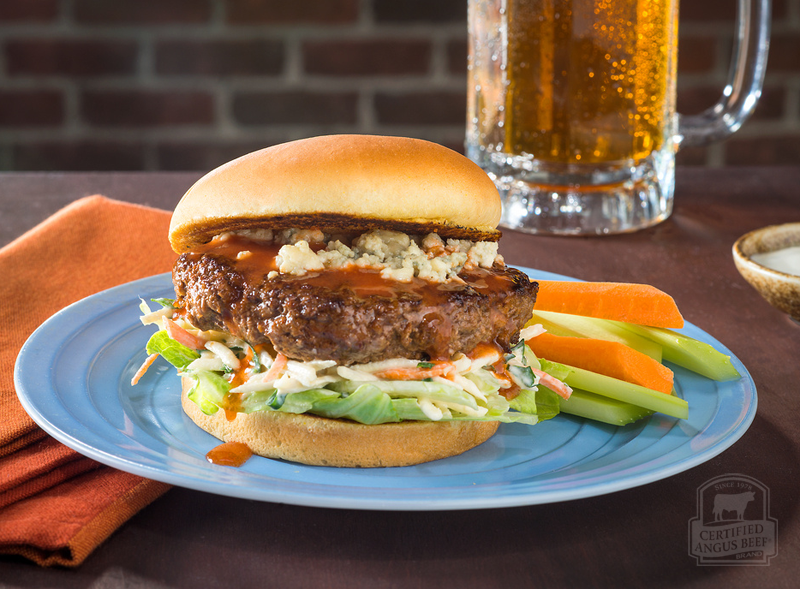 I love, love, LOVE hot sauce. There. I said it. I'm not one of those people always looking to torture (or tingle, depending on your point of view) my taste buds with "the hotter, the better." Nope, I love to feel the burn, but at a moderate, reasonable level. Buffalo-style, all the way, for me. It's become kind of a cliché, but I've got to have some flavor to go with my heat.
Imagine my delight with this Buffalo-Style Hot Sauce Burger. It takes good old middle-of-the-road hot sauce (I like Frank's Red Hot), pairs it with a flavorful, juicy burger, and gives you a flavor combination so good you have to wonder, "Why in the heck didn't I think of that before?"
As you might expect, blue cheese is a welcome guest at this party. So, too, is a cooling celery root slaw — serve it on the side or right on your burger. Either way, your taste buds will be glad to try this tantalizing, thoroughly satisfying, twist on traditional.
Buffalo Style Hot Sauce Burgers
Ingredients
2 pounds Certified Angus Beef ® ground chuck
1/3 cup hot sauce, like Frank's Red Hot
1 large celery root (celeriac), stalks/leaves removed
1 tablespoon fresh lemon juice
1/3 cup sour cream
1 tablespoon Dijon mustard
1/4 teaspoon celery salt
1/4 teaspoon ground black pepper
1 stalk celery, sliced very thin
1 small carrot, peeled and grated
1 large shallot or 1/4 sweet onion, finely diced
1 tablespoon chopped fresh parsley
1/3 cup crumbled blue cheese
6 burger buns
Optional: iceberg lettuce
Instructions
In medium bowl, combine ground beef and hot sauce; shape into 6 patties.
Peel celery root and grate in large bowl. Immediately toss with lemon juice to preserve color. In small bowl, combine sour cream, mustard, celery salt and pepper. Stir dressing, celery, carrot, shallot and parsley into celery root; cover and refrigerate.
Preheat grill or cast iron pan. Grill burgers over medium-high heat to desired doneness (160°F internal temperature recommended). While still on grill, top burgers with blue cheese.
Assemble burgers with bottom bun, iceberg lettuce, cheese, additional sauce, if desired and bun top. Serve celery root slaw on the burger or as a side.
For more burger recipes and grilling tips, visit CertifiedAngusBeef.com.