With flavor this big, who needs a bun?! Combine ground beef with fresh basil, parsley and oregano, add diced avocado and tomato, and you have a mouthwatering herb burger — bun not necessary!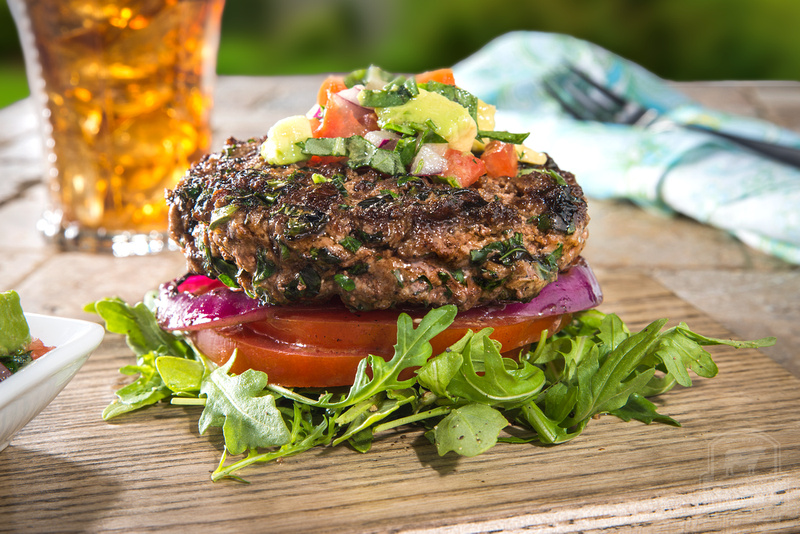 There are many things I love about warmer weather. One, more get-togethers with family, friends and neighbors. It just so happens that most of these gatherings are centered around the grill. And why not? There's something about a casual dinner al fresco that makes everything taste better!
Two, the bounty of the garden. I may be hopeless with houseplants, but Mother Nature always helps my green thumb with the many herbs and tomatoes I can't resist tending every year. There's something so exquisite about biting into these tasty treats at the peak of freshness!
The list goes on, but I'd be remiss not to mention a few drawbacks that come with spending more time outdoors. One, sunburn (I'm a fair, SPF 50, kind of gal). Two, the prospect of more revealing clothing (let's just say I'm forever trying to "find balance" in my diet).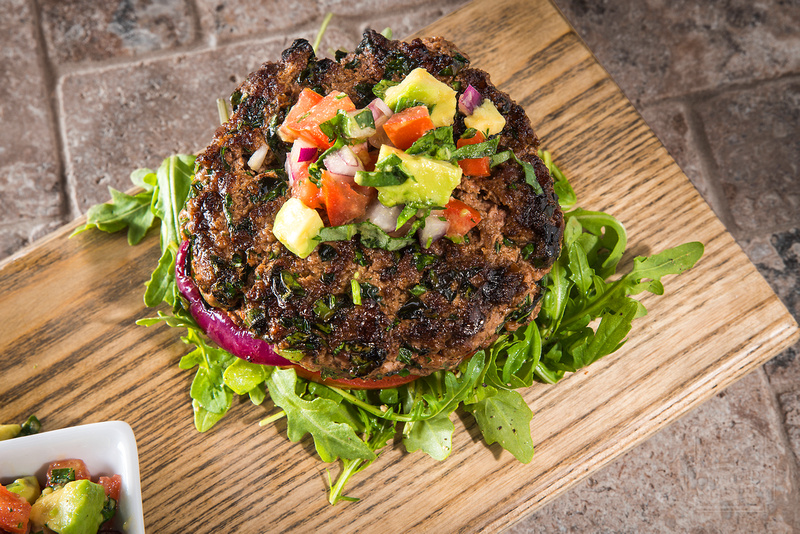 That's why I love this herb burger recipe so much. I still get to enjoy a juicy, beefy, delicious patty from the grill – because, let's face it, dinner should bring you happiness – but I forego the bun. It's all about compromise, folks.
Instead, I trade up to a flavorful topping of chopped tomato, avocado, onion and fresh herbs. (To really make the most of the garden's bounty, I also blend chopped fresh herbs into the ground beef before cooking.) Extra veggies and herbs means extra fresh flavor without a lot of extra calories or carbs. To me, the herb burger makes the most of the season!
Fresh Herb Burgers with Avocado Salsa
Ingredients
2 pounds Certified Angus Beef ® ground chuck
1/4 cup finely chopped fresh basil, divided
3 tablespoons finely chopped fresh parsley, divided
3 tablespoons finely chopped fresh oregano, divided
11/2 teaspoons salt, divided
1 teaspoon ground black pepper
2 vine ripe tomatoes, seeded and finely diced
1 ripe avocado, peeled and diced
1/4 cup finely chopped red onion
2 cloves garlic, minced (1 tablespoon)
1 tablespoon balsamic vinegar
1 tablespoon olive oil
1/2 teaspoon crushed red pepper flakes
Instructions
In medium bowl, combine ground beef, half of the fresh herb trio (basil, parsley and oregano), 1 teaspoon salt and black pepper by hand; shape loosely into 6 patties.
In a mixing bowl, combine tomato, avocado, onion, garlic, vinegar and olive oil. Stir in red pepper flakes, remaining herb trio (basil, parsley and oregano) and 1/2 teaspoon salt. Set aside.
Grill patties over medium-high heat to desired doneness (160°F internal temperature recommended). Top burgers generously with avocado salsa.
Need even more burger ideas and beef cooking tips? Visit CertifiedAngusBeef.com or follow us on Facebook, Instagram, Twitter and Pinterest.