Falafel may be considered one of the world's most popular finger foods. Traditionally, chickpeas are ground and mixed with spices, then deep fried and served in pita or flatbread. It's always been a staple in the Middle East, and has found ever-increasing popularity across the globe.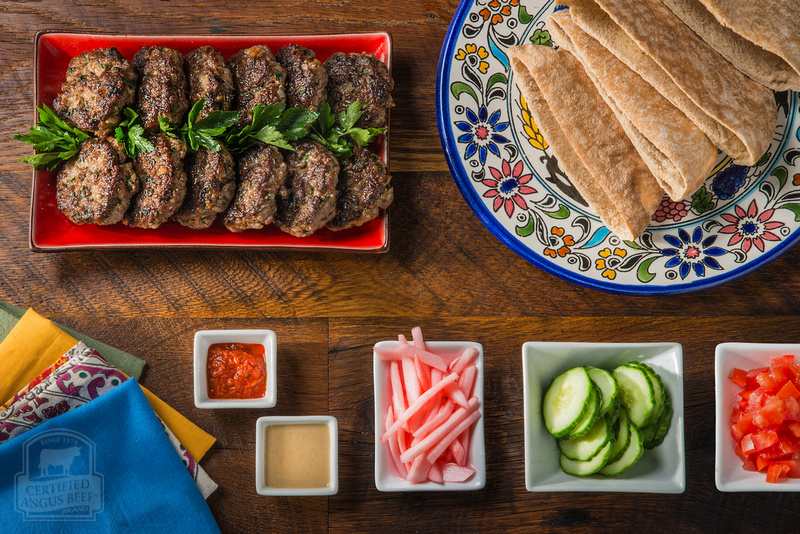 This beef-based variation pays homage to falafel's Middle Eastern roots and fabulous flavor profile. Ground beef is mixed with chickpea flour. It's then mixed with finely chopped onions and spices including coriander, cumin and cayenne. Fresh cilantro and parsley add color and freshness.
These mini burgers are served in pita with fresh tomato and cucumber slices. Drizzle with tahini — add spicy harissa, too, if you like!
Middle-Eastern Inspired Beef Falafel
Ingredients
1 pound [i]Certified Angus Beef[/i] ® ground beef
2 tablespoons garbanzo bean (chickpea) flour
1 teaspoon coarse kosher salt
1/2 teaspoon ground coriander
1/2 teaspoon ground cumin
1/2 teaspoon garlic powder
1/4 teaspoon cayenne
1/2 onion, finely diced
2 tablespoons minced fresh cilantro
2 tablespoons minced fresh parsley
2 large pitas, cut in half
1 vine ripe tomato, diced
1/2 cucumber
1/2 cucumber, thinly sliced
1/4 cup tahini
Instructions
Combine garbanzo flour, salt, coriander, cumin, garlic powder and cayenne.
Mix spice blend into ground beef along with onion, cilantro and parsley.
Shape into twelve small patties.
Pan sear or broil burgers until cooked through (160°F internal temperature recommended).
Serve warm beef patties in pita pockets with tomato, cucumber, tahini and optional toppings.
For more unique and classic burger recipes, visit CertifiedAngusBeef.com or enjoy our Pinterest boards.