Smashing a burger onto a hot griddle or flattop grill is the method most loved by many burger aficionados including George Motz, who literally wrote the book on America's best burgers. Inspired by Motz, the Oklahoma Griddle Onion Burger is one burger you're going to want to make again and again!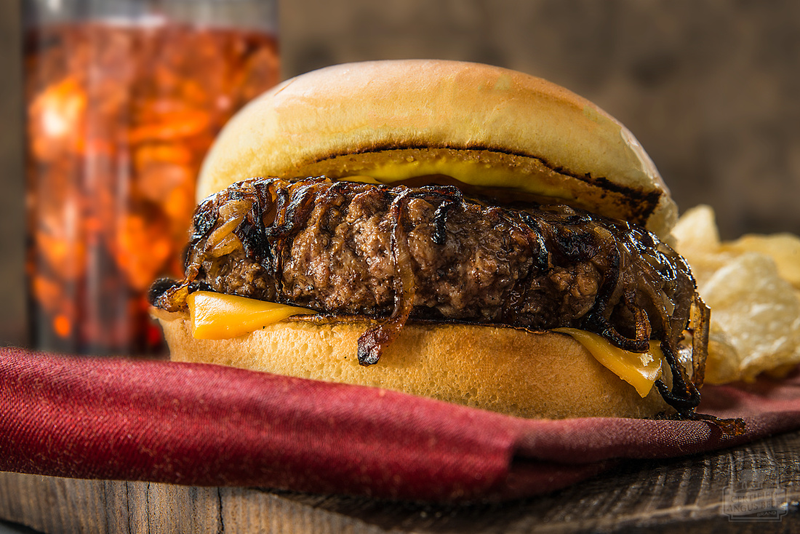 I'm a burger purist. The burger of my dreams is made from flavorful beef, simply seasoned and placed on a buttered, toasted white bun – and that's about it!
This beautiful creation dresses it up only with some crispy, caramelized, thinly-sliced onions and a savory and simple seasoning blend that may become your house blend. Melted American cheese and tangy yellow mustard can be added if you like, but they're strictly optional.
Yes, this "Oklahoma" burger uses very simple ingredients. The magic is all in the technique – and trust me, this recipe is magical!
Oklahoma Griddle Onion Burger
Ingredients
1 pound Certified Angus Beef ® ground chuck
1 teaspoon coarse kosher salt
1/2 teaspoon ground black pepper
1/2 teaspoon onion powder
1/4 teaspoon garlic powder
1/4 teaspoon paprika
1/8 teaspoon cayenne
1 large sweet onion, cut in half and sliced super-thin
2 tablespoons vegetable oil, beef fat or bacon fat
4 soft burger buns
4 slices American cheese (optional)
Yellow mustard to taste (optional)
Instructions
Combine salt, pepper, onion powder, garlic powder, paprika and cayenne to create a signature burger seasoning. Portion ground beef evenly into 4 loosely packed balls.
Preheat griddle or cast iron pan to medium high.
Working with one or two burgers at a time works best. Add oil or fat to cooking surface and spread evenly. When oil begins to smoke, add 1/4 the onions; sear 1 minute and top with one ball of beef. Smash burger ball into onion with back of metal spatula with no holes to make a round patty less than 1/2-inch thick on top of onions. Season burger with a sprinkling of burger seasoning.
Allow onion and burger to develop a deep brown sear, 2-3 minutes. Flip. Top with more seasoning to taste, a smear of mustard (optional) and top half of bun; sear until burger is cooked through, 1-2 minutes (160 ° F internal temperature). Toast bottom bun half on flattop. Flip bottom bun onto a plate and stack with cheese and burger.
Celebrate #BurgerMonth with this and other mouthwatering recipes. For more ideas and cooking tips, visit CertifiedAngusBeef.com.